3-Card Poker Strategy Tips
If you want to win a 3-card poker tournament make sure you size your bets properly and have enough bankroll left to place the maximum safe bet.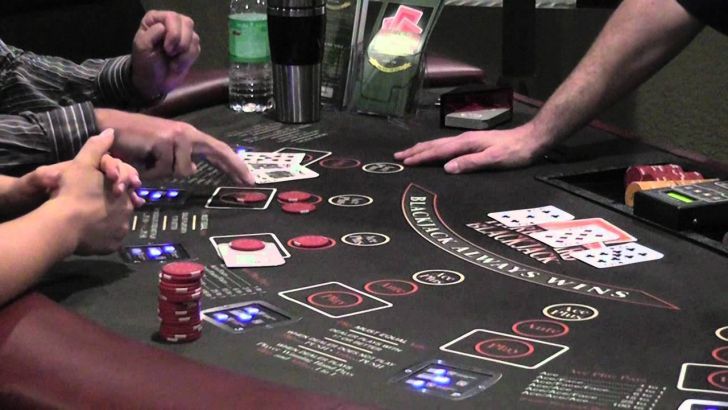 Three-card poker is a casino table game based on poker and is often the most profitable table game for casinos, which explains why it is so widely spread around the world. The game is popular with players due to three-card poker gameplay being quick, its rules simple, and with various bonuses available players can win big.
To start the three-card poker gameplay, the player must make an Ante bet and/or a Pairplus bet. Once this is made, the dealer gives each player three cards, and themselves three cards. The player can then examine their own cards while the dealer's remain face down.
If the player has made an Ante bet they have to either raise or fold, doing the latter forfeits the Ante bet. If raising, the player makes an additional Play bet equal to their Ante bet. Once this round is complete, the dealer turns over their cards and the hands are compared.
For a three-card poker game play to continue, the dealer must have queen-high or better. Should the dealer not qualify, the player wins even money on their Ante bet and the Play bet pushes. When the dealer qualifies, whoever has the highest hand wins. The player loses both bets if the dealer has the better hand, with the player's Ante and Play bet being paid at even money if their hand is better.
On the occasions that the hands of the dealer and player are tied, both the Ante bet and Play bet push.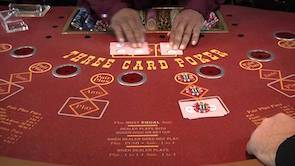 It is also worth noting that if the player made an Ante bet and has a straight or better as their hand, they receive an Ante bonus irrespective of the dealer's hand strength. However, being dealt a straight is rare and will happen only around 3.25 percent of the time, with three of a kind (0.235 percent) and a straight flush (0.217 percent) being extremely rare.
Overall, the house edge for Three-card poker is typically around 3.4 percent, but like almost all table games, making side bets such as the Pairplus bet increases the house's edge, with the most common pay table for Pairplus bets giving the house a 7.28 percent advantage on top of what it already has.
Working out the optimal three-card poker tournament strategy is quite difficult because there are so many different variations of the rules. That said, there are a few pointers to take on board if you want to adopt a three-card poker tournament strategy.
The first is to call on any queen/six/four you are dealt. This is classic three-card poker strategy and does not change simply because you are playing in a tournament scenario; you should fold all hands that are lower than queen/six/four.
Also, make sure you are placing equal bets on the Ante and Pairplus option. If you bet too heavily on the Pairplus you're going to lose more than 70 percent of the time, while betting too much on the Ante won't reward you enough to balance the risks involved.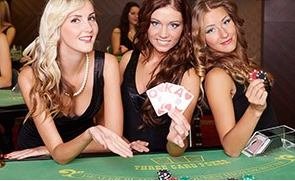 This leads to three-card poker tournament strategy dictating that you should bet enough to see out the entire round. For example, if you are playing a tournament where you have a $5,000 bankroll and are playing a 30-hand round, you should divide your bankroll by the number of hands, and then divide by three. So in this example, $5,000/30-hands then divided by three would be a $55 ante bet and a $55 Pairplus bet.
It can be tempting to increase your bet sizes, but you should bet consistently so that you always have enough bankroll left to place the maximum safe bet ($55 in our example) without having to reduce your bets at any point.
Being observant of your opponents is another aspect to three-card poker strategy. Keep an eye on your opponents' stack sizes because you may find that some are playing a high-risk strategy (betting large) and only have a few chips remaining. Sometimes merely surviving to the end of the round will see you progress if your opponents are playing risky.
Finally, some tournaments offer players the chance to buy bonus rounds. These should be avoided because buying a bonus round doubles your entry fee.
Where to Play 3-Card Poker Online

Bonus:
Get FREE
10,000 COINS
No deposit required!
Slotomania Features
This casino accepts U.S. players!
FREE 10,000 coins no deposit bonus
The #1 slots app on the AppStore
Earn XPs to unlock amazing games!
Bonus:
Huuuge Casino Features
10,000,000 Coin Welcome Bonus!
500,000 Coin Facebook Bonus
Great Mobile App for iOS & Android
Plenty of Slots & Casino Classics!

Bonus:
Get FREE
10 COINS
GET 10 MILLION CREDITS!
Double Down Casino Features
10,000,000 Coin Welcome Bonus
Hundreds of Video Slots
Classic Casino Games, Too
One of the Best iOS Casino Apps
Get all the latest CasinoSmash updates on your social media outlets. Follow us on Twitter and find us on Facebook!