Blackjack Surrender 101: How to Play Online and Win More

Are you ready to play Blackjack Surrender online?
This is one of the best and most underrated Blackjack variants out there. And that doesn't make sense - because Blackjack Surrender reduces the house edge and increases your chances of winning.
If you asked a group of people what is the best Casino game to play to win, nine out of 10 will tell you it's Blackjack. And the remaining one won't pick this one because he's never been to a Casino.
True story.
You see, Blackjack is a game of skill and if you play it right, you can win a lot in the long run. And you don't necessarily need to deal with the intricacies of card counting or other advanced strategies to make it.
Do make sure that you play the right variants, though. Like Blackjack Surrender.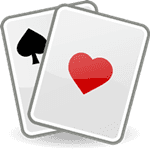 What is Blackjack Surrender?
Blackjack Surrender is a variant of Blackjack that adds a surrender option to the base game. This lets you quit a hand when you get a lousy pair and allows you to get half of your bet back.
If you've been playing Blackjack before, you know how it feels to get a sh*tty pair to start with. It's difficult to decide whether to stand or hit because both options seem equally bad.
That's where Blackjack Surrender comes in handy.
Imagine this.
You get a hard 16. The dealer has an Ace, a 10, or a 9.
The other players at the table (if you play Multi-hand version of Blackjack or at a land-based Casino) already got some small value cards.
Your chances to come out of the hand alive depend on luck and on the number of decks used in the shoe. But you're less likely to make a 21 or another decent hand with your initial pair.
That's when Blackjack Surrender helps you.
If you surrender your hand, you don't go bust - and you don't need to stand with a hand that has little chances of winning.
Instead, you will get a half of your wager back.
Blackjack Surrender Rules
Okay, so the surrender option seems nice, right? And how does playing Blackjack Surrender work?
The main rule is, the surrender option is only available as your first move after getting the cards.
The Blackjack gameplay goes like this:
You're dealt the cards. You see one card of the dealer and the cards of other Blackjack players. You wait for your turn and make your move.
In classic Blackjack, you usually have two options:
hit - to get one more card
stand - to stick with the pair you have without asking for extra cards
Sometimes there are also a few more options:
double down - to double your bet and get one more (but last) card
split - if you get a pair of the same card (2 and 2, Ace and Ace, etc), to split it into two separate hands
When it comes to Blackjack Surrender, there is an extra option for the first move:
surrender - to give up after seeing your cards and get a half of your wager back
If you take it, the round is over for you. If not, the rest of the gameplay is the same as in the classic Blackjack.
Early Surrender vs Late Surrender
This variant of Blackjack has two types of Surrender within itself:
Blackjack Early Surrender,
Blackjack Late Surrender.
The difference between them is also pretty straightforward.
Early Surrender means that you can use the surrender option after the dealer gets a 10 or shows an Ace as the open (face up) card AND before the dealer checks his/her hole (face down) card.
While Surrender Blackjack is rare already, the Early Blackjack option is even rarer. Most online and brick-and-mortar Casinos put in place only the Late Surrender option.
Late Surrender means that even if the dealer has a 10 or an Ace, you can only Surrender after he/she checks the hole card. If they have a Blackjack, you lose before making any moves, not even the surrender one.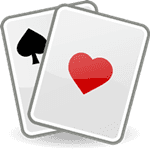 Blackjack Surrender Strategy
There's a basic strategy for Blackjack to know when it's better to hit, stand, split, or double down. You can download it here.
And surely there's also a strategy for Blackjack Surrender. It adds the options when you should use the surrender.
A common mistake is surrendering too often. If the hand seems bad, the outcomes of hitting may not always be unlucky.
Surrender only when the chances to win with the hand are low - 25 percent or less.
A quick guide when to use Surrender in Blackjack is described below.
When to Surrender when the dealer stands on all 17:
| Your Hand | Dealer's Card |
| --- | --- |
| Hard 15 | 10 |
| Hard 16 | 9 |
| Hard 16 | Ace |
| Hard 16 | 10 |
If the dealer hits soft 17, also add this to the mix:
| Your Hand | Dealer's Card |
| --- | --- |
| Hard 15 | Ace |
| Hard 17 | Ace |
Where to Play Blackjack Surrender?
Now you know the rules and the basic Blackjack Surrender strategy. Your next logical question should be where to practise and play this game online.
If you haven't played Blackjack Surrender before, don't dive head first into the game.
Practise it for free.
Especially since you can play the game for free on the same platform that you can use later for playing for real money.
Just open this online Casino in a new tab and let the fun begin!
Disclaimer: Gambling is a game of chance and there's no sure-fire formula that guarantee winnings. You can improve your winning chances by using the right in-game strategies but there is no way to predict when a machine or a Casino game is going to pay. Also, this page contains affiliate links. If you click through and play, we might earn a commission. That's what allow us to keep CasinoSmash free and bring you the best online Casino bonuses!