The game of Double Double Bonus Poker:
features superb payouts and RTP
boasts simple gameplay and functions
is a classic video poker with a vast betting range
Discover everything there is to know about the game of Double Double Bonus Poker online and learn how to play on the best sites (and with the best bonuses!)
Click on the button below to register a free gaming account and play or continue reading to know how Double Double Bonus Poker works.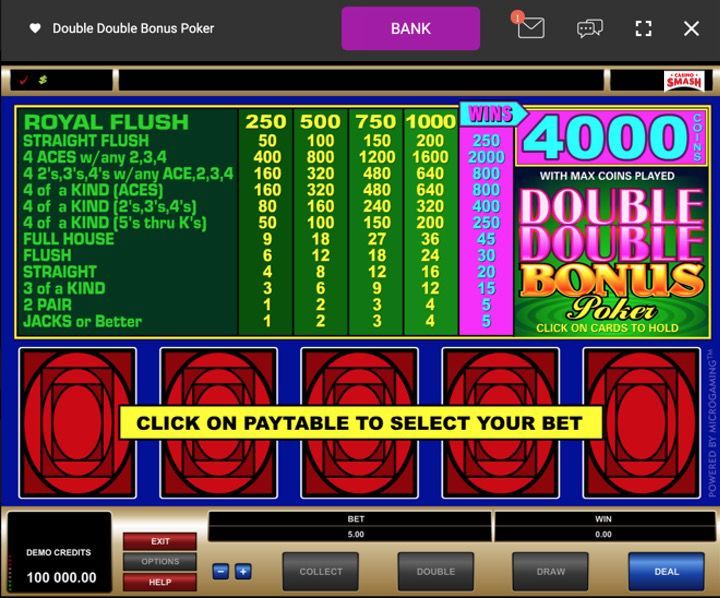 What is Double Double Bonus Poker?
Double Double Bonus Poker is a type of video poker that is a continuation of a successful Double Bonus Poker franchise with some new additions and improved chances of winning we shall talk about it in detail.
First, All Bonus Poker games can trace their origin straight to the standard Jacks or Better video poker, which is considered to be the primary form of video poker.
However, there are multiple options and unique characteristics in Double Double Bonus Poker you don't see every day.
The most important feature of this type of video poker is that it offers extra payouts for different types of four-of-a-kind combinations within the game.
This feature is seen in both Double Bonus Poker and Double Double Bonus Poker, where the former has 3 different four-of-a-kind combinations, and the latter has 5 different combinations.
The bonus payouts also vary depending on the ranking of the cards involved in the winning hand, so, the higher the card, the bigger the payout.
In Double Double Bonus Poker, the kicker, or the side card, not only does it break ties between hands of the same rank, but it also affects how big the bonus payout is.
How to Play Double Double Bonus Poker?
Double Double Bonus Poker is, in essence, like any other video poker game you can find in both online gaming site (e.g. here) and brick-and-mortar casinos.
First, the game is played with 52 cards drawn randomly thanks to the Random Number Generator (RNG) system which ensures unpredictability and uncertain outcome.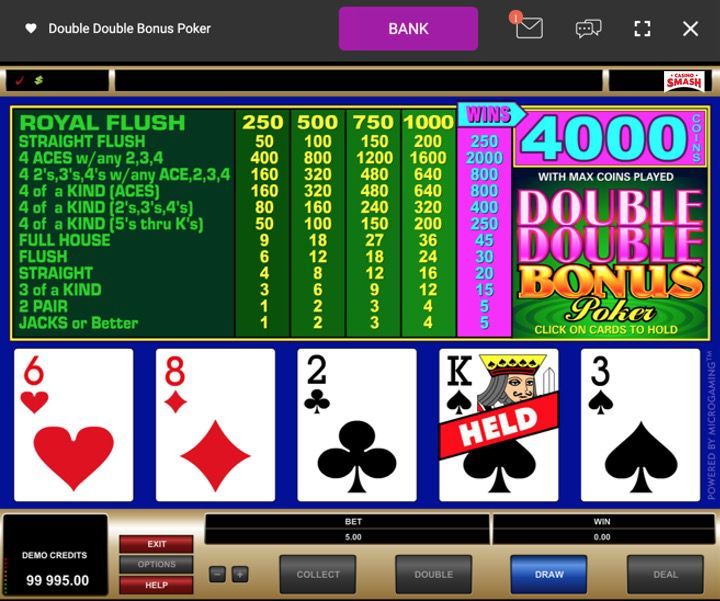 You will then receive five cards after which you will choose to hold the ones you think will form the biggest wins and discard all the rest.
New cards will take the place of the discarded ones and together with the held cards form the most substantial possible poker hand.
The size of the winning hand payout is displayed in the payout chart above the cards, and it is also a place where you choose the value of your bet.
You can choose between 1 and 5 coins in the game which leads to the total cost of the bet between $0.25 and $25, depending on the level you want.
As Double Double Bonus Poker functions on the foundations of Jacks or better basic video poker, you need to land at least a pair of Jacks or two other pairs for a minimum payout.
Once you have hit the winning game, you can use the option called Double or Nothing, where you can double your winnings. This is how it works.
Five more cards are dealt where one of them is, and it is the dealer's card. Your job is to select one of the other four cards dealt face down, and if that card is of higher rank than the dealer's, you will double your wins. If not, you are left with nothing.
Payouts and House Edge
As we have previously mentioned, Double Double Bonus Poker has one of the highest payouts in all of the video poker gaming world, and the game owes this to the different types of payouts that stem from the four-of-a-kind combination and other significant poker hands.
Get a Bonus and Play!
Register a free account, practice with the Video Poker trainer, and continue with a bonus!
Free up to $1,600 in bonus funds to play Double Double Bonus Poker.
The first difference is noticed when you play with 5 coins and when you play with fewer coins than that.
For example, the Royal Flush with 5 coins wagered brings 4,000 coins in wins, and few other video poker games can match that, so the point is that you should always play with 5 coins wagered.
Secondly, the array of different payouts you receive when you hit a four-of-a-kind hand is one of a kind.
In a standard Jacks or Better video poker you can expect a fixed 25-to-1 return, whereas, with Double Double Bonus Poker, the payout structure looks like this:
4 Aces with a Deuce, Three, or Four pay 400 to 1
4 Aces with a Five and all the way to the King pay 160 to 1
4 Deuces, Threes or Fours, together with an Ace and through Four also pay 160 to 1
4 Deuces, Threes or Fours, along with a Five or other cards through King pay 80 to 1
4 Fives through Kings pay 50 to 1
Apart from these special bonus payouts that pay more than double the amount you would get in Bonus Poker, all other combinations are pretty much the same as in any regular Jacks or Better video poker.
Also, there is a variation in the function of a kicker and its rank. With a kicker in the midst, your payouts are significantly affected, unlike in any other video poker game where kickers don't make much of a difference.
The higher the kicker card, the less likely you will get a top win.
All of these fluctuations in payouts affect the game's volatility and RTP ratio. However, Double Double Bonus Poker has some of the largest RTPs in video poker which is set at 98.98, thus leaving the house edge at 1.02%.
Double Double Bonus Poker Strategy and Tips
Double Double Bonus Poker strategy resembles the one you would use in any video poker game version, with a couple of alterations. If you are familiar with the best strategies and moves and you know how to play Video Poker, you can go ahead and play Double Double Bonus Poker right away.
Otherwise, make sure you continue reading. You are in for a treat!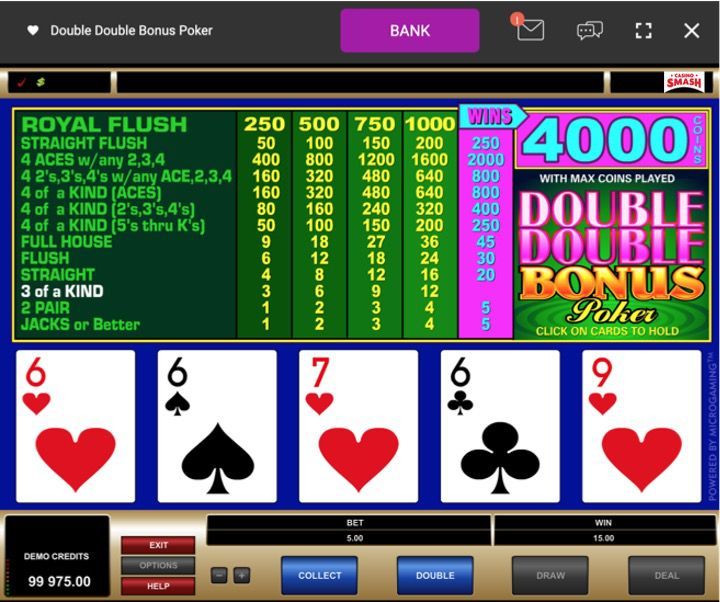 First, you can always rely on the machine to choose the card you can hold, or you can choose your way to go.
Usually, the device will make a sound move, so you can't go wrong with following the cue. Here is some advice that can come in handy.
Naturally, if you happen to land a Royal Flush, leave it at that and be thankful to the poker gods. In case you win any four-of-a-kind option, don't try to improve it as it is the second-best hand.