How to Play Let It Ride Poker in a Nutshell

Let It Ride is an easy-to-learn Casino card game based on Poker
Your goal is to make the best possible hand; no need to beat the dealer or other players
This article covers Let It Ride rules, basic strategy, and where to play Let It Ride online (here)
Have you ever played Let It Ride?
The title of the game may not say much. But it's a charming Poker variant that you can play at a Casino.
It's a slow-paced game because you don't play it against other people.
But it does help you to practice your table and card games and learn a new thing or two about Poker.
Let It Ride Card Game in a Nutshell
Let It Ride
is a fairly recent Poker game. It was invented in the 90s, with a marketing goal in mind - to help
Shuffle Master
sell more shuffling machines.
Nowadays you can play the game at brick-and-mortar Casinos in Las Vegas and worldwide, and even more so online.
Is it worth it?
It's an easy game to learn and even easier to play.
You don't need to be a professional Poker player either - knowing card Poker hand rankings is all you need to know.
Don't know it? It's not a problem either.
You'll have all the hands listed as you play.
Plus, you won't play against other players or the dealer. Like in Video Poker, you need to make a qualifying winning combination - 10s or better - to win.
No competition is involved, leaves the pace of the game completely up to you.
Also, Let It Ride is a great Casino card game to play if you want to shift your gaming to table games.
It can work as a stepping stone for Slots or Keno players leading to skill games like Blackjack or other Poker variants.
With that in mind, you should give Let It Ride a shot if:
No matter what reasons lead you to play Let It Ride Poker, you'll find the rules of the game here.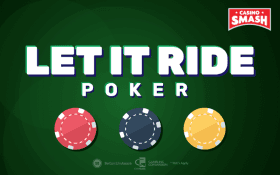 How to Play Let It Ride Poker Online
Let It Ride Poker may seem like a complicated game at first because it involves four bets.
Yet it is anything but complicated.
Let It Ride Bets
There's a compulsory Ante bet like in Casino Hold'em and some other Poker variants. If you want to play - you place the Ante bet.
Simple as that.
Then, there are two other bets that you initially need to make every round. In a Casino, they can be named bets 1 and 2 or don't have any name at all.
When you play online, these bets are automatic as soon as you place your Ante. Both come in the same size as Ante, too.
Thus, if you place $5 as your Ante bet, $5 appears on each of other bets. And your total bet size will be $15.
The fourth bet is a Bonus bet and its name reveals it's not a compulsory one. So we'll talk about it a bit later.
Let It Ride Gameplay
Once you place your bets, you get three-card hand, all cards face up.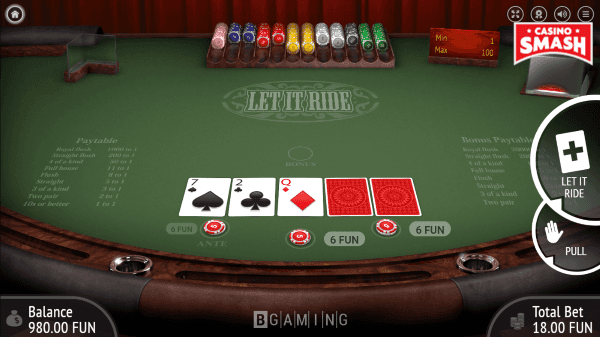 There're two community cards to be unveiled and that ultimately affects the outcomes of the round.
When you let it ride, you believe that your hand is going to win no matter what those community cards are.
Or that the community cards will help you to get a winning hand.
Since you get three cards initially, you may know that you will win, e.g. if you have a pair of 10s or a higher hand already.
The remaining cards could only make that winning hand better, e.g. turn a pair of 10s into the Three or Four of a Kind, but not worse.
Of course, most of the time you won't be sure that you win after glimpsing at the first three cards.
You may have an insignificant hand that would win only with accompanying community cards. Or a poor hand that will stay poor even after the community cards are revealed.
That makes it a game of chance.
And that's when you can use the pull option.
Before the first community card is unveiled, pull removes your first bet.
Then, if you had $5 on each bet placed, you'd have not $15 but $10 total bet left.
In other words, it's an easy way to lower your bet when you get dealt sh*tty cards.
If you manage to make that winning combination with the help of the community card, you can leave the third bet on, and let it ride instead.
If the community card was not helpful and the second community hand possibly won't make it any better, you can pull again - remove your second bet.
In that case, you'd leave only with the Ante bet active.
If you lose, you lose only Ante. If you win, the House pays only for your Ante, too.
If you win with two or all three bets active, the total bet (of all three bets) is multiplied by the pay table.
Let It Ride Bonus Bet
The fourth bet I've mentioned is optional from the get-go. You can bet an extra $1 side bet along with your Ante & CO. bets.
To win the bet you need Two Pair or better, thus, it's more challenging. But naturally, it pays a lot better, too.
Instead of 1000 to 1 for a Royal Flush, you get 20,000 to 1.
Of course, your Ante and CO. bets can be higher than $1 and the payouts would be higher, too. Bonus bet, on the other hand, cannot be higher or lower than $1.
Let It Ride Payouts
When you play Let It Ride, you don't need to beat the dealer or the other players. But you do need to have a 10s or better or a higher hand.
The payouts depend on it.
There're two pay tables at Let It Ride Poker:
the main paytable,
the bonus bet pay table.
You can check the payouts for each in the table below.
| Hand | Paytable | Bonus Bet Paytable |
| --- | --- | --- |
| 10s or Better Pair | 1 to 1 | - |
| Two Pair | 2 to 1 | 6 to 1 |
| Three of a Kind | 3 to 1 | 9 to 1 |
| Straight | 5 to 1 | 25 to 1 |
| Flush | 8 to 1 | 50 to 1 |
| Full House | 11 to 1 | 75 to 1 |
| Four of a Kind | 50 to 1 | 100 to 1 |
| Straight Flush | 200 to 1 | 2000 to 1 |
| Royal Flush | 1000 to 1 | 20,000 to 1 |
Let It Ride Poker Strategy
Now that you know how to play Let It Ride Poker, you should be interested in how to improve your odds at winning.
That's where Let It Ride strategy comes into place.
As a table game, Let It Ride doesn't have the best odds. Even when you use Let It Ride basic strategy, it has a house edge of 3.50 percent.
Blackjack beats it by a mile and then some. And so do most variants of Video Poker.
But it's not a game with the worst odds either.
If you play Slots or Keno, for example, Let It Ride will be a breath of fresh air.
But you still need a strategy to improve your odds.
And that's what this part of the article is for.
When to Let It Ride: First Bet
Keep your first bet aka let it ride if...
1. You already have a winning card (duh)
When you have 10s or better, you win.
After the community cards are revealed, you will either win with the hand you already have (e.g. a pair of 10s) or the hand will evolve into something higher (e.g. Two Pair, Three of a Kind, etc.).
So, not keeping your bets is the stupidest move you can make. Seriously.
2. You have three suited cards in a row
That's a combo you need to make a straight and/or a flush, so you may want to keep your bet on that one.
And according to the basic strategy, it's an optimal move to make with that kind of hand.
Unless it's the two smallest combos of cards in a row - A-2-3 or 2-3-4. Then it's better to pull your bet.
3. You have three suited cards almost in a row
If you have three suited cards that go almost in the sequence for the straight, it's also a good idea to wait before pulling the first bet.
Consider your hand first.
If it's one card gap away from the straight - is it strong enough to win in case the straight or flush doesn't work out? If there's a high card in it (e.g. 10 or higher), it very well might be.
If it's not, you can go ahead and pull your bet.
If it's two-card gap away from the straight - does it have two high hands? If so, let it ride. If not, it's not worth it.
For all the other hands - pulling your first bet is the smartest way to go.
Keep in mind: when you pull your first bet, it doesn't mean you'll need to pull your second one. One community card can still change your prospect of winning.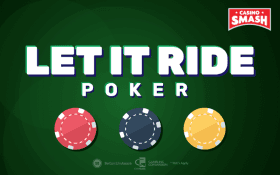 When to Let It Ride: Second Bet
Once you know the first community card, you have a choice to make again. Should you let it ride or pull?
Keep your second bet if…
1. You have a winning hand
This is a no-brainer once again. If you had the winning hand from the get-go or made one with the help of the first community card, you're good to go until the end.
2. You have four suited cards (in a row)
The Flush and/or Straight is only one card away?
Wait for it and let it ride. Your chances are better off this way.
3. You have four cards in a row
If you have four cards with different suits in a row, you still have decent chances of landing a Straight. So, let it ride.
Especially if all the cards are high cards (10s or better) or you could make a Straight with a card that goes on either side of the sequence (e.g. 2-3-4-5: either Ace or 6 would complete the Straight).
With a hand like that, even the house edge disappears for the time being. You have even odds with the House.
Wouldn't we like all of our hands to be like that?
Important Notice: This is not our latest article about the promotions at this online Casino. You might no longer be able to claim this offer. To know what bonuses are available right now, have a look at our Casino bonus page.
Disclaimer: Gambling is a game of chance and there's no sure-fire formula that guarantee winnings. You can improve your winning chances by using the right in-game strategies but there is no way to predict when a machine or a Casino game is going to pay. Also, this page contains affiliate links. If you click through and play, we might earn a commission. That's what allow us to keep CasinoSmash free and bring you the best online Casino bonuses!