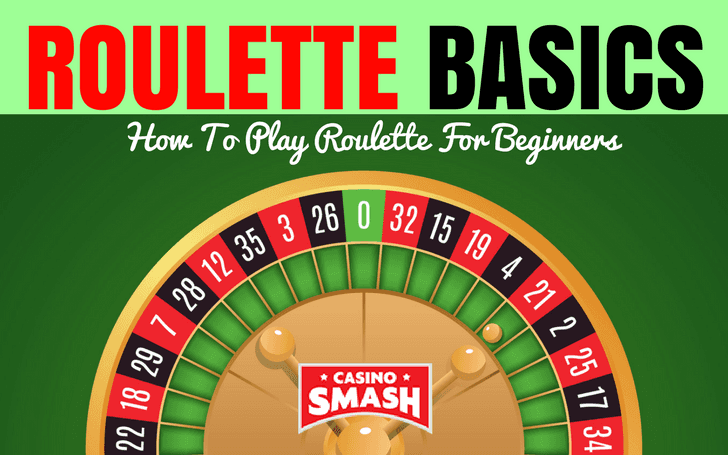 Roulette Basics: How to Play Roulette for Beginners
Learn the basics of casino roulette by reading our beginner's guide to a winning strategy. Read the article, watch the video, and learn how to play now!
Visit any casino around the world and you will always find an area that is brimming with excitement and activity; and that is usually the area around the roulette table.
Roulette is a fun game that offers a wide range of odds and by the time you have finished reading this beginner's guide to playing roulette, you will be ready to get in on the action and see what all of the fuss is about.
Roulette Basics 101: How to Play Roulette at a Casino
Like the majority of casino games, the rules to roulette are simple enough that even someone who has not played the game previously can simply walk up to the table and begin playing.
Let's start with the basics:
You start by exchanging your money or casino chips for colored betting chips with the roulette croupier. Everyone playing uses a different color to prevent confusion, and once you have your color chosen you place these tokens onto the various areas on the table map (we'll cover more on that later).
The same goes for those wanting to learn how to play roulette at an online casino, only here the whole process is much faster than in a bricks and mortar venue as everything is done electronically.
How to Play Roulette as a Beginner: Bets and Odds
Roulette offers players several bets that pay between 1 to 1 all the way up to 35 to 1. Whether you are looking for how to play roulette living or for fun, it is worthwhile committing to memory the various bets on offer at the roulette table.
High or Low: Pays 1 to 1
Red or Black: Pays 1 to 1
Odd or Even: Pays 1 to 1
Dozen betting (1st 12, etc): Pays 2 to 1
Column Betting on 12 Numbers: Pays 2 to 1
Six Line Betting on Six Numbers: Pays 5 to 1
Corner Betting on Four Numbers: Pays 8 to 1
Street Betting on Three Numbers: Pays 11 to 1
Split Betting on Two Numbers: Pays 17 to 1
Straight up Bets on 1 Number: Pays 35 to 1
There are two main types of roulette wheels, French Roulette and American Roulette. At first glance they may not seem too different, but if you take a closer look you'll discover that one has significantly higher odds in favor of the house when compared to the other.
Here's Why:
In French roulette, there are 36 numbers and a single zero (which if the ball lands in the house wins all bets), whereas on an American roulette wheel there is also a "00" slot in addition to the standard single zero.
While this may seem relatively insignificant, the extra zero almost doubles the house edge. Any one of the many roulette strategies available online will tell you that single zero gives the house a 2.7% advantage, but the additional double zero on the American Roulette wheel increases this to 5.26%.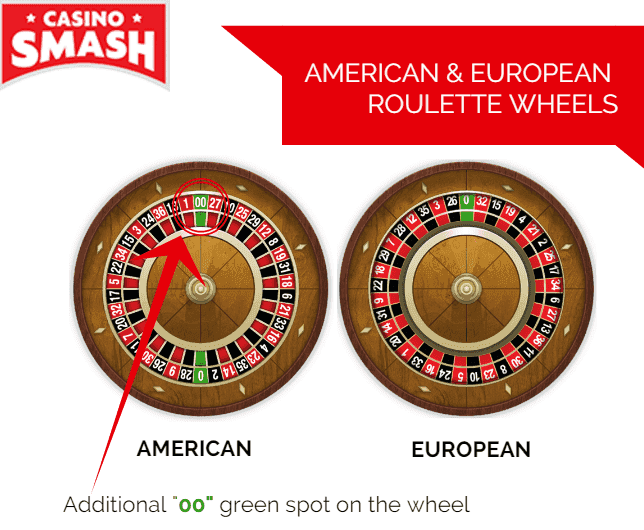 How to Play Roulette: Follow These Simple Instructions
Once you have your betting chips and you understand the odds, you're ready to get involved in some roulette action. Each round can progress quickly, but not fast enough that you would feel too time pressured to act.
Once the dealer has cleared away the losing bets, and paid the winners out, they pause for a few moments to allow new bets to be place. After a short while, the dealer spins the wheel, throws the ball onto it and announced "No more bets."
Once this announcement is made, no more bets are allowed until the next round, which occurs once the ball has come to rest in a track on the wheel. Again, the losing bets are cleaned away and the winners, hopefully including you, are paid according to the paytable above.
More Roulette Basic Tips: Here's a Video Crash Course
Can You Learn How to Play Roulette Professionally?
The answer to this question is, sadly, a resounding no. Here's why:
Search the internet for long enough and you will come across guides, which often command a fee, claiming to teach you how to play roulette like a professional. The sad truth is that any game based on pure luck where the house has an advantage cannot be beaten in the long term.
This doesn't mean you can't win though!
Play for long enough and the casino wins, that is how they make their money. That is not to say that in the short-to-mid term you cannot go on winning streaks because they happen all the time, often giving the illusion that you know how to play roulette like a professional.
The key is not to let winning get to your head, play in short bursts, and once you've been at the table for a while have the will to quit while you're ahead.
How Do Roulette Betting Systems Work?
Again, like those offering to teach how to play roulette professionally, there are people out there claiming to know a betting system that guarantees consistent wins. Don't fall for these because they do not work.
Why Not?
Some do look convincing, but think of it like this: if you knew of a guaranteed way to beat the casino, would you publish it on the internet for $20 and risk the casinos seeing it and working out a way to stop it, or would you keep it to yourself and maintain a nice, stable income?
There is your answer!
The best way to learn how to play roulette effectively is to, first and foremost, enjoy the game. It can be great fun, especially when played with a group of friends!
Also make sure you are only betting with money that you can afford to lose, and if you are looking to win larger amounts by betting on single numbers you have to be prepared to endure much longer losing streaks than those placing bets at shorter odds.
The Best Online Roulette Casinos: Bonuses Included!