American Poker: Beginner's Guide to Playing American Poker
Sometimes, video Poker fans need to switch it up a little bit.
If you're in the mood to try something new, American Poker could be your ticket to Casino game heaven. What exactly makes it special?
Action-packed video Poker game reminiscent of the classic style with an exciting new twist
Perfect for Poker experts and beginners alike with straightforward and easy gameplay
An interactive experience where you'll have plenty of fun and access to a mini bonus feature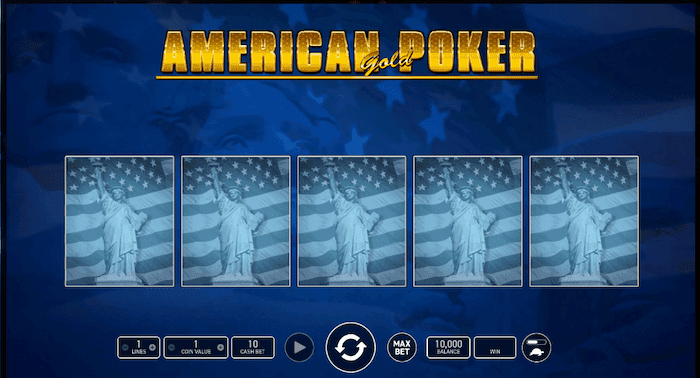 Introducing American Poker
American Poker is a video Slot-style card game similar to regular video Poker. However, it does have some key differences which make it stand out as a fun and interesting alternative.
It's played with a standard 52-card deck, but it has an extra joker thrown in.
The joker acts as a wild, able to replace any other card to get you further towards a winning combination.
American Poker has a definitive United States feel to it, but it doesn't much impact gameplay. In fact, the game itself first took hold in Germany's land based Casinos, but has since been adopted as a popular form of video Poker in online Casinos around the world.
The graphics are generally charming without being flamboyant, and the game lets you get right down to the nitty-gritty immediately.
It's ideal for those who prefer crafty maneuvering to bright showmanship, a down-to-earth game which makes for the perfect Poker experience.
Gameplay
One of the best things about American Poker is its simplicity. You won't be playing against other players here, so there isn't any added pressure because of opponents.
You just have to worry about getting the best hand for yourself.
The objective of the game is to get a hand featuring a pair of jacks, or hand which is higher than a pair of jacks.
Any jacks or better hand is a paying combination. Here's how standard gameplay goes:
Poker players make their initial wager and are dealt 5 cards (hopefully with a wild joker!)
Players can make the decision on which cards to hold, or whether to buy a draw
If players choose to buy a draw, it will be bought at the same price as their initial wager
Winning card combinations are from the pair of jacks to a straight flush, with royal flushes being the highest possible combination.
Rules & Features
American Poker doesn't have too many bells and whistles.
The rules are the same as with other video Poker games, with the only main difference being the joker wild and the mini bonus feature.
The Mini Bonus feature is a jackpot feature triggered if you land a pair of jacks, kings, or aces on the initial draw.
Every time this happens, the jackpot goes up by the amount of your initial wager. Keep playing, and the bonus gets bigger.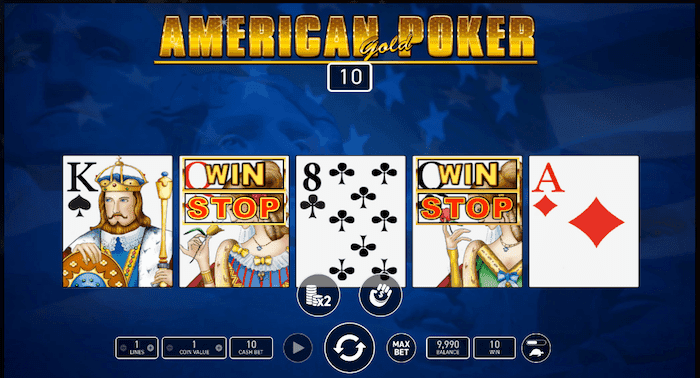 You'll be able to cash out the bonus by landing a pair of queens on the initial draw, and it's up to you whether you accept the bonus or try to improve your hand by drawing again.
If you win the hand, some versions of American Poker allow you to double it via a pretty standard gamble feature—you'll be presented with a card and have to guess whether it's red or black.
If you guess correctly, you'll have a chance to multiply your winnings.
Depending on which online Casino you choose to play at and which developer has crafted your American Poker game, you'll find the rules and features might vary slightly.
You can try out a few versions to see which ones you like best—go for a fun and popular version of the game like American Poker II, or try out a ritzy newer version like American Poker V.
Strategy & Tips
Since American Poker operates similar to other video Poker games, you'll do good to follow a basic video Poker strategy.
You can also follow some tips for a more seamless game:
Familiarize yourself with the Poker hand rankings
Know the odds of coming up with winning combinations from your hand
Make decisions in time. You don't need to play too rapidly, since there are no other players waiting for you
Don't keep cards arbitrarily or hold onto 'kicker' cards just because they're high—the odds against a winning combo from these are too big for comfort.
You'll base your decision to hold and draw based on the cards you have in hand. Each hand is different, and you'll be able to exercise total control over your actions with it.
Sometimes the decision to hold or draw is easy, and sometimes it's a bit more difficult.
The only way to get better is to practice, and with more playing time under your belt you'll be able to make your calculations more quickly and precisely.
Get Started with American Poker Today
Ready to roll out the royal flushes?
Now that you know the rules and basic strategy for the game, you're ready to get started playing right away.
You never know—it could turn out that you hold all the right cards for success.
Important Notice: This is not our latest article about the promotions at this online Casino. You might no longer be able to claim this offer. To know what bonuses are available right now, have a look at our Casino bonus page.
Disclaimer: Gambling is a game of chance and there's no sure-fire formula that guarantee winnings. You can improve your winning chances by using the right in-game strategies but there is no way to predict when a machine or a Casino game is going to pay. Also, this page contains affiliate links. If you click through and play, we might earn a commission. That's what allow us to keep CasinoSmash free and bring you the best online Casino bonuses!
Bonus info: Terms and conditions apply to the offer. If something isn't clear, have a look at our review of LV BET Casino for the T&Cs in full. The offer on this article might have expired by the time you read it. Please refer to the review pages for the latest bonuses and promotions available.