Best Casinos in Vegas: What to Play and Where to Play It
There is only one place in the world that can be considered the Mecca of gambling — Las Vegas.
This city has been beaming with neon lights, shining brightly, and inviting people from around the globe to enjoy all the best Casino table games and the most popular Slots for more than 100 years.
And it's not going to stop anytime soon.
The success of Las Vegas lies in an unparalleled experience which surpasses that of plain Casinos and their gaming offers.
It is the only place in the world that is home to a replica of the world's best-known landmarks, so don't be surprised if you happen to see the Eiffel Tower or Taj Mahal while going down the Strip.
Furthermore, the establishment of grand Casino resorts combines the purpose of hotels with that of Casinos, thus creating a new era of Vegas-style gaming experience.
The best Casinos in Vegas are the ones that make you feel like royalty, starting from concierge services, to the doormen and waitstaff at slot machines.
The Best Vegas Games Online!
Play the best Vegas games with exciting bonuses!
Get a bonus to start and discover all the best Vegas games to play online!
At Casino resorts, you can enjoy exquisite cuisine, as well as the best night-life and Casino games.
The most famous area of Vegas is the Strip — the road where all the top Vegas Casinos are located and where you can find celebrities and A-listers partying in some of the hottest clubs in the world.
Yet, not all Las Vegas Casinos are created equal.
Some are unbeatable entertainment powerhouses where everything is allowed and designed to make you live your own Hangover experience and sip the best Casino drinks in the world…while some other ones are just bad.
This article will take you on a memorable trip through Las Vegas' top Casinos and give you insights into where you can play the best Casino games. So buckle up and read on!
The Bellagio Casino
The Bellagio is one of the very best Casinos in Las Vegas.
It was initially built by Steve Wynn and is now owned and operated by the MGM Resorts International. The theme of the Casino is inspired by the small town of Bellagio, Italy.
Whether or not you are a fan of gambling, fine dining, or any other form of entertainment, the Bellagio is the place to be.
This place is popular among locals and tourists since its services, amenities, hospitality, and the choice of Casino games are the best in the business.
The Bellagio Fountain Show
There isn't a more spectacular welcome to a casino in Las Vegas than the one offered by the Bellagio's fountain show.
This spectacular attraction runs multiple times per day and has been regarded as one of the best shows in Vegas. See it for yourself:
(Note: If you are a GOT fan, you should try this new Game of Thrones online game!)
Furthermore, the Bellagio is home to spectacular flower gardens inside the Conservatory where you can see incredible artistic designs and performances worth millions of dollars.
Hotel and Amenities
The Bellagio stretches across hundreds of thousands square meters of both gaming space and hotel premises.
The 5-star hotel is equipped with 4,000 rooms, out of which there are 14 different types of suites, each priced differently according to the amenities they offer.
Speaking of facilities at Bellagio, you can enjoy lavish massages, jacuzzi treatments, and the fitness centre. All of these are included in the offer at the vast 65,000 square feet spa and salon.
You can also experience the vibrant atmosphere at one of the numerous bars, night clubs, and restaurants found in the Bellagio.
Everything works Vegas-style, so you can expect most bars and restos to be open until late if not to continue their operations non-stop for hours a day.
If you can't sleep and you want to get some action, do pay a visit to the Sports Bar and to the Baccarat Bar — that's where the action never ends.
Fancy a game of Baccarat? Read Here!
Baccarat is an amazing game with a low house edge — if you know what's the right way to play.
If you plan to head to the Baccarat bar for a drink and a game, make sure you read our guide on how to play Baccarat and our analysis of the best Baccarat systems. You'll get much better winning changes this way!
The Bellagio Casino
The gaming floor at Bellagio is a vast space that covers 116,000 square feet with separate sections for each type of Casino games.
There are several different areas where you can play table games, Slots, high limit games, etc., which means there is something for all kinds of gamblers.
This article is part of an exclusive series that include also:
The games that are most commonly played at Bellagio are Poker, Blackjack, Baccarat, Slots, Craps, and Roulette.
There are over 2,300 Slot games on the Casino floor where you can play both the most classic Slot machines and the newest video Slots.
The betting limits that start from a penny and rise up to numbers that we better not try to calculate.
The minimum stakes at most tables and other games are usually around $10. Each table displays the minimum bets clearly, so you can choose the ones that suit you best.
High limit tables are the bread and butter of Bellagio, but you are going to be able to afford bets of $100 or (a lot) more if you want to get a seat there.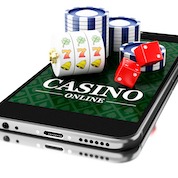 All the Best Casino Games to Play Online
Check out all the best Casino games pro gamblers love and play from desktop, Android, and iOS.
Start your journey from zero-to-hero with a FREE bonus!
Playing Poker at the Bellagio
No game is more renowned and better managed anywhere on the Strip than Poker at the Bellagio Casino.
Their Poker Room has hosted some of the most significant events in Poker history, including the World Series of Poker.
As a Poker player, you can be sure to find plenty of cash game action and daily tournaments.
No type of Poker is more popular than No Limit Hold'Em and that's what most of the action at the Bellagio is about.
At this Casino, you can play whatever stakes you choose, and you will square off with both amateur and professional players.
The most famous section of the Bellagio's Poker room - and the one where the most expensive high stakes games take place - is the Bobby's Room, named after the 1978 WSOP winner Bobby Baldwin.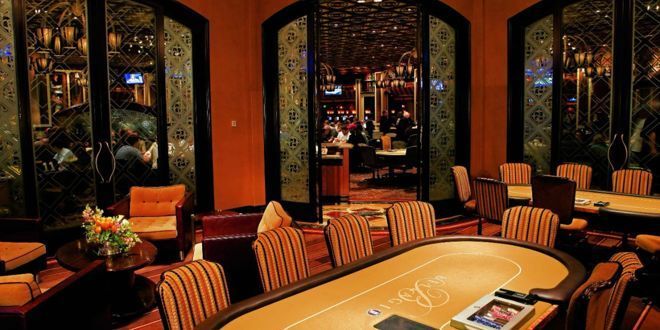 That's the place where you can spot professionals playing for millions of dollars and, well, even join them if you are brave enough.
The Poker Room has over 40 tables operated by professional and courteous dealers with a lot of experience. As a player, you can get drinks, food and even get back and neck massages while you are at the table.
The Mirage Casino
The Mirage has long kept its much-coveted title for being one of the most impressive venues in all of Vegas, and thus one of the best Casinos in Sin City.
It is one of the oldest Casinos on Las Vegas Strip, having first opened its doors to the public back in 1989.
To this date, visitors are still mesmerised by marvels at The Mirage.
Step in this amazing world to indulge in secret gardens, rainforests, artificial volcanos, and pools with nude areas that induce the feeling of being on remote beaches of Polynesia.
A visit to Las Vegas doesn't get better than that.
The Mirage is located on the Strip between the Caesars Palace and the Treasure Island resorts. If you need help to move around, there is a tram line that connects The Mirage and Treasure Island.
To better understand how majestic the Mirage is, think about this: the building cose is estimated at over $630 million, which comes as no surprise given the fact they put real gold into window frames.
Hotel and Amenities
There are over 3,000 rooms at The Mirage, ranging from standard rooms to spacious suits big enough to host large gatherings.
There is a $28 fee for each day at the resort which includes the use of the Internet, and business and fitness centre.
No Casino without luxurious suites can be considered one of the best Casinos in Vegas, and The Mirage offers three varieties that cost from $100 to $500 a night.
All suites are equipped with top amenities, such as spacious bathrooms, entertainment rooms, and king-sized beds.
There is also a wide variety of bars, night clubs, and fine dining restaurants which offer specialities from various cuisines, from Brazilian all-you-can-eat steakhouse to top seafood options.
There are also a couple of video poker bars that feature video Poker and slot machines at their centre, making sure the fun never stops.
The Casino at the Mirage
The Casino floor at The Mirage is one of the biggest ones in Vegas.
It extends on s surface of over 100,000 square feet, with Poker and Blackjack tables being the most popular games at the centre of the Casino floor.
There are 31 Blackjack tables with a betting range that starts at $10 and raises up to $10,000, so there is something for both novice players and experienced gamblers.
Pro Tips: Most players prefer to play at the $25 single-deck Blackjack tables as they offer better winnings odds compared to the standard multi-deck tables.
As far as Poker rooms go, there are Texas Hold'Em Poker rooms with fixed limits and no limits whatsoever.
There are four daily tournaments played across 19 Poker tables frequented by amateur players and pros alike.
Caesars Palace Hotel & Casino
The Caesars Palace is one of the most monumental landmarks in Vegas since the late 60s.
This Las Vegas Casino has gone through various renovations and owes its current look to the one completed in 2015.
It is one of the most popular hotspots in Vegas, partly due to the incredible energy that flows around the Casino floor — so make sure to be in your best party mood when you walk in!
The theme of the Casino is ancient Rome, so you can encounter both visitors and staff dressed up in costumes, which creates a unique atmosphere on the gaming floor.
Speaking of the staff, they are all trained professionals, from the valet to Casino managers, and they provide all visitors with top-notch services.
There are multiple rewards and loyalty programmes that Caesars Palace offers and that more often than not exceed those in other Casinos.
Hotel and Amenities
The Caesars Palace Hotel is a four-diamond hotel divided into August, Palace, and Julius Towers — all for a total of nearly 4,000 rooms.
The prices of the regular rooms go from $100 and $200 per night, whereas the top suites cost anywhere from $400 to well over $1,000 per night.
There is a specific boutique hotel Nabu situated within the Casino floor itself, getting you as close to all the fun as you can be.
The resort fee is somewhere around $40, and despite being one of the more pricey ones down the Strip, it includes the use of the Internet, pool area, and a fitness centre.
Speaking of the fitness centre, it is part of the Spa and Fitness area that covers over 50,000 square feet of space with 48 different treatment rooms where various massages and body and aromatherapy treatments are offered.
Also, there are over 20 restaurants, bars, and clubs where you can get a quick bite, as well as elegant dining options with dishes coming from around the globe.
One of the premier places and the hottest spots in all of Vegas is the Omnia Nightclub at Caesars Palace, spanning across 75,000 square feet and hosting world's best DJs on a nightly basis.
The Caesars Palace Casino
The Casino floor at Caesars Palace is one of the largest ones in Vegas and it contributes to the Palace's flattery title of being one of the best Casinos in Vegas.
It spreads across 124,000 square feet divided into gaming pits that hold different types of games. The atmosphere is constantly firing on all cylinders as there are almost all kinds of Casino games in existence.
Various betting limits depend on the type of game you are playing, but there is something to be found for those with not so deep pockets, with limits starting at $5 at Blackjack tables, for example.
Apart from Blackjack, there are also Craps, Roulette Baccarat, Poker, Slots, etc.
Slot machines are also a good option at Caesars Palace as they are almost everywhere.
There are more than 1,000 Slots with both classic and newest titles, so you can start with the penny Slot machines and work your way up to two tucked away and exclusive high limit Slot rooms.
However, no room at Caesars Palace is more popular than the sportsbook.
It is one of the biggest sportsbook rooms in Las Vegas and a paradise for all sports enthusiasts.
There is a colossal 138-foot LED video wall comprised of 12x15-foot screens, a 20x50-foot LED board, and 12x50-inch plasma screens, allowing bettors to follow up-to-the-minute betting lines from 140 comfortable chairs.
You can also order food and drinks from the bar and have them delivered to your chair, so you won't have to miss a single minute of action.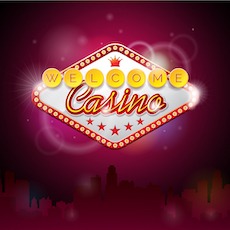 The Best Games with the Best Odds
Choosing Casino games with the best odds give you more chances to win.
Register a free account here to discover all the games with the best odds and play with a bonus!
Disclaimer: Gambling is a game of chance and there's no sure-fire formula that guarantee winnings. You can improve your winning chances by using the right in-game strategies but there is no way to predict when a machine or a Casino game is going to pay. Also, this page contains affiliate links. If you click through and play, we might earn a commission. That's what allow us to keep CasinoSmash free and bring you the best online Casino bonuses!
Bonus info: terms and conditions apply to the offer. If something isn't clear, have a look at our review of Energy Casino for the T&Cs in full. The offer on this article might have expired by the time you read it. Please refer to the review pages for the latest bonuses and promotions available.