Blackjack Variants: 10 Games for Serious Blackjack Players
This is an up-to-date list of Blackjack variants to play in 2019.
On this page you find games with:
Enhanced payouts
Wilds
Different Blackjack rules
Lots more
Let's get to it and find the best Blackjack variants you can play today.
Alive and kicking since 1700 as the University of Wisconsin-Madison reports, the game of Blackjack is popular, known, and played card games in the world.
But you'd be wrong to assume the game didn't change since its inception in France, where it was known as a variant of the famous "chemin de fer" that whet by the name of "Vingt Et Un."
That's French for twenty-one, unsurprisingly.
As a Blackjack player in 2019, Blackjack you can enjoy this game in ways that were unthinkable even a few years ago.
You can challenge a dealer at a brick-and-mortar Casino, you can gamble online and play against the AI, and you can even join thousands of other players at a Live Dealer Blackjack game on the internet.
And with so many Blackjack variants to play, playing Blackjack has never been this exciting.
Blackjack Variants Online: the Complete Guide
This article focuses on online gaming and the best games of Blackjack you can play online in 2019.
We didn't focus on the live games because we didn't want to give you false hopes and create unrealistic expectations.
If you can't play in Las Vegas, Atlantic City, or Macau, chances are you'll never see a table to play most of these Blackjack variants.
Online, however, everything is different.
To help you find the games of Blackjack that suit your play strategy, your bankroll, and your style, we compiled a list of the most popular variants in 2019.
To know more about each game, scroll past the list below. That's where you find a short description of each Blackjack variant where we highlight what makes it unique and different from the base game.
Top Blackjack Variants
---
Blackjack Variants: TL;DR
Too long; didn't read? I get it; we are all busy.
No worries, you can see the main differences between the Blackjack variants in the table below. You're welcome.
| Blackjack Variant | Main Difference | Blackjack Pays | Link |
| --- | --- | --- | --- |
| European Blackjack | The dealer gets the second card dealt only after the player makes a move. | 3 to 2 | Play Game |
| Multihand Blackjack | The player can play with two and more hands at the same time. | 3 to 2 | Play Game |
| Double Exposure Blackjack | The dealer gets both cards face up. | 1 to 1 | Play Game |
| Single Deck Blackjack | The dealer uses only one deck of cards. | 3 to 2 | Play Game |
| Blackjack Surrender | The player can surrender and get half of the wager back. | 3 to 2 | Play Game |
| 21 Burn Blackjack | The player gets an extra card face down, he/she can use it to replace the second dealt card. The Burn Side Bet is made when using the option. | 1 to 1 | Play Game |
| Super 7 Blackjack | The player can make a side bet that his/her first dealt card will be a 7. The bet pays if first, both, or all three cards are 7s. | 3 to 2 | Play Game |
| Pontoon | The player gets the highest payout if gets a pontoon (a blackjack) or makes the hand of five cards without going bust. Dealer wins on all ties. | 2 to 1 | Play Game |
| Blackjack Switch | The player gets two hands at the same time and can switch top cards between the hands. | 1 to 1 | Play Game |
---
Classic Blackjack
Classic Blackjack is the foundation of all variants.
This is the base game, thus, the easiest to learn and to play.
If you are looking for a starting point to practice and eventually master the Blackjack basic strategy, this is the game you want to play.
Classic Blackjack is the ideal game for beginners.
This common Blackjack variant aims to get 21 points (or to get the closest you can to it) and beat the dealer's hand.
Mind you - if you go over 21, you are out.
If you are not familiar with the way Blackjack works, read how to play Blackjack online.
Most of the Blackjack variants share the same goal of classic Blackjack.
Classic Blackjack vs Other Blackjack Variants
The main differences between the base game and the other Blackjack variants on this list include:
Extra moves
Use of the 'Surrender' option
Different rules to split you hand
Different rules to stand or not
Many Blackjack variants give you the option to double your bet and split a pair into two separate hands.
Some allow you to take insurance (pro tip: don't!) and decide over other minor tweaks.
These are not the variants you'll find on this article.
Because those small changes are not what we have in mind when we speak about Blackjack variants. We want more. And we know you do too.
---
European Blackjack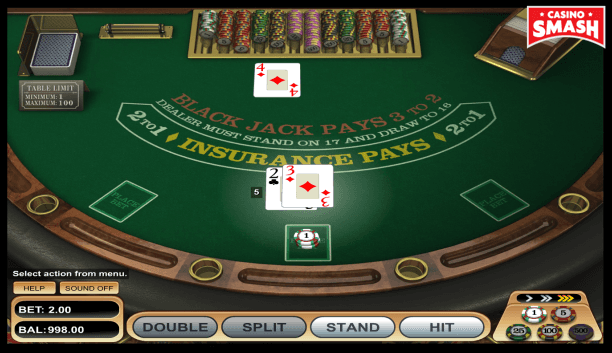 The distinction between American vs. European variants are best known in the game of Roulette. But did you know that it exists in Blackjack as well?
The American Blackjack is the classic version of the game. When people play "Blackjack", they play American Blackjack.
European Blackjack, however, is a different game. Albeit it is not that far from the original.
The only difference between the games is this one:
In American Blackjack, the dealer gets both cards right away. One card face up and the hole card face down.
In European Blackjack, the dealer gets the second card only after the players make their first move.
---
Multihand Blackjack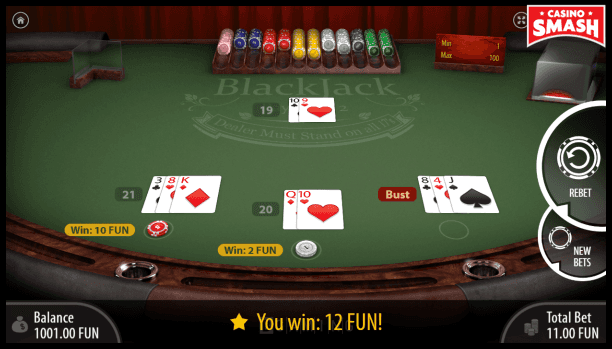 Picture this:
You log into a good Blackjack website, find a Blackjack table with the right limits...and the Dealer offer you to play three or five Blackjack at the same time.
How do you react?
In a game of Multihand Blackjack you can play with one, two, three, four, or even five hands at the same time.
Playing more hands simultaneously means more chances to land a winning hand and be in control of the cards on the green felt.
Since you have more cards on the table, you also have better insights. You know what cards are out and what cards may still come up.
This helps you make better choices and understand what are the best hands to hit, stand, double down, etc.
The number of hands you can play is the only difference between Multi-hand Blackjack and Classic Blackjack.
See it like this: Multi-hand Blackjack is like Classic Blackjack. But on steroids.
---
Double Exposure Blackjack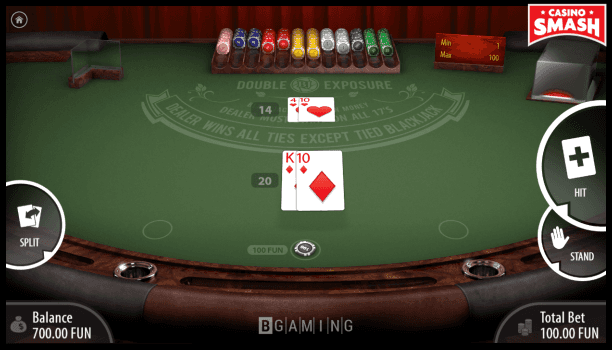 Double Exposure Blackjack is also known as the Dealers Disclosure. Once again, this variant of the game is relatively similar to Classic Blackjack.
In Double Exposure Blackjack, the dealer always plays their cards face up.
As a player, you can see the cards the dealer's card right from the start.
This gives you an advantage as it makes it easier to implement an excellent in-game strategy and reduce the house edge in your favour.
Most games of Double Exposure Blackjack play "a Natural" 1 to 1 instead of the usual 3 to 2.
---
Single Deck Blackjack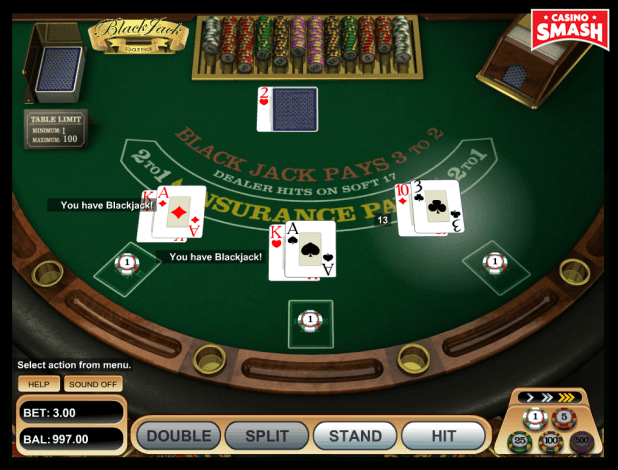 Casino hate players who know how to count cards in Blackjack. That's why they employ up to eight decks of French cards on each game.
To get around this problem, go online and look for a game of Single-Deck Blackjack. Because, as the name suggests, it uses a single deck of cards.
Duh.
This Blackjack variant is somewhat a rarity in 2019, but we have a found a few websites where you can play it.
Additional Resources on Single-Deck Blackjack
How to Play Single Deck Blackjack Online with the Best Odds: An all-in-one guide to finding the best games of Single Deck Blackjack and use bonuses to play them.
---
Blackjack Surrender[/H3]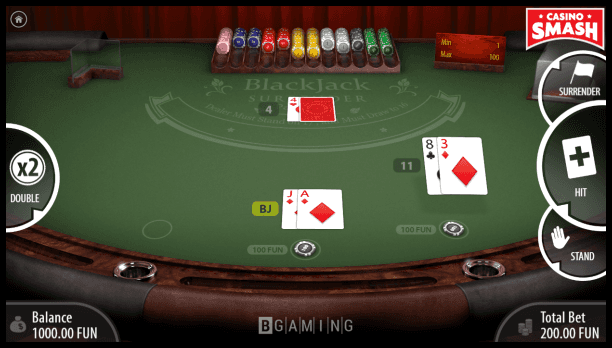 [/URL]
In a game of Blackjack Surrender you have a new option to consider: you can wave a white flag and...surrender before it's too late.
If you feel trapped and you think you have zero chances to win your hand, you can surrender and exit the game.
When you choose to do so, you only lose 1/2 of your wager. The other 1/2 goes back to your bankroll as it nothing ever happened.
Blackjack Surrender is an excellent variant for those players who know when to surrender, but it's not the right game for those who have cold feet once too often.
As for the gameplay, Blackjack Surrender follows the same rules as the Classic Blackjack variant.
Additional Resources on Blackjack Surrender
Blackjack Surrender 101: How to Play Online and Win More: An easy to read guide with plenty to become familiar with this variant of Blackjack and understand what are the cases when surrendering is your best option.
---
21 Burn Blackjack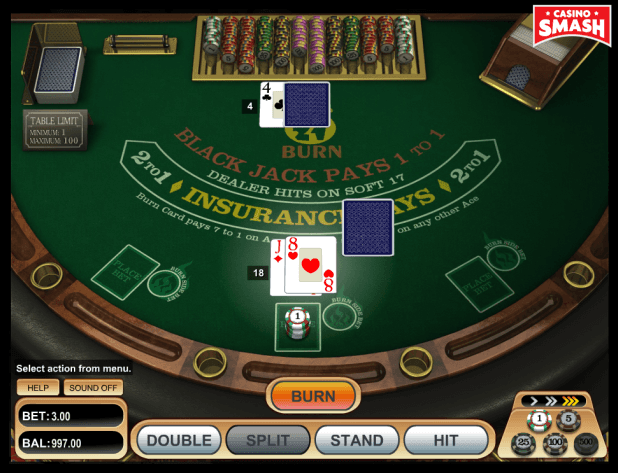 [/URL]
In a game of 21 Burn Blackjack, you get three cards instead of two. Two cards are face-up, and one is face down.
After that, you can choose to:
Stand;
Hit;
Double Down;
Burn.
If you decide for the last option of the list (Burn), you add an extra wager to your bet equal to 1/2 of the initial one.
This allows you to replace your second card (known) with the one face down (unknown).
If you get Ace of Spades when you use burn card, you get paid 7 to 1 for your burn wager alone.
---
Super 7 Blackjack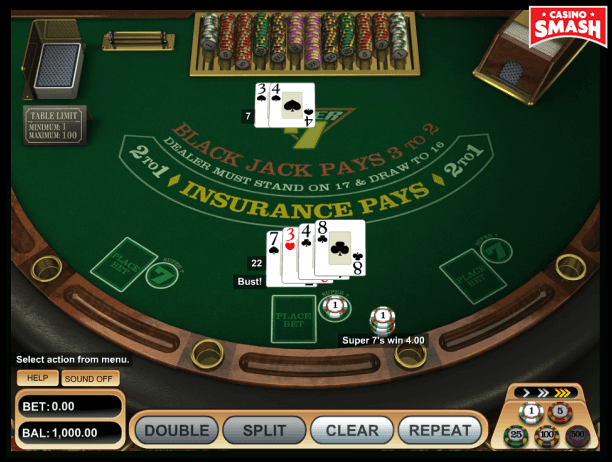 Super 7 Blackjack is a Classic Blackjack game with an extra side bet, the 'Super 7s.'
If you go for this side bet and your first card is a 7, you get paid 3 to 1.
If your first two cards are both 7s, the payout becomes a massive 50 to 1.
And if your first three cards are 7-7-7...get ready to celebrate because this bet pays 500 to 1!
Oh — I almost forgot. If your first card isn't a 7, the bet is lost.
---
Pontoon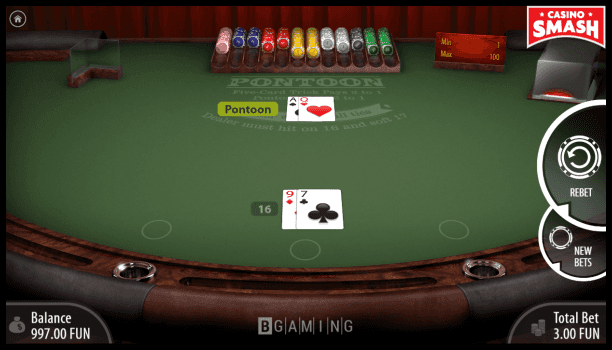 [/URL]
The game of Pontoon is so exciting and distinctive that it feels a bit wrong to consider it 'just a variant of Blackjack.'
There are many differences between a game of Pontoon and one of Blackack — starting with the terminology used in the game.
| Blackjack | Pontoon |
| --- | --- |
| Dealer | Banker |
| Hit | Twist |
| Stand | Stick |
| Blackjack[SUP]*[SUP] | Pontoon |
*: we refer to the combination of an Ace and a face card.
But the differences between Pontoon and Blackjack don't end here.
In a game of Pontoon, both banker's cards are dealt face down, leaving you with fewer e to elaborate an effective strategy to win.
Also, Pontoon players cannot stand (stick) on a hand value of 9 but need to continue to hit (twist) until they have at least 14 points.
The next difference is the Five Card Trick, the second-best combination of cards after the pontoon.
You win the Five Card Trick if you have a hand of five cards and you don't bust, or go over 21. This combination pays as much as Pontoon: 2 to 1.
[H4 exclude="1"]Additional Readings on Pontoon
How to Play Pontoon Online (and Win): On Laura Klusaite's guide to Pontoon, you find a complete description of the game's essential rules and a few useful strategy tips for optimal play.
---
Blackjack Switch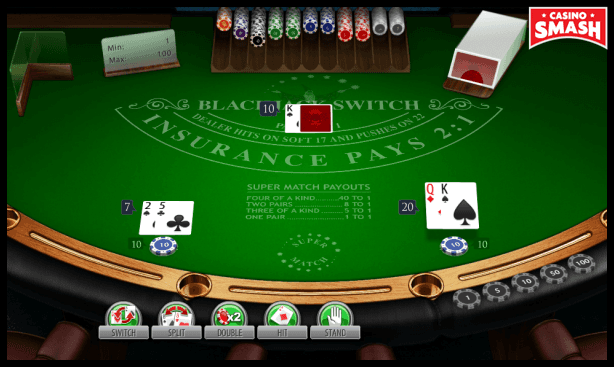 Blackjack Switch is one of the newest Blackjack variants as the game was invented by Geoff Hall only in 2009.
In this Blackjack variant, the dealer deals two hands at the same time.
The player, having two hands, can switch the top two cards between the hands.
If you get a blackjack once the cards are dealt (or the switch is made), it pays 1 to 1 instead of the standard 3 to 2.
Plus, if the dealer hits 22s... not everything is lost (for them). This hand is a push unless the player had a Blackjack and didn't do any splitting or switching cards during the round.
Disclaimer: Gambling is a game of chance and there's no sure-fire formula that guarantee winnings. You can improve your winning chances by using the right in-game strategies but there is no way to predict when a machine or a Casino game is going to pay. Also, this page contains affiliate links. If you click through and play, we might earn a commission. That's what allow us to keep CasinoSmash free and bring you the best online Casino bonuses!