Cleopatra Slots: 19 Cleopatra Slots Machines to Play Online!

There's not much that can get as exciting as Cleopatra slots, especially now that online video slot machines are almost as picture-perfect as Hollywood movies.
Unlocking bonus rounds and free spins put you in an adventurous role, such as the one played by Harrison Ford in the Indiana Jones movies.
And, let's be honest: who doesn't love that?
These popular Cleopatra slots casino games feature many Egyptian symbols, with pyramids, pharaohs, mummies, hieroglyphs, scarabs, Sphinx and other deities always ready to join you in your adventures.
But, let's face it - what makes Cleopatra slots really popular, is the mystery that gravitates around the one and only Queen of the Nile and her immense riches.
Cleopatra was a mysterious and romantic Egyptian queen, and legend has it that she was in possession of great riches.
If you want to retrieve these riches, now it's your time.
Get ready to become an ancient treasure hunter and play these fun-packed Cleopatra games until you hit your next big win!
Here is the ultimate list of 19 Cleopatra slot machine games to play online.
Cleopatra
Created by international Gaming Technology, the Cleopatra online slot game is one of the most popular wheels of fortune in the online gambling community. This Cleopatra game, in particular, has engaging graphics, and immersive animations.
Cleopatra online slots pack a number of features, autoplay, such as bonus rounds and even some betting options. This 5-reel, 25-line game has many Egyptian symbols. The Cleopatra symbol is, of course, a wild multiplier, while the Sphinx is the scatter icon.
When compared to the one found in land-based casinos, the online version of this game is a replica. This means that you can have the same fun and experience from the convenience of your home. Free slots Cleopatra give players the opportunity to experience the gameplay before they start betting real cash.
Cleopatra MegaJackpots
If you like to play online slot machines games that promise life-changing amounts of cash, Cleopatra MegaJackpots is definitely something you will find interesting. This Cleopatra game is very similar to the classic Cleopatra one, but there is one significant difference.
The designers have implemented Mega Jackpot to enable people to win huge sums of money. Cleopatra-themed payouts are also there, but the bonuses hold the potential to make the players rich.
The wild symbol in this game is the Megajackpots symbol. The excitement comes from waiting for this symbol to come and transform all the other symbols. Are there any free spins? Of course, just as in the classic Cleopatra, you will need to get sphinx icons on at least three reels to get the free spins bonus.
Cleopatra Plus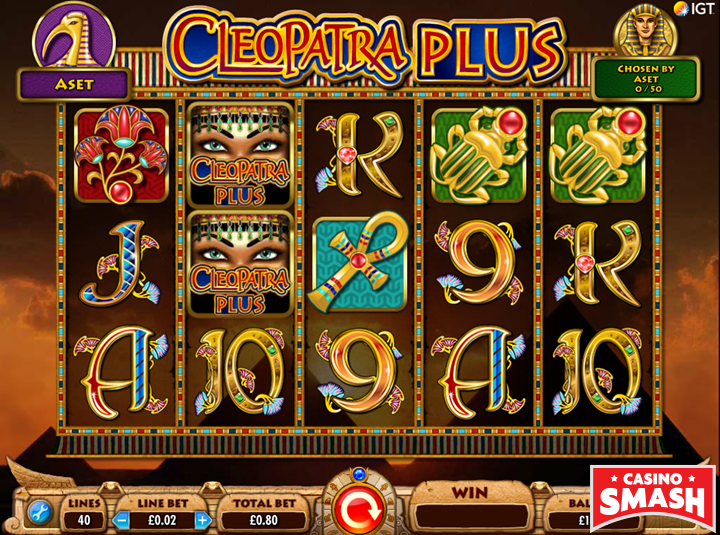 Cleopatra Plus is another very popular online slot machine game. Great graphics, engaging gameplay, bonuses and the Cleopatra theme are just some of the things that make people come back for more spins.
Cleopatra Plus is a 5-reel, 20-payline slot game. This is exactly what "plus" aspect because it is very rare to find a 5-reel online slot game with 20-paylines. What does this mean for a player? Simply put, thanks to the high number of paylines, you have high chances to win in every spin you make.
The bonus that is most expected is the Cleopatra bonus. To get it, you need 3, 4 or 5 of Golden Cleopatra Template symbols. This bonus triggers 15 free spins and the chance to triple your winnings.
Cleopatra's Chest
If you would like to uncover the lost treasure of the Egyptian pyramids and take a peek into Cleopatra's chest and make some of the treasure for yourself, Cleopatra's Chest online slot is your next stop. Yet another Cleopatra slots game masterpiece. You can activate the Cleopatra demo game to see what it is all about.
The interface of this online slot is quite interesting and resembles a jungle. While it is engaging, the Cleopatra's Chest game interface is really easy to use. You will be able to play up to 15 lines, and if you match 5 Cleopatra's, you will have a chance to win big amounts of cash, especially if you keep your bet high.
The other symbols include Egyptian jackals, Eyes of Horus, pharaohs, cobras, and hieroglyphs.
Queen of Pyramids
Queen of Pyramids is another 5-reel Cleopatra themed online slot game. With 9 active paylines, revealing the secrets of Ancient Egypt becomes quite an interesting adventure. There are, however, some other elements to it that make it more interesting.
For instance, a symbol of a blue unicorn will trigger the bonus round. With a free bonus game and a wild symbol, in this game, a Pharaoh, Queen of Pyramids remains one of the frequently played games online. Some of the symbols that are unique to this game are Boat, Scorpio – the scatter in this game – Flower of Lotus, Hawk, Fish and Egyptian Servant.
Having three or more scorpions will activate the bonus spins. While in the free spins, you can activate more free spins, Super Payout mode (wins multiplied by 5), and progressive jackpot. With a little bit of luck, you can easily take all the Egyptian treasures for yourself.
Age of Egypt
Age of Egypt is a popular 5-reel, 20 payline slot machine game. The in-game graphics and music will take you to the Nile shores overlooking the ancient Pyramids. The symbols you can see on the reels are scarab beetles, Horus, Eye of Horus, letters A, K, Q, J and ten playing cards.
The wild symbol is a sphinx. While the bonus symbol is Anubis. Three or more of these symbols will trigger the Anubis bonus, which will take you into the pyramid to pick artifacts and reveal their prizes in cash.
If you get three or more Pharaoh Queen symbols, the game will trigger the Royal Treasury Free Games – 10 free spins with a 3x multiplier. Look for the free slots to try the Age of Egypt before you start betting for real cash.
Crown of Egypt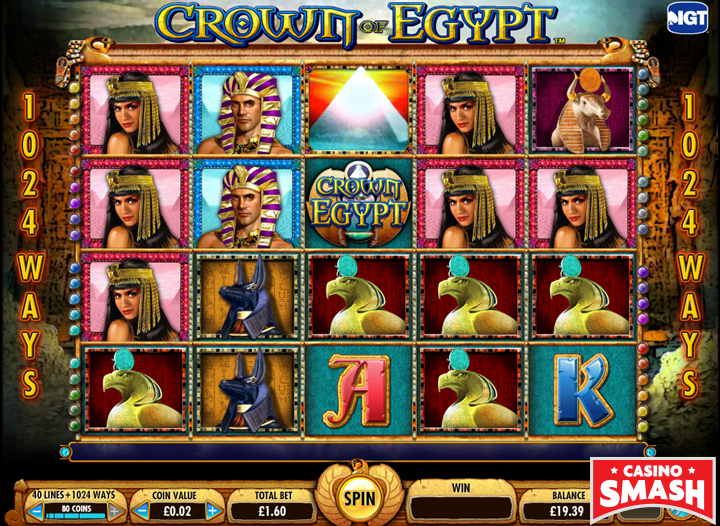 How does this sound? A game that offers you 1,024 ways to win – an online slot with 40 paylines. Sounds impossible? Nope, the Crown of Egypt has it all. The game was designed for people with an adventurous spirit who love engaging online slots.
The feature that attracts most people to this game is the Free Spins Bonus. You will trigger it if you get 2 or more bonus symbols on the middle reel. In the Crown of Egypt, the bonus symbols are Pyramids. The maximum number of free spins the game can award is 130. And this is exactly what makes this game so appealing to online gamblers.
Desert Treasure
If you prefer a challenge while on the quest to uncover the hidden Egyptian riches, the Desert Treasure slot machine is definitely worth your time. The graphics are so good that they reflect the life in the desert throughout the entire gameplay.
The gameplay is set on 5 reels, and on each of the reels, there are three symbols. With 20 available paylines, your chances of winning are quite good. The most valuable symbols waiting to pop out on your screen are Oasis, Camel, and Bedouin. The wild symbol is the golden Cobra, while the scatter is the dark-haired Woman.
Bonus symbols are Compass and Map, which will trigger a bonus round where you will be able to collect your prizes from a mysterious desert merchant.
Desert Treasure II
Desert Treasure 2 is another 20 payline slot with a great gameplay experience and beautiful graphics. The players will be able to trigger two unique bonus features and win big money. The first bonus is the Oasis Bonus.
While in the Oasis, you will be able to reveal cash prices. If you get a map in this bonus round, you will be taken to either the Hidden Sanctum or Secret Tent, where you will be able to reveal more cash prizes.
The other bonus is a Free Spin feature. When free spins are triggered, you will get 15 free spins with an x2 multiplier.
Egyptian Heroes
Egyptian Heroes is a slot inspired by the Ancient Egypt history and mythology. With so many options that it offers to players, this game promises great fun and a lot of secrets to be discovered. It is a 5-reel, 20 payline game designed to bring you to the golden period of Ancient Egypt.
The most rewarding symbol is, of course, the Sun God Ra. If you get 5 of these, you will win x2000 your stake. Also, any two identical symbols of God's will form a winning combination. The wild symbol is the pyramid, and it only appears on the 2, 3 and 4 reels. The free spin feature is triggered by the scatter symbol, in this case, it is the Golden Pharaoh Tomb.
Golden Egypt
Golden Egypt machine slot is also playable online. As you might already know it from your experience in land-based casinos, it's a 5-reel, 25 playline slots. The in-game graphics are amazing.
One feature makes it quite unique though – the Wild Stays two Plays. If you collect two golden coin symbols, during the next two spins the whole reel will be wild.The bonus symbol is the pyramid. If you get 3 or more, it will trigger unique bonus feature – the Players Decision Free Spins Bonus. You will be able to choose from 3 options which offer different free spins and random wild reels.
Lady of Egypt
Lady of Egypt is an engaging 10-reel, 9 payline online slots. This slot is unique because it offers gamers the chance to try out the horizontal reel layout.
The free bonus spins feature is triggered after you get 3 or more bonus scatters on the reels. While 3 scatters award eight free spins, four will give you 12 free spins. Your stakes are multiplied by ten during the bonus round.
The five scatters will award you with 16 free spins, only this time the multiplier is 25. If you strike a deal with lady luck and get 6 or more bonus scatters, you will get 30 free spins, and the multiplier will be 50. Lady of Egypt can easily make you a rich man.
Pyramid: Quest for Immortality
Pyramid: Quest for Immortality comes with a unique feature – Avalanche Reels, which puts multipliers at the center of the players focus. After connecting consecutive wins on your spins, the multiplier will go to an amazing ten times. If you are lucky, the Avalanche can increase the multiplier to x36,000.
While there is no free spins feature, the Avalanche replaces it quite well. Make sure to pay attention and look for the wilds at the top of 2,3 and 4 reels. If they are part of the winning set, it will be transformed into the wild symbol, which will be used to trigger the next Avalanche.
Treasures of the Pyramids
The main character of the Treasures of the Pyramids game is a black panther. This symbol is at the same time a wild symbol. The primary goal when playing this game is to activate the bonus rounds, as they pack quite the money-winning potential.
You will need 3 or more scattered Pyramid symbols to activate the bonus. If you get lucky and have 5 pyramids on your screen, get ready for an amazing 100 free spins ride.
Legend of the Pharaohs
Legend of the Pharaohs slot has 5 reels and 20 paylines. The theme remains Egyptian, while the gameplay focuses on activating free spins and timing the Big Bet feature right. Free spins activate if you get 3 or more Pyramids.
The interesting bonus extra is the elimination of low-value symbols. This one is called Wild Reels. For the duration of this extra feature, the entire reel turns into a wild.
The Colossal Symbols gets randomly picked to go into nine positions in the 3 of the middle reels. If you trigger another bonus during this, the Colossal Symbols stay in place for all free spins.
Pharaoh's Treasure
Pharaoh's Treasure is one of the most engaging slot games. The bonus free spins are triggered if you get 3 or more Scarab Beetle symbols. What makes this game amazing is a guaranteed win even before you start your free spins.
Getting 3 or more of the Gold Mask symbols will allow you to enter the Tutankhamun's Tomb Bonus game. For a short period of time you can see them under the torches, but then the screen goes black, and you have to remember where they were and try to pick them up.
Pharaoh's Treasure Deluxe
Pharaoh's Treasure Deluxe is a 5-reel, 20 payline slot game. This is a deluxe version of a classic Pharaoh's Treasure game, enabling players to win big cash thanks to the Hi Roller mode. If you click the Hi Roller Spins button, you can choose from 2 options. Each one of these gives you five spins, but with added super scarab scatter symbols. It has better graphics and more appealing music than the classic version.
The most valuable one to watch out for is The Cleopatra symbol. If you get Cleopatra, you will receive a bonus of 25 times your stake. The Pharaoh bonus symbol will get you into the Tutankhamun or Cure of the Ancients Free Games features.
Pharaoh's Fortune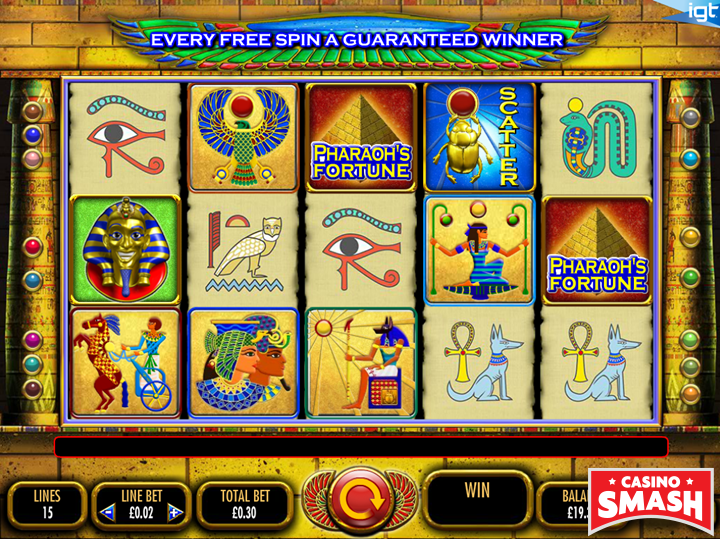 Would you like to check if you have the same fortune as the pharaohs of Ancient Egypt had? Well, then Pharaoh's Fortune is a land-based casino classic that you should try online. The online version comes with all the perks, including multipliers and bonuses.
It is a simple, yet an engaging game with 5 reels and 15 paylines. If you get 5 Pharaoh's Fortune logo symbols, you can win 10,000 times your stake.
Daring Dave & The Eye of Ra
If you would like to undertake an adventure and win cash with a loyal companion at your side, you should ask Daring Dave to help you out. With 5 reels and 20 paylines, your chances to win each round are pretty high. All you have to do is align the specific combinations of symbols on the paylines. You can even activate the autoplay to speed up this process.
Daring Dave is the wild card, and he can help you win more by replacing other symbols on the reels. The scatter is the golden Eye of Ra symbol, while the Pyramid is the bonus one. You will have to get a Pyramid on reels 1 and 5 to activate the Eye of Ra bonus.
The Mummy
If you liked the blockbuster "The Mummy", you will fall in love with this slot machine. The game is made more interesting with extra features packed inside the basic features. Such is the Lost City Adventure Bonus, which hides six more unique games inside of it (Scorpion Scatter, Expanding Mummy, Scarab Attack, Collapsing Reels, Mummy Power and Mummy Resign).
This bonus activates randomly during the gameplay. After the short cutscene, you will be transported to the Lost City to pick cash from 6 ancient crates, and the round finishes the moment you discover "Collect."
The most interesting feature is the Mummy Hunt Bonus, which is triggered by Mummy Hunt Bonus symbols on the 1st and 5th reel. This will get you into a mini-game where you have a chance to kill mummies and win extra money.
This is basically everything you need to know if you are interested in playing a Cleopatra slot machine.
As you can see, the Cleopatra slots game is one of the most popular games in the world of online casinos.
Hopefully, this information will help you pick the best Cleopatra game and go on a treasure hunting adventure across the deserts and straight into the pyramids.
Disclaimer: Gambling is a game of chance and there's no sure-fire formula that guarantee winnings. You can improve your winning chances by using the right in-game strategies but there is no way to predict when a machine or a Casino game is going to pay. Also, this page contains affiliate links. If you click through and play, we might earn a commission. That's what allow us to keep CasinoSmash free and bring you the best online Casino bonuses!