Cops 'N' Robbers Slots: Check Out the New Version

Play'n Go updated their old version of Cops 'N' Robbers in 2019
The new version has much better graphics and soundtrack
I want to tell you something:
Slot developers don't usually update their Slots...unless they are worth it.
Which is the case with Cops 'N' Robbers, a fan-favorite gambling game that began its life as a simple Slot machine at land-based Casinos.
This year, Play'n Go (which is one of the most famous Slot developers, by the way) released a new, upgraded version of this real money game.
Let's take a look at what makes it worth playing.
Cops 'N' Robbers Slot: The Two Versions
First of all, I would like to visually compare the two versions.
Take a look at how the new Cops 'N' Robbers Slot looks like: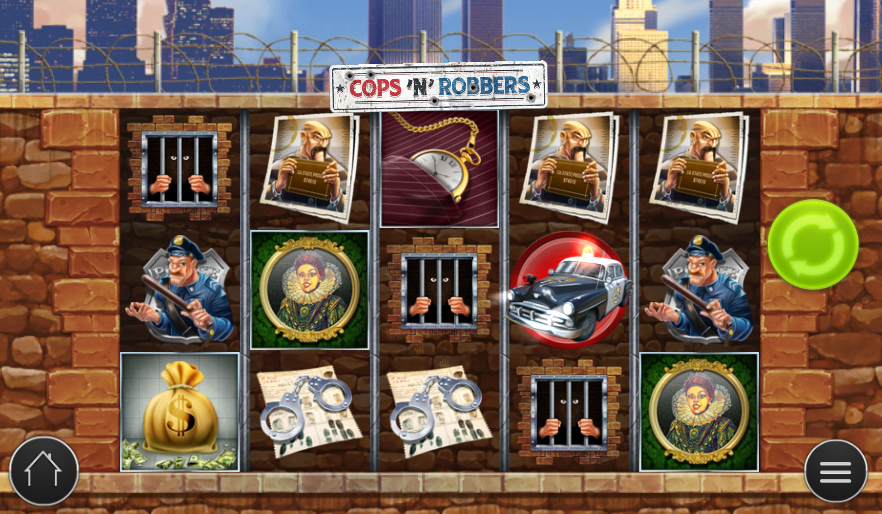 And this is the old version, which doesn't look as appealing as the recent installment. Not by a long shot: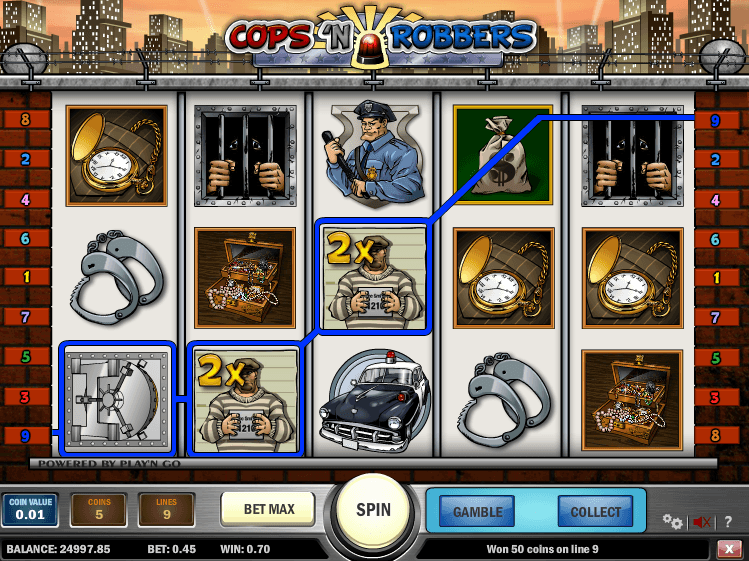 It's crystal clear which version you should play.
Especially when you consider the payouts - they are the same in both versions, so there's no need to sacrifice the fun for the sake of higher wins.
The soundtrack of the new Cops 'N' Robbers video Slot is also much more entertaining.
You will love the game if you're a fan of crime movies or thrilling video games like Grand Theft Auto.
However, if you can't stand even a little bit of violence, I'd suggest you stick with the pretty kind of online Slots like Moon Princess.
How to Play Cops 'N' Robbers Slot Online
You play Cops 'N' Robbers just as easily as any other video Slot game online.
Simply:
Set the number of coins (from 1 to 5)
Choose the coin value (from 0.01 to 2)
Set the number of lines (from 1 to 9)
The bets start from €0.01 (for one line) and €0.09 (for nine lines) and go all the way up to €90.
However, as the Cops 'N' Robbers Slot only has nine lines, there's no point in setting the line number to be lower than nine.
Because:
The minimum bet with 9 lines is still very low (€0.09)
By having fewer lines you have lower chances of hitting a bonus symbol
In fact, you should always keep the maximum number of paylines on a Slot - especially if you play for real money and want to use the bonus system to the fullest.
The Payouts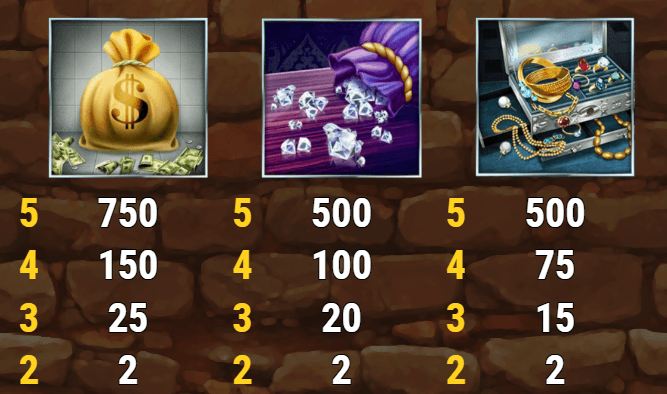 When playing the Cops 'N' Robbers Slot, you win when you collect two to five symbols on a payline.
This way, you can win up to 750 coins on a single payline from the regular symbols alone.
And if you collect five Wilds, the game grants you with a generous payout of 3,000 coins.
What's more, this same Wild symbol doubles all your wins if it's a part of the winning combination. Nice!
And if the winning you get seems too small for your taste, you can always double (or quadruple!) it.
That's what the Gamble feature is for.
As soon as you trigger a win, click on the Gamble button and choose the color or suit of a card.
But remember - one wrong guess will make you lose your win.
Cops 'N' Robbers Slot: The Car Chase Bonus Feature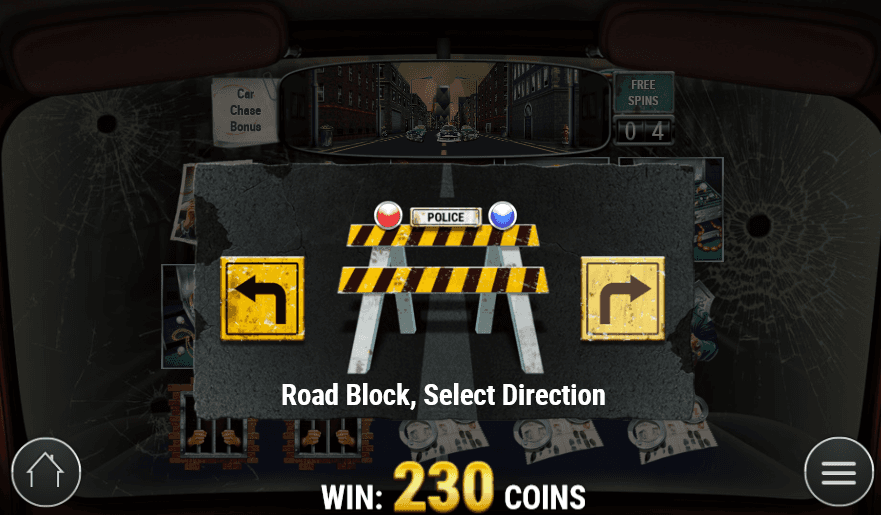 The free spins bonus of Cops 'N' Robbers is much more interesting that the one of other Slot machines.
Because it's better.
Why?
Well, when you trigger the bonus, you don't just get a set of bonus rounds. No - you also have the possibility to double your free spins wins.
That's where the Car Chase Bonus Game comes into action.
It works like this:
You are a robber the police are chasing you. As your road is blocked, you must choose a direction to run away from the cops.
If you make the right choice, you double your wins. If not - they remain the same.
Summary
Do I recommend this game?
Absolutely!
The design, the soundtrack, and fast-paced gameplay makes this Slot a must-play for everyone who has a soft spot for crime movies, games, or fiction.
And don't let the nine paylines scare you - the Cops 'N' Robbers Slots game makes up for it by offering us an unusual bonus that's extra fun to trigger - whether you play for free or for real money.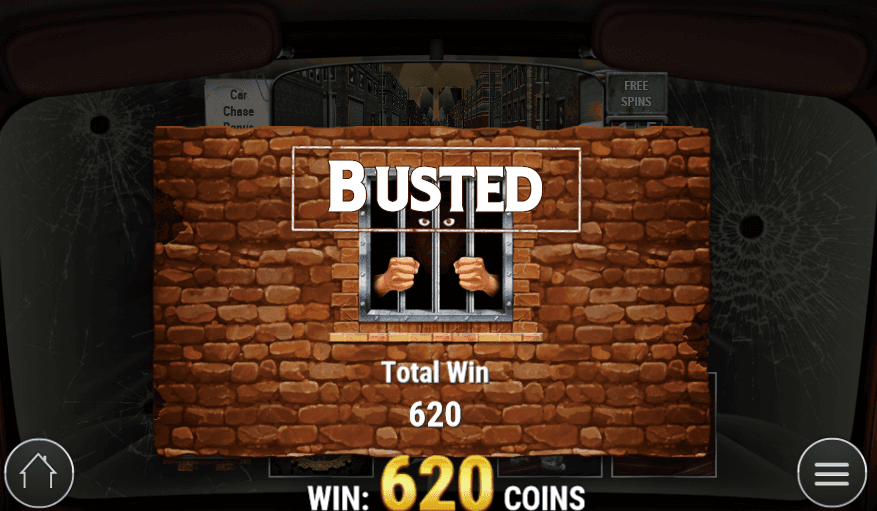 Disclaimer: Gambling is a game of chance and there's no sure-fire formula that guarantee winnings. You can improve your winning chances by using the right in-game strategies but there is no way to predict when a machine or a Casino game is going to pay. Also, this page contains affiliate links. If you click through and play, we might earn a commission. That's what allow us to keep CasinoSmash free and bring you the best online Casino bonuses!