Crystal Rift Slot Review
Important Notice: This is not our latest article about the promotions at this online Casino. You might no longer be able to claim this offer. To know what bonuses are available right now, have a look at our Casino bonus page.
The Crystal Rift slot features:
Breathtaking graphics
An Ok-ish 96.03% RTP
Two super-fun bonus features
Our First Impressions
Rabcat is famous for designing some of the most attractive video slots in the industry.
As you can see from the screenshot below, they have done it once again.
Crystal Rift is a 5-reel and 25-payline modern slot game which is unique in many regards. If you don't want to read my full review of the Crystal Rift Slot machine — use the button below to play and see it for yourself.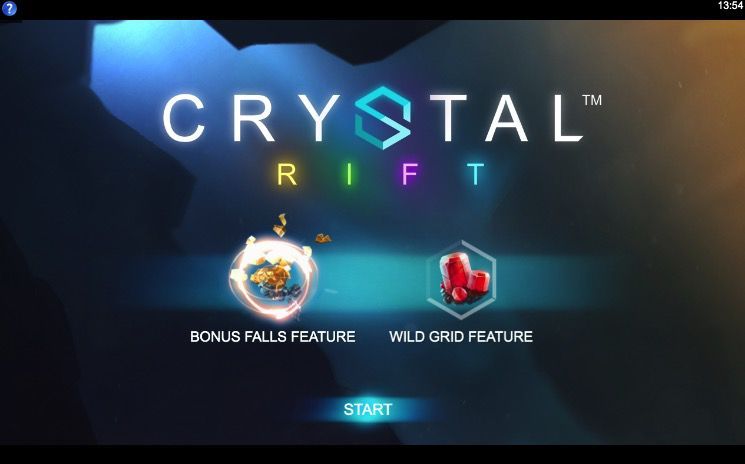 Crystal Rift Slot Machine
Crystal Rift is one of the most attractive-looking Slot machine games ever created.
It's colourful and dynamic, with awesome bonus features and some interesting symbols.
Our first impressions after loading the game and spinning the reels a few times are very positive.
We have already made some wins and they continued to occur every 2-3 spins, which tells us that Crystal Rift is a low volatility slot.
That's great news because it means you have to play this game slowly and steadily, which is exactly what we want you to do.
You should relax and take your time with Crystal Rift as that's what this slot was made for.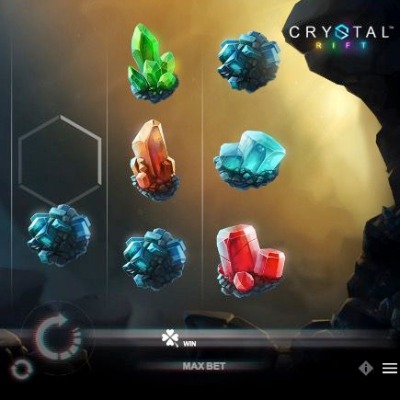 Get a Bonus and Play!
Register a free account to access a MONSTER bonus of up to $1,600.
Try Crystal Rift in free demo or activate the bonus to play for real money!
Crystal Rift Topic
As you can guess from the name of the game and the screenshot we have provided above, Crystal Rift is all about crystals!
The reels are bejewelled with crystals of all colours, shapes, and sizes, glistening in a dark cave under a starry night sky.
The design and the graphics are the biggest highlights of this game, in our opinion.
The colours are quite mesmerising and the atmosphere is mysterious, calming you down and inviting you to play a bit longer.
We also love the soothing soundtrack in the background since it goes perfectly with the overall sentiment of the game.
Additional sound effects are played every time you spin the reels or make a winning combination, which is a nice addition as well.
How Do I Play Crystal Rift?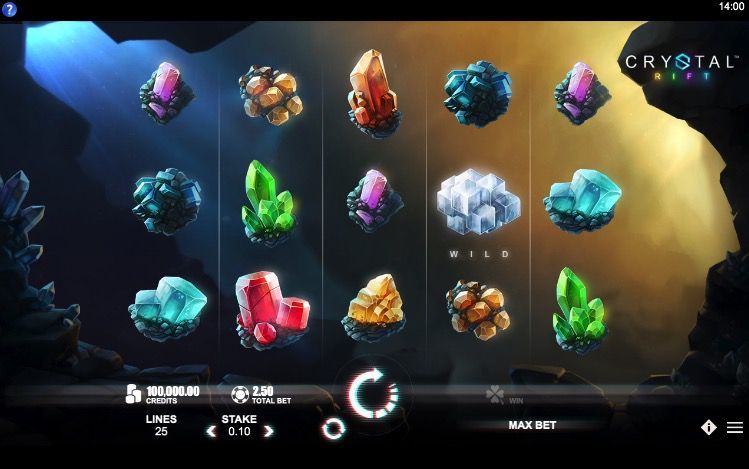 Crystal Rift is a modern yet simple slot game. It does not take a lot of time to set everything up and start spinning.
The first thing to mention is that this is a game with 5 reels and 25 fixed paylines.
The volatility is low, so you will experience small wins more often instead of several colossal wins during an entire session.
To get going and start shifting the crystals around, all you need to do is choose your desired stake. That's it!
The minimum stake is 0.01 credits and the maximum is 2 credits.
Considering that Crystal Rift is played with 25 fixed paylines, the minimum bet is 0.25 credits and the maximum is 50 credits.
That's a nice range to have as it suits both budget players and high rollers.
Other than that, the Max Bet and Autoplay features are also available and can be easily set up from the main window of the game.
Symbols and Bonus Features in Crystal Rift
The symbols and features in the Crystal Rift slot are what we like the most about this game, so let's take a closer look at them!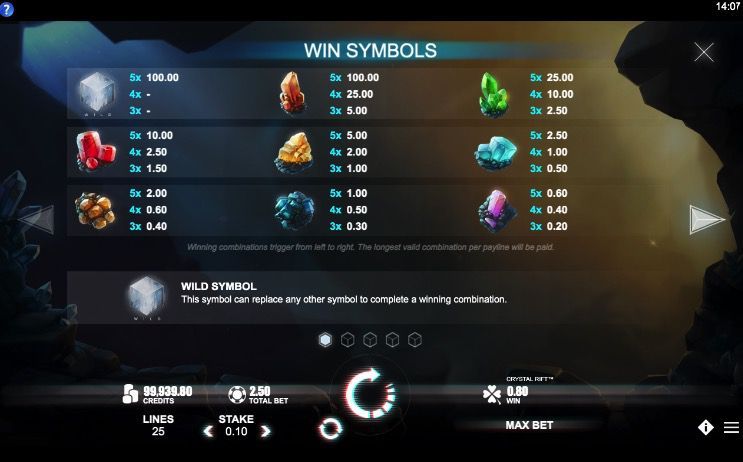 Symbols
This slot contains eight unique regular symbols and one special Wild symbol. There are no Scatters in this game, which makes things even simpler.
The eight basic symbols are beautiful crystals in different colours. We have a brown, green, red, yellow, turquoise, orange, blue, and purple crystal.
The Wild symbol is easily recognisable – it is a white perfectly shaped cube which transforms into a square crystal.
Bonus Features
There are two bonus features in this game you should be aware of:
Bonus Falls Feature – The bonus falls feature is activated whenever there is a winning combination.
After your wins are counted, the winning symbols will disappear and new ones will fall from above. This continues as long as there are winning combinations on the screen.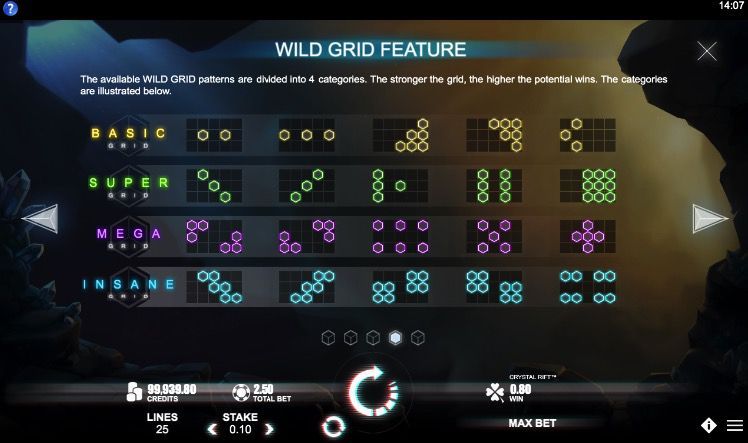 Wild Grid Feature – The wild grid is randomly marked at the beginning of each fall.
Each consecutive winning combination highlights a section of the grid.
After three consecutive wins, the whole grid is highlighted and the symbols inside the grid turn into Wilds.
Crystal Rift Payouts
Crystal Rift is a game that paid out very well in our case. As we have already mentioned, Rabcat has put a 96.03% RTP on this game, which is a pretty decent number.
As fans of low volatility games, we love the fact that Crystal Rift pays often and motivates players to keep going and enjoy its stunning interface.
If you are patient, prefer playing with smaller stakes, and do not mind investing time, you will have a fun time playing Crystal Rift.
Final Thoughts
All in all, we enjoyed reviewing Rabcat's Crystal Rift slot. The graphics, as you can see for yourself, are spectacular.
The gameplay is engaging and unique as well, which we also like.
There are not many bonus features in the game but the two that are there are interesting and triggered often. We also like the high 96.03% RTP. For all these reasons, we recommend you give Crystal Rift a try.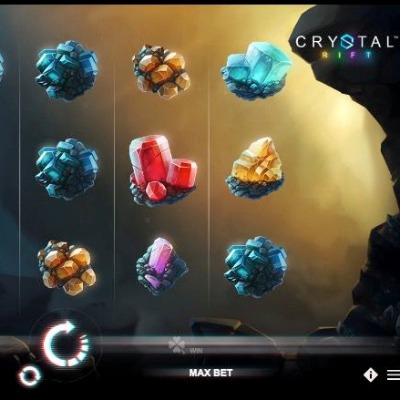 Play Crystal Rift Online!
Use the $1,600 Welcome Bonus to play this game at Jackpot City.
Collect crystals and align them on the right spots to trigger the largest wins!
Disclaimer: Gambling is a game of chance and there's no sure-fire formula that guarantee winnings. You can improve your winning chances by using the right in-game strategies but there is no way to predict when a machine or a Casino game is going to pay. Also, this page contains affiliate links. If you click through and play, we might earn a commission. That's what allow us to keep CasinoSmash free and bring you the best online Casino bonuses!
Bonus info: terms and conditions apply to the offer. If something isn't clear, have a look at our review of JackpotCity for the T&Cs in full. The offer on this article might have expired by the time you read it. Please refer to the review pages for the latest bonuses and promotions available.