Football Roulette: Spin to Score Your Best Goal!

When you first come across the name 'Football Roulette' you'd be forgiven for picturing a fairground scene with a giant inflatable Roulette wheel that has a player in the centre kicking a football randomly into the slots.
But in fact, Football Roulette is much more sensible than that, combining your interest in the big match with your enjoyment of the live Roulette game into one amazing experience that is tailor made for you.
What is Football Roulette?
Football Roulette is essentially the live version of online Roulette, played with a dealer and fellow players who share your interest in football.
Your croupier will be a genuine football fan who is right up to date with all the big games, league positions, player transfers and more.
They can chat knowledgeably with you about all aspects of the game while you play, making the chat and the game more interesting and engaging. But it doesn't stop there. See it for yourself!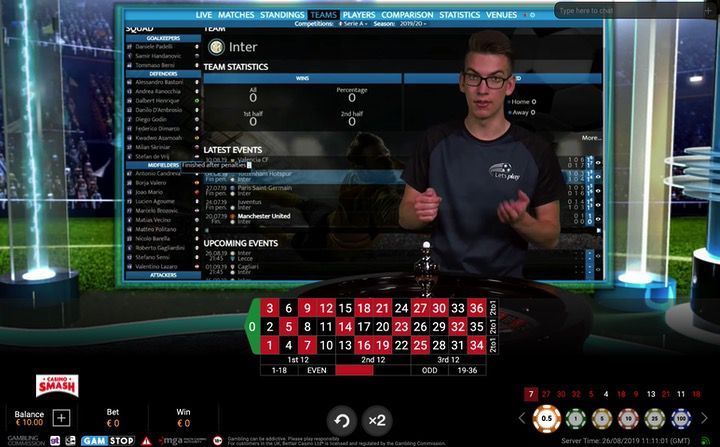 All the Latest Match Stats
Along with well-informed football chat, you'll also get all the latest facts and figures on your favourite teams and players, with live match reports, player stats, live commentary or even live streaming of the big game.
It all happens on a big football pitch style screen beside the croupier, so you can enjoy your Roulette without missing a minute of the action.
As well as all the latest football facts, you can also get stats on the wheel itself, looking back over the last 100 to 1,000 spins to see if you can spot what is hot and what's not and build a strategy for yourself based on what has gone before.
Chat with Fellow Football Fans
Football Roulette has a live chat feature, so you can ask your croupier anything about football, or get an update on any score you need.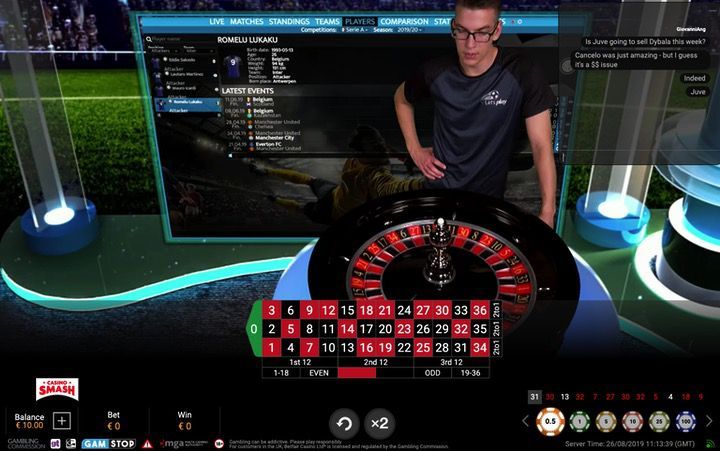 You can also chat with your fellow players, confident that they will also be football fans just like you.
It is a big step up from the normal banal chit chat you get with strangers at the Roulette table and it guarantees some fascinating interactions, whether you share a team or you support arch-rivals.
The chat basically transforms online Roulette into a fabulous football forum where you can enjoy both games simultaneously.
How to Play Football Roulette?
Football Roulette is designed for the casual player, with low minimum stakes and a single zero givinga low house edge of just 2.7%.
The table is laid out for fast action, with just a 15 second bet window, but don't worry, because there are plenty of features built-in to make it easier to place your bets while watching the game or chatting to your fellow players.
You can save your favourite bets and betting patterns so you can replay them with a single click, and the table features a racetrack section for placing call bets on groups of numbers such as voisins du zero, le tiers du cylinder, Orphelins and more.
You can also place larger bets if you like, with straight up wagers of up to £1000 normally allowed and high table limits in most games.
Where can you play football Roulette?
You can play football Roulette at a range of Casinos, including the iconic Casino.com, and the game is designed to be portable, with both Android and iOS compatibility.
You can play on your mobile or tablet with graphics designed to adapt to your screen size and you can even adjust the visual settings to take account of your internet signal strength.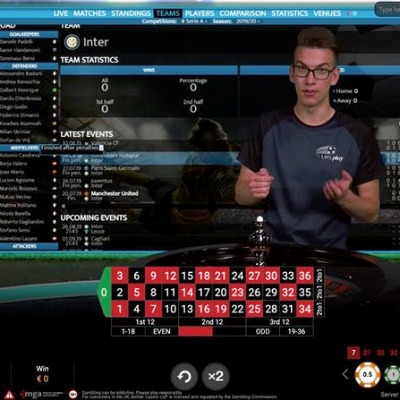 Play Football Roulette - Live!
Turn your computer into a chatroom as you interact with other football fans!
Play Football Roulette live to get the best of gambling...and football!
What are the advantages of football Roulette?
Even the most avid football fan will be the first to admit that sometimes the game can get a bit dull. When teams cancel each other out and the match is heading for a no-score bore draw, you need something extra to keep you entertained.
Similarly, it can be frustrating to choose to play Roulette instead of watching the game, only to find you have missed out on all the action of an unexpected thriller.
With football Roulette, you can enjoy both the match and the wheel at the same time, keeping you occupied during dull games and ensuring you never miss a great one.
If you are a regular at the live Roulette table, then you will also know how frustrating it can be to try to chat with fellow players while you play, only to find that you have nothing in common and that they don't even like football.
Roulette attracts people from all walks of life, and so you it is very rare to stumble upon fellow players who share your interests.
But with football Roulette, you are guaranteed to be in the company of not only like-minded fellow players, but also a well-informed, football fan croupier too.
So now you don't have to choose between a little gaming and the big game.
With football Roulette you can combine the two in one action packed afternoon or evening and get the best of both games… at the same time.
Disclaimer: Gambling is a game of chance and there's no sure-fire formula that guarantee winnings. You can improve your winning chances by using the right in-game strategies but there is no way to predict when a machine or a Casino game is going to pay. Also, this page contains affiliate links. If you click through and play, we might earn a commission. That's what allow us to keep CasinoSmash free and bring you the best online Casino bonuses!