FREE Slots: Top 15 Free Online Slot Machines for Fun (2020)
So, you want to play online Slots for free but don't know where to start?
No worries.
You'll start here.
I can tell you with confidence that you won't leave this page without discovering your new favorite online Slot.
Because this article contains my top 15 free Slots that surpass many other games in terms of visuals, RTPs, and bonuses.
In case you're not in the mood to scroll through the whole article, here are five of my top rated Slots you can play right away:
Click on the link in the table to play.
Each free version of a Slot give you thousands of free coins, so you don't have to worry about ever running out of funds.
And if you decide to play for real money, then just create an account, make deposit, and claim a Slot bonus for better luck.
The Best Free Online Slots for All Kinds of Players
Below, you'll find the crème de la crème in the world of free online Slot games.
Each entry includes a short review of the Slot and a table with the most important info like the RTP index and the Editor's Rating.
By the way - you can play each video Slot both for free and for real money (with a bonus).
Of course, I suggest you play in demo mode until you find the perfect Slot you'll want to play again and again.
Valley of the Gods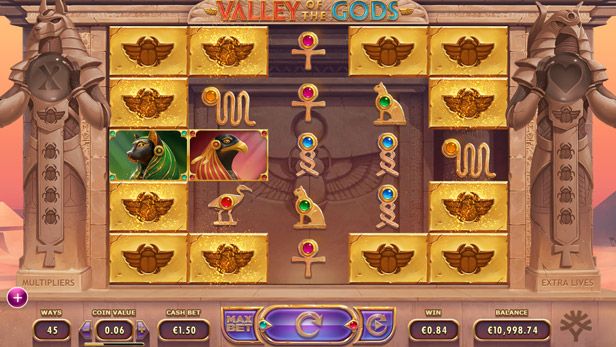 Valley of the Gods is one of the most epic Egypt Slots on the internet. This comes as no surprise, as the game is developed by Yggdrasil, a relatively new company that has taken the gambling industry by storm.
All of their free Slots look fantastic, and this one is no exception.
Launch it and see for yourself - the intro looks like a high-budget animated movie, and the gameplay shines with creatively-designed gods and gold dust.
As for the bets, they are just the way I like them. You can start at €0.10 and then go all the way up to €50.
Of course, there's no need to bet real money - you can experience the game's art completely for free by playing the demo version of the video Slot.
Rainbow Ryan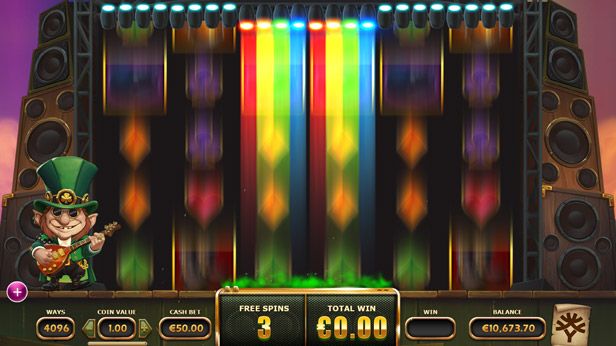 If I ever compile a list of Slots with the best music, Rainbow Ryan would be at the top.
You definitely have to play this free Slot if a catchy electric guitar solo seems like something you would listen in your free time.
What's more, the game also offers an unusual number of ways to win - 4,096, to be exact.
By the way, do you know why this Slot is called Rainbow Ryan? Well, the titular character Ryan can randomly sync any of your reels, which can result in bigger wins. The synced reels turn into a rainbow, which is a beautiful sight to behold.
Now, a few words about money.
Just like in the case of Valley of the Gods, the bets of Rainbow Ryan go from €0.10 to €50. A free version is available, too - and it's as fun as the real deal.
Platinum Lightning Deluxe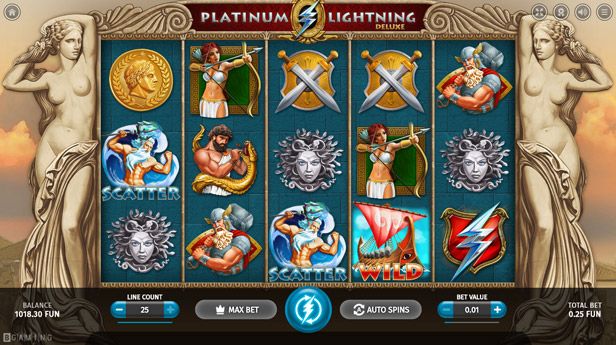 Have you ever wanted to listen to Sirtaki while playing Slots?
Well, this is your chance to finally do that, as Platinum Lightning Deluxe brings an all-round Greek experience, which includes a catchy soundtrack and some beautiful imagery (especially on the sides of the Slot).
However, what I like the most about this free Slot machine online is the bonus feature.
You need to collect only two Scatters, and a set of 10 free spins is yours. Also, the first and the fifth reels are filled with Wilds during these bonus games, which adds more possibilities to hit a lucky combo.
On the other hand, the bets of Platinum Lightning Deluxe start at €0.25, which is a bit higher than most of the other Slots' starting bet on this list.
Ways of Fortune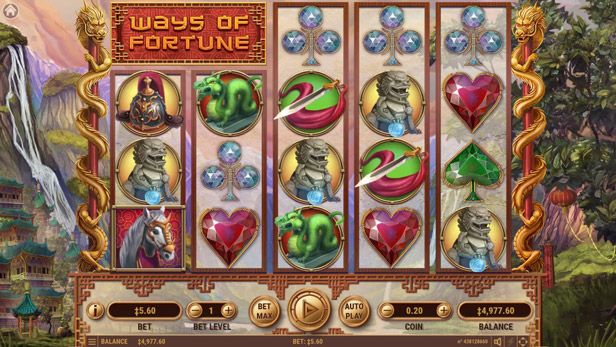 Now this is a game everyone should try. This includes you, even if you're not a fan of Asian Slots online.
You see, this free Slot is one of the best in terms of payouts - its RTP is 98.12 percent, which is incredibly rare to find these days.
However, it's not the only feature that sets Ways of Fortune apart. There's something else, you see - the third, fourth, and fifth reels of the Slot have an extra symbol on top. This helps you get more winning combinations on the Slot's 576 ways to win.
Just don't forget that the game's minimum bet is €0.28. If you're not ready to spend this much on a single spin, play the free Slot online to experience its beauty.
Hall of the Mountain King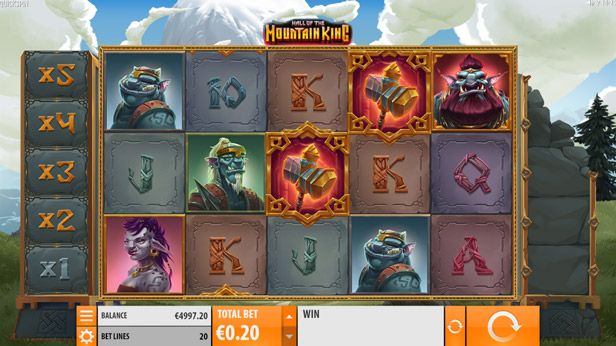 Hall of the Mountain King is a free video Slot by Quickspin.
It's a game for those who appreciate creative bonus features, as it offers a three-stage bonus you won't find anywhere else.
So this is what happens when you collect three Scatters for a round of free spins:
Stage 1. A low-win symbol is replaced by a high-win symbol
Stage 2. Smash the Whirling Wild block for up to 6 special Wilds
Stage 3. The Wilds will replace other symbols for some lucky combos
You can also activate a multiplier that can multiply your wins up to 15 times.
On the other hand, the base game is also worth your attention, as you can win up to 40 times you bet with the regular symbols.
Niagara Falls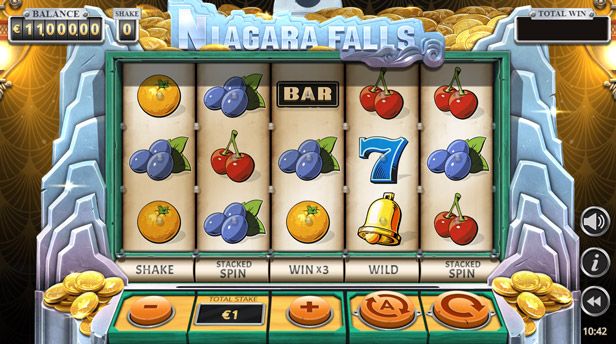 In all honesty, the Niagara Falls Slot caught me by surprise.
It looks like an old-school Slot machine, yet, at the same time, you can tell it's a modern video Slot released only recently.
The design alone makes Niagara Falls worthy of being included on the list of the best free Slots of 2020.
Additionally, the game's bonuses are numerous and creative, giving you the chance to win in a fun and exciting way.
You can start with the minimum bet of €0.20 or play the free demo version.
Lara Croft: Temples and Tombs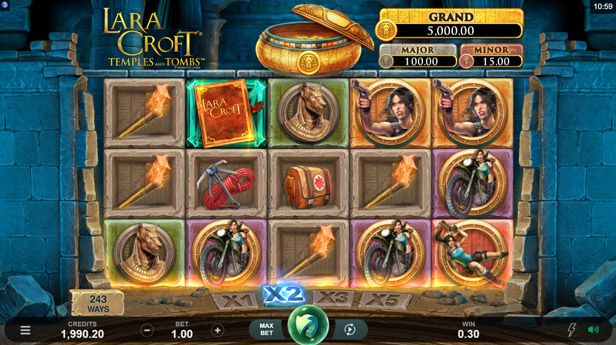 Finally, a good Tomb Raider Slot we've all been waiting for.
Released in 2019 by Triple Edge Studios, Lara Croft: Temples and Tombs has everything you should expect from a good online Slot machine:
Three progressive Jackpots
The Rolling Reels feature (new symbols in place of the lucky ones)
Multipliers for consecutive wins
A set of 8 free spins for 3 Scatter symbols
Special features aside, the Slot itself looks fantastic, which makes it perfect for free play.
Creepy Carnival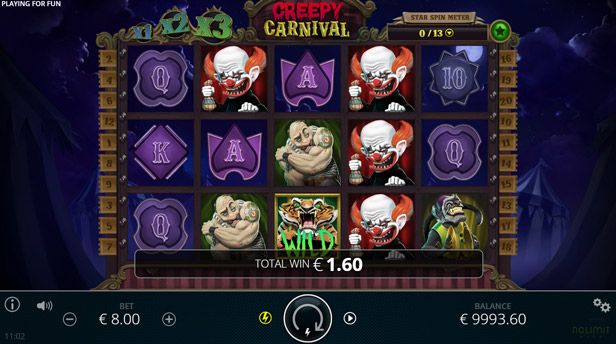 Creepy Carnival by Nolimitcity is one of the oldest games to play on this list of free Slots online.
Nevertheless, it's not inferior in any way.
The game is well-designed, the music fits the creepy atmosphere perfectly, and the Slot runs smoothly on any PC or mobile device.
However, my favorite feature of Creepy Carnival is the free spins bonus, as you can win up to 50 extra rounds in one go. And that's impressive.
Casino Win Spin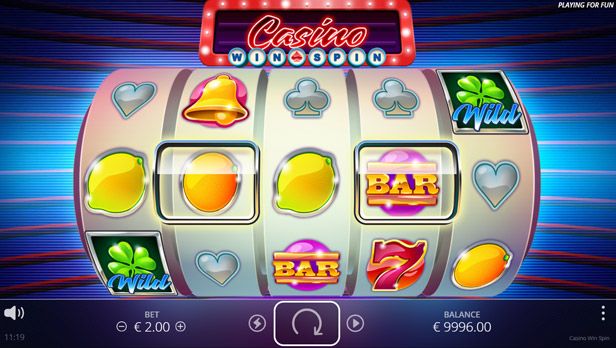 Yet another new free mobile Slot designed to look like an old game, Casino Win Spin will appeal to those who like old Vegas Slot machines filled with lemons, bells, and gold bars.
On the other hand, just like Niagara Falls, it's no ordinary game.
For starters, it has three different types of Wilds: the regular Wild, the expanding Wild, and symbol Wilds.
Then, there's the Spin'til You Win bonus, which ends only when you hit a lucky combination. Even better - every unlucky spin boosts your multiplier and adds more Wilds, so there's a chance for some very satisfying wins.
Hot Nudge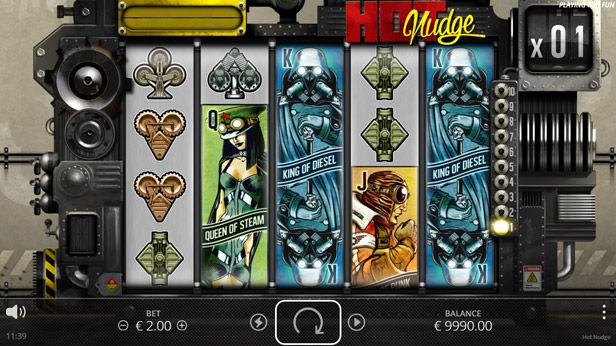 The creative design alone sets Hot Nudge apart from all the other free Slots that are fairly similar in style.
This one is gritty, edgy, and...steamy. That's right, Hot Nudge sports the beautiful art style of steampunk, which is quite unusual in the world of Slots.
Is there anything else that makes this game special?
Well, yes, and the answer lies in its name.
The Slots' four-row-high Wild will always nudge to be fully visible in case of a win. Also, your multiplier will get higher with each nudge of the Wild.
Oktoberfest: Das Bier Spiel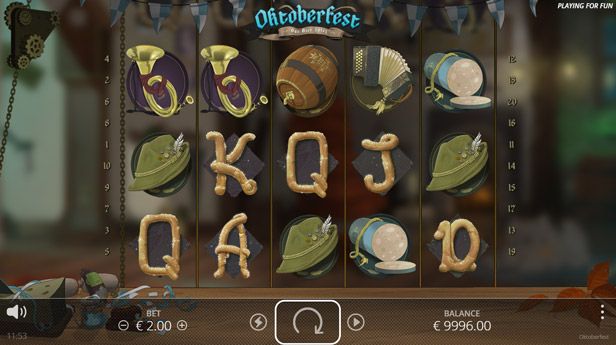 Even though alcohol and gambling might not be the best combination of all time (if you're concerned about winning), I don't advise against playing Oktoberfest: Das Bier Spiel.
First of all, it has a high RTP of 96.75 percent, which instantly makes it a Slot worth a try.
Secondly, there are three kinds of free spins bonuses, each of which gives you chances to win more in different ways.
I like Party Spins the most, because you can trigger them with any spin - and who doesn't love pleasant surprises?
Nitro Circus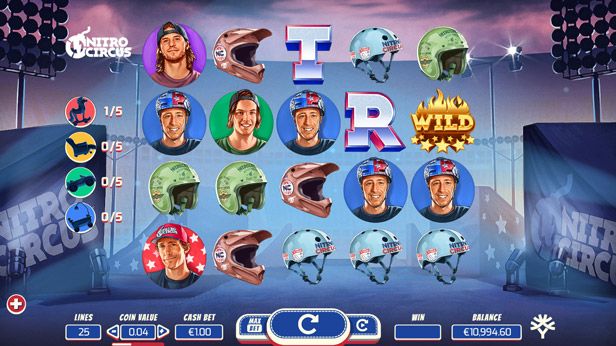 Nitro Circus is a Slot game by Yggdrasil based on a TV show by the same name.
And if you've watched the show, you know that you're in for a ride, as this Slot captures the spirit of the series by being loud, fast-paced, and dynamic.
The bets start at €0.10, so you won't spend a fortune trying to unlock all the Slot's cool features.
Kitchen Drama: Sushi Mania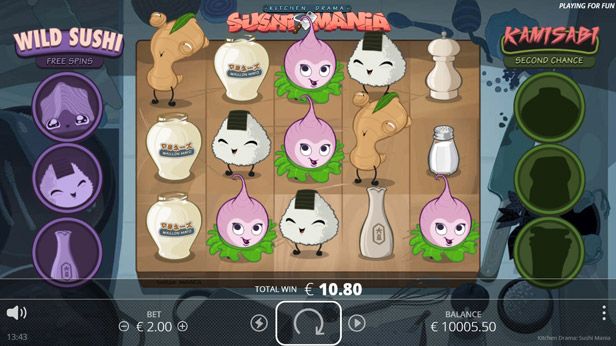 If you love to play free online Slots for fun, I suggest you try Kitchen Drama, as this gambling game is one of the most creative ones I've seen.
Here, the symbols don't spin - they jump right off the reels, and new ones jump into their place.
Also, they are really cute - each food symbol has its own personality, and the animation sequences are simply lovely (and a tad gory).
The special bonuses are great, too. There are two types of Wilds, a free spins feature, and a Kamisabi second chance bonus that is activated after three consecutive wins.
As you won't find this game at land-based Casinos, play it online for free on your Android, iPhone, or PC whenever you feel like having sushi.
Bookie of Odds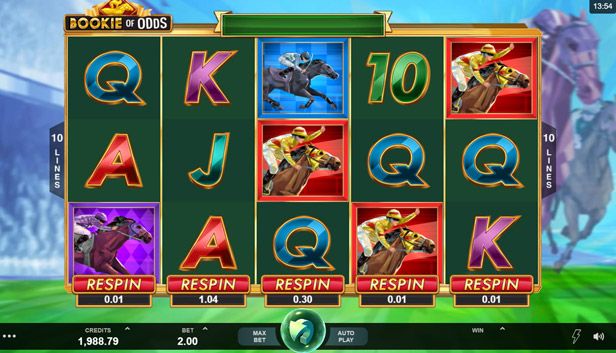 Bookie of Odds is one of the best free Slots online for one simple reason - you can respin individual reels as many times as you want to.
For a price, of course.
The more chances there are to win, the more costly your respin will be.
However, I don't suggest doing this for real money, as you might waste too much of it by respinning each reel over and over again.
Doing it for free, on the other hand, won't do any harm, so I suggest you open this Slot as a demo game and play it all you want, as the special feature is really, really fun.
There's also a chance to win up to 20 free spins, which makes everything even better.
Carnaval Forever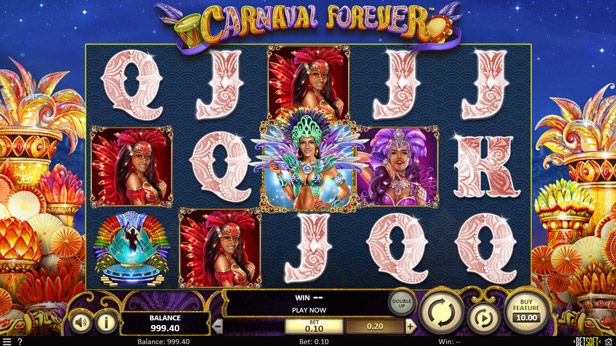 If you're in the mood to play free Slots, Carnaval Forever won't disappoint you in the slightest.
Quite the contrary - it's a beautiful game with a good RTP of 96.22% and a minimum bet of €0.10.
Oh, and there's one more thing - Carnaval Forever lets you buy free spins whenever you want. You can even reduce the price by collecting gold coins.
And that's what makes this free Slot stand out from the rest of the games.
Important Notice: This is not our latest article about the promotions at this online Casino. You might no longer be able to claim this offer. To know what bonuses are available right now, have a look at our Casino bonus page.
Disclaimer: Gambling is a game of chance and there's no sure-fire formula that guarantee winnings. You can improve your winning chances by using the right in-game strategies but there is no way to predict when a machine or a Casino game is going to pay. Also, this page contains affiliate links. If you click through and play, we might earn a commission. That's what allow us to keep CasinoSmash free and bring you the best online Casino bonuses!