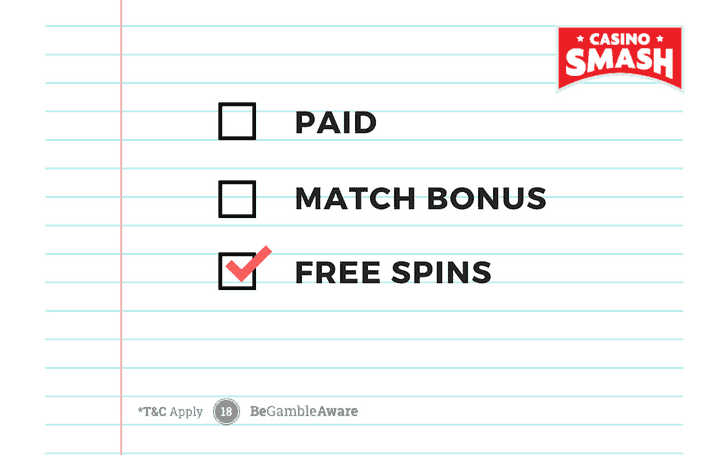 17 Free Slot Machine Games to Play with Free Spins
Do you want to play great slot machine games for free and with a lot of free spins? Check out my list of the 17 best slots to play with up to 230 free spins (and €900 in cash bonuses!)
Free slots are the best.
And the online casinos that offer free slot machine games to play with free spins are the ones we are always happy to feature here CasinoSmash.

Take BetVoyager, for example.
This new casino site welcomes all their new player with a fantastic bonus package that includes up to €200 to play any casino games and 100 free spins to hit the slots hard.
And that is not all.
Besides being known in the industry for casino games with no house edge, BetVoyager is also a generous site where a player who stays in the platform for long is rewarded with up to €900 and 200 free spins.
But - you may ask: what kind of games can you use these bonuses on?
With more than 200 games by Betsoft, Betvoyager is a great site for the players who like slots and those who are into more traditional table games.
Personally, this casino would be perfect if they feature also some live dealer games but - hey, as they say: perfection is not of this world.
The Best Free Slot Machine Games at BetVoyager
While perfection might not be of this world, slots are.
So, without any further ado, let's have a look at what are the very best free slot machine games to play with free spins at BetVoyager and - remember:
All the links below give you a €200 match bonus and 100 free spins with no bonus code needed!
Tiger's Claw
If you miss a touch of mystery in your regular slot machines, then this is a game for you.
You won't be alone on your journey in the Tiger's Claw slot game – your guide is a Spiritual Shaman.
This is an exciting slot game with reels spinning from both sides – you're probably familiar with the 3, 4, 5, 4, 3 spinning pattern, and the chances are that it's your favorite one.
You should pay special attention to the appearance of glowing orbs – that is how Free Spins are triggered.
With 720 different ways to win, you'll not only enjoy your time playing but also have quite solid chance to win some money.
Legend of the Nile
This is more than just a slot game – Legend of the Nile is an adventure.
Ancient Egypt holds many secrets, but in this case, you're probably more interested in concrete treasures.
Once you start playing this slot game, you will find yourself on the bank of the great Nile.
Instead of the usual symbols, you'll be playing with mysterious hieroglyphics and Egyptian gods.
The Pyramid is also an important token, but you should look for Anubis, Amon Ra, and Isis – the appearance of these symbols on reels brings either Free Spins and cash awards.
SugarPop 2
Specially designed for female population and for those who have a sweet tooth, Sugar Pop 2: Double Dipper is a 7x7 grid that offers some serious eye candy.
After you set your betting range, you'll be able to enjoy charming animations and cute symbols.
Although the first installment was a popular one as well, this one seems to boast some serious graphical improvements.
When compared to the first, Double Dipper has better reels.
Lollipop, Chocolate Candy Bomb, Level Up Star, Caramel Chew, and Sweet Hammer are just some of the options you can trigger in this slot.
Great 88
Did you know that eight is considered to be a lucky number in China? This slot game is inspired by the Chinese culture; reels are filled with dragons, flouts, mystery boxes, frogs, etc. The background of the Great 88 is a view of the mountain lake and a cherry blossom tree.
With 25 paylines, a series of available bonuses, wilds, and Free Spins, your chances of winning are quite good.
Birds!
This game offers an interesting spin – instead of traditional reels, you'll be watching birds standing on wires.
Probably inspired by the popularity of Angry Birds, this slot offers cute animations, a variety of engaging quirky characters, and catchy background music.
Birds will even give you a cue when you trigger an option – they'll perform a celebratory dance in your honor.
Kawaii Kitty
Feline lovers won't be able to resist this slot machine. Kawaii Kitty is a Japanese slot enriched with adorable animations that comes with an extremely lovable cat to keep you company.
You'll be playing with yarn symbols, tuna cans, and ten paylines. This is a great spin for those who want to unwind and play low-key.
The Magic Shoppe
If you're looking for a game that will send chills down your spine, you should definitely check out what The Magic Shoppe has to offer.
With a magical theme and twenty-five paylines and spooky reward symbols, this slot machine provides an exciting experience.
Reward symbols – throwing knives, skulls, coins, hats, and a pair of handcuffs – this is what you should be hoping for while the reels are spinning.
However, the appearance of card symbols – ace, king, queen, jack, and a ten – also come with attractive benefits.
What will make you fall in love with this game is its background – this magic shop offers books of spells, chained chests, and playing cards.
The Angler
Every fisherman will appreciate the way this game is designed; with a mountain lake in the background, a fisherman to keep you company, and an angry red octopus as a wild card, it's impossible not to have fun.
If you trigger the Pearl Clam option, you can look forward to Free Spins, while the Time to Fish bonus means you need to get ready for action – it's time to catch the fish.
Sin City Nights
Las Vegas is known as the gambling capital of the world, and it's no wonder that there's a slot machine that celebrates its glory.
However, like in Vegas, you won't be able to keep track of time when you start playing Sin City Nights.
Showered with lights, this slot machine consists out of twenty-five paylines, and it offers a jackpot possibility of $12,500.
Treasure Room
Treasure-themed, this slot game is fashioned around jewels, gold, treasure maps, and chests. You should pay special attention to The Treasure Chest because it's wild in this game.
The Treasure Room comes with 3D animations – spinning, moving, and shining symbols will definitely keep you entertained.
More Gold Diggin'
If you're looking for a new favorite slot machine that will offer you more than just spinning reels, and tell you a story while you're playing, then you need to check More Gold Diggin'.
This is a story about two rednecks, accompanied by a gopher, who are on the quest to find gold.
Considering the fact that More Gold Diggin' comes with cool 3D animations, you will feel like you joined this crew while playing.
The gopher will make you laugh throughout the game because it plays partial jokes on these two unfortunate miners.
With gems, sticks, and barrels of TNT, as well as mechanical mine carts, you'll feel like you're in the middle of a gold-rush.
Pinocchio
Pinocchio is an online video slot that comes with five reels.
Based on the old story that was so brilliantly written by Carlo Collodi, this slot machine is an interesting invention.
Being in the category of storytelling slots, it's inevitable that Pinocchio will occupy your attention.
Besides, he's not the only one there to keep you company – there's also Geppetto who appears, along with his other creations.
Motives from this well-known story, like the caravan, are entwined in the game.
Fa-Fa Twins
Amazingly enough, this slot machine offers 243 paylines – this significantly increases your chances of success.
It's a Chinese-themed slot with anime animation – you have one of the adorable twins standing on each side of your grid.
After every reward, you'll be offered the "Double Up" option, which means only more possibilities for winning some serious cash.
4 Seasons
With the Chinese village in the background, symbolism derived from the Chinese zodiac, this video slot will take you on an adventure.
In this slot game, Golden Cat is a wild token that serves as a replacement, and it can substitute all symbols - well, all other than the Scatter.
If you encounter the Ying Yang symbol, you can look forward to Free Spins – either twenty, twelve, or eight of them, depending on the combination in front of you.
There's also a wheel trigger you should know about – the Seasonal Wheel activates after every thirtieth spin.
This feature will award you with different bonuses based on the animal that the wheel showcases.
In addition, when stacked animals appear on your grid, you'll win multipliers. This trigger is called Block Win Combos, and it offers multipliers that go up to ten.
The Tipsy Tourist
Playing this game will make you feel like you're on vacation. With the summer and the beach in the background, you'll be playing with five different reals and twenty paylines.
It's a video slot, so you'll definitely enjoy the visuals.
The triggers you should know about are Wooden Signs, Beach Balls, and Drinking Cups.
The Tipsy Tourist also offers the "Double Up" option – if you go for it, it will be required from you to pick a card, either a black or a red one. A correct answer will double your win, while a wrong one will make it disappear.
Tycoons
This is an entertaining slot game that takes you into a luxurious world – a rich gentleman's club.
Golden bars, dealer hands, cash, and checkbooks are symbols this game revolves around. Tycoons is a classic slot game that offers Free Bonuses, options for winning credit, and a possibility for a Progressive Jackpot.
Safari Sam
Your pal in this game is Sam, and he will accompany you throughout your safari adventure.
Wild animals fulfil the grid of this slot game, as well as Jane, a Bilbao tree, and a jeep. Safari Sam offers thirty different paylines and five reels.
You can win up to $12,500, while your wagers can range anywhere from $0.60 to $150.
All of the slots listed above can be found at BetVoyager casino – it's up to you to choose your game depending on your preferences.
Each of the games mentioned is unique – they offer different properties, have different characters, and tell different stories. Find your favorite one and enjoy the journey.
Disclaimer: Gambling is a game of chance and there's no sure-fire formula that guarantee winnings. You can improve your winning chances by using the right in-game strategies but there is no way to predict when a machine or a Casino game is going to pay. Also, this page contains affiliate links. If you click through and play, we might earn a commission. That's what allow us to keep CasinoSmash free and bring you the best online Casino bonuses!