House of Fun Free Coins and Spins: the 2020 Guide

With over 50 million players, House of Fun is one of the most downloaded free casino apps in history.
On HOF, you can play slot games for free with daily bonuses and freebies.
This guide is dedicated to all HOF players looking for bonus links and free coins.
We analysed everything we could find on Google and Facebook, videos on YouTube, and accounts on Instagram.
First, we checked who runs the businesses and if they were affiliated with Playtika and HOF.
Then, we dug deeper to find the best offers and the links to get House of Fun free spins, no survey required!
And now that we know what is the collection of daily bonuses that work best to get free coins and free spins on House of Fun, it wouldn't be fair if we kept all of those sweet rewards to ourselves!
Thanks to the work done by the entire CasinoSmash team, you now have the most complete guide on how to get free coins on House of Fun in 2020.
So without further ado, let's see the results and find the best HOF bonus offers on the market!
House of Fun Free Spins and Coins upon Registration
Let's make one thing clear in the very beginning - if you want a lot of freebies, House of Fun slots casino is where you should look for them first. The game is packed with perks, which allow you to get House of Fun free coins, no survey and no additional hassle involved!
The first bonus to play free slot games on HOF is yours when you join the game.
This freebie is big enough to get you going for a while — but you need to know how to hack House of Fun for free coins and claim all the free stuff available on signup.
Let's assume you already have the House of Fun app installed on your phone — if you don't, this is the right time to get it.
Launch the game for the first time to play and you are greeted by the lovely lady who presents you with two options:
1000 House of Fun free coins, or
100 free spins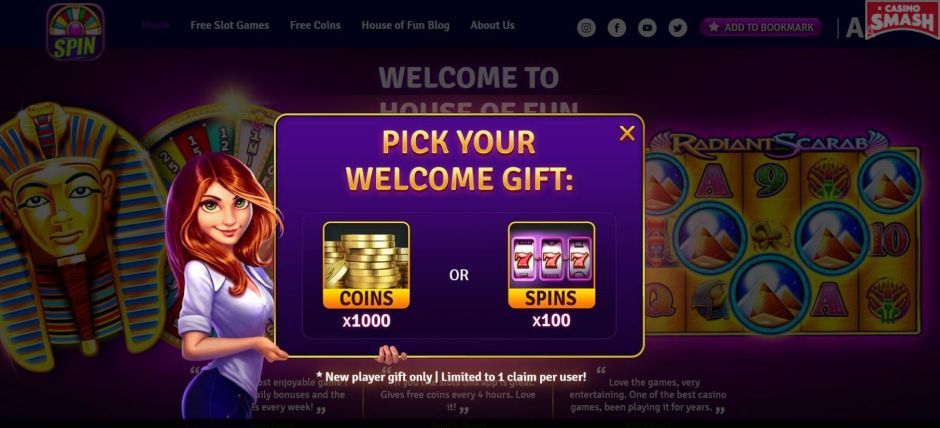 We cannot tell which one should be your choice so that you reap more rewards, but what we can tell you is that whatever you choose, you're in for a surprise!
You're probably dying to know what it is, but it wouldn't much of a surprise if we gave everything away, would it?
We'll give you a tiny hint though: scroll back up and look at the title of this section.
House of Fun will shower you in freebies upon registration, that much we promise!
Daily Free Spins and Hourly Bonuses on House of Fun
Your inbox gets flooded with presents from House of Fun slots casino as soon as you register, and boy do they have some good ones!
Let's start with free spins, of which you get a solid 100. However, it's spread out over the course of five days. Basically, what you need to do is:
Find your free spins gift in your inbox and claim it.
Log in to your HOF account for five consecutive days.
Find 20 free spins in your inbox every time!
And that's not it.
You also have a bonus of 225 coins waiting for you every three hours at the bottom of your screen and you need to do exactly... nothing to get it.
You only need to remember to log in. And that can be a difficult thing to do if you want to make sure you're always back on the dot!
Our advice - well, actually we have two.
First, allow HOF notifications and they will make sure that you receive on the screen your House of Fun free coins, Andriod, iOS or Windows!
Second, bookmark the page for daily giveaways and stay on top of House of Fun coins at all times!
The Legends Valley: 21,000,000 House of Fun Coins
Yep, that's no joke.
The new exciting adventure brought to you by HOF offers not only an awesome storyline or cool characters but also a reward of 21,000,000 free coins that will have your House of Fun coins bank loaded for life!
The Legends Valley tells a story of legends who, robbed of their belongings, need your help to find their lost items.
And rest assured, you will be generously rewarded for your efforts.
But what is it exactly that you need to do to collect 21,000,000 House of Fun free coins in the Legends Valley?
Open chests to unlock new legends.

Enter Legend Land and help legends rebuild their homes by completing quests.

Progress through the game and reap rewards along the way.

Complete all tasks for the ultimate 21,000,000 House of Fun free coins reward!
21,000,000 coins House of Fun promised are waiting for you!
Complete all quests and collect House of Fun coins for free gameplay that just doesn't seem to end!
The Free Coins House of Fun Social Bonus
House of Fun is a 'social casino' and, as such, gives you some of its best when you connect the app to your social media account.
Use this House of Fun Facebook cheat for even more freebies and get extra chances to figure out how to win at slot machines when you play online.
It's super easy and if you were hesitant in the beginning, you can always go back and connect your Facebook account at any time by pressing a button at the top of your screen.
Now that we know how to connect, we should probably answer why you should do it.
Let's start with the House of Fun freebies, coins. You get 500. So far so good.
But if you thought that was it, you couldn't be more wrong! You also get extra free gifts (what gifts?! yet another surprise awaits you), and, most importantly, an ability to send and receive gifts from friends.
If you have good friends who love spinning those reels just as much as you do, you'll never run out of free coins again!
The next step is nothing more than a bunch of taps to give HOF access to your Facebook account. Follow the instruction on the screen, accept the Terms and Conditions and collect House of Fun freebies!
Should I Really Connect My Facebook Account?
Some people worry that giving House of Fun the access to their Facebook account might result in spam or wrongful use of personal data.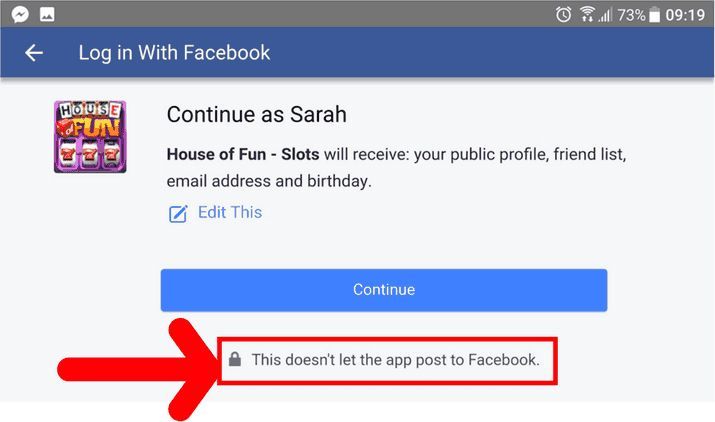 As you can see, HOF only gains access to your public profile and will not post on your behalf.
Also, you can click on the 'pen' icon to control exactly what kind of information HOF can access and block any activity you are not comfortable with.
House of Fun Free Coins on Facebook
The Facebook hack we have explored earlier in this guide isn't the only way to earn free House of Fun coins in 2020.
The best page to follow for remaining up-to-date on all the latest free credits promotions to play slots on House of Fun is the game's official Facebook page.
Every serious House of Fun bonus collector is there. With more than 4,000,000 likes, this is one of the most popular social gaming pages on Facebook.
In 2019, the page introduced Ruby, a chatbot that interacts with you via private messages and promises to deliver free coins for House of Fun.
"Hi Giovanni! I'm Ruby your HOF Buddy! Follow me to endless Gifts, surprises and adventures! Let's get started!"
So we tested it.

A free gift sounds promising. Let's see what happens.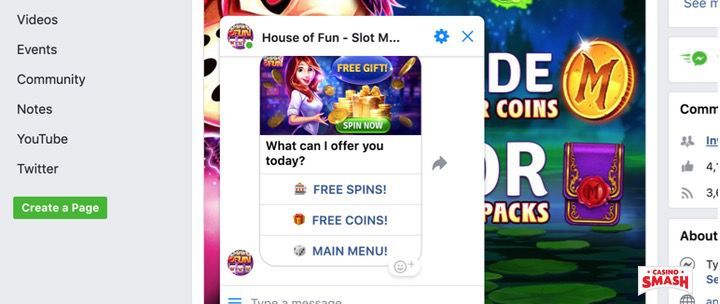 Given that I'm writing a guide on how to get free coins on House of Fun, 'Free Coins' seems the most logical choice.
Oh, boy,more free coins!
(For the record, we tried to go back and also ask for some Free Spins right away, but Ruby didn't do her magic, and we left empty-handed.)
There are many more perks to HOF Facebook too.
They appear as a House of Fun free coins link in frequent Facebook posts and offer one-time boosts.
Keep an eye out for those and you'll never be short on House of Fun free spins and coins!
Other Pages on Facebook
Be careful when you click on links to get a House of Fun bonus on a page that isn't the official one run by Playtika.
Many of the pages that promise HOF free spins, codes, and cheats do not provide any bonuses. They collect your information to advertise different products.
These are some of the House of Fun free coins pages to avoid on Facebook:
House of Fun - Slot Machines Free Coins Unofficial
House of Fun - Free Coins & Spins
House of Fun Coins Free
House of Fun Add Me Coins Group
House of fun All Coins Spins
Peoples Gamez
DigitalVideoGamer
Quasap
House of Fun Free Coins on Instagram
Surprise surprise, Facebook isn't the only social media platform around.
With more and more users turning to Instagram for more than just pretty pictures, we decided to examine the HOF free coins and free spins market there.
The game's official account is @HouseofFunsters and counts 'only' 21k followers.
The tagline promises "free coins every day" via the link in the bio.
Those several times we tried to redeem the bonus, we found out the offer had already expired. That was a little disappointing.
If you use Instagram, you better follow the account and react quickly every time a new bonus update comes around.
Other Profiles on Instagram
Like on Facebook, there's an impressive number of profiles that promise you free coins to play slots on House of Fun…but don't give any.
Some of the pages that promised us a freebie but failed to keep their word:
@CoinMasterSpinFree2019
@HoungSpin
@ClaimSpinDaily
@SpinGiftsDaily
@HofFrreCoin
House of Fun Free Coins on Youtube
Being the second-largest search engine in the world after Google, video platform YouTube is also a place to consider when looking for House of Fun free spins.
Unfortunately, almost all the House of Fun hack videos are fakes and suggest you tricks that are either ineffective or will get your HOF account blocked.
The official House of Fun account on YouTube is this one, and you can subscribe to it to receive all the latest updates.
On the HOF official page, you find lots of useful info about bonuses and campaigns — but not about daily free coins or daily free spins bonuses.
Besides the official account, it's better to avoid House of Fun free coins videos on YouTube. Most of them are just pure scam.
YouTube Test 1: House of Fun Unlimited Free Coins in 2020
This video by Tips16 collected more than 80,000 views, and it promises to be "the only legit hack" to get "unlimited free coins on House of Fun."
Unfortunately, this free coin generator hack is a fake.
The video redirects you to a site where something that looks like an ultimate free coin generator asks you to put in some data.
The generator doesn't work, but the owner gets paid every time you use it since you need to do a survey to "prove" you are a human. Clever.
YouTube Test 2: The Cheat Engine
User The Relaxed Gamer already collected over 40,000 views with this video titled "How to cheat on [the] Slot game House of Fun".
He offers a geek-looking free coin cheat that exploits some bugs in HOF code to get you all the free spins and free coins you want.
To be clear:
It doesn't work
And if it did, it would get you banned instantly.
Once again, stick to the official channel, and you'll be fine.
House of Fun Free Coins on GameHunters
GameHunters is a different story as it's a free marketplace site where people can add and share bonuses.
Most of the offers here work, but they also tend to expire within seconds.
Nevertheless, this is also an excellent website to browse when you need suggestions about other games similar to House of Fun you can try.
F.A.Q
Do you win real money on House of Fun app?

House of Fun is a collection of social casino games, and you can't win real money on it, nor you can redeem your play money prizes for cash.
What are House of Fun Coins?

The "Coins" are the in-game currency used on House of Fun. You need coins to play the games included in the app and spin the wheel of the different HOF Slots.
Do you actually win money on House of Fun app?

You are not allowed to collect your winnings from House of Fun as you cannot exchange the coins you win for real money prizes.
Is House of Fun free?

Yes, it's a free social casino app that offers in-game purchases if you run out of coins.
Important Notice: This is not our latest article about the promotions at this online Casino. You might no longer be able to claim this offer. To know what bonuses are available right now, have a look at our Casino bonus page.
Disclaimer: Gambling is a game of chance and there's no sure-fire formula that guarantee winnings. You can improve your winning chances by using the right in-game strategies but there is no way to predict when a machine or a Casino game is going to pay. Also, this page contains affiliate links. If you click through and play, we might earn a commission. That's what allow us to keep CasinoSmash free and bring you the best online Casino bonuses!
Bonus info: Terms and conditions apply to the offer. If something isn't clear, have a look at our review of Slotomania for the T&Cs in full. The offer on this article might have expired by the time you read it. Please refer to the review pages for the latest bonuses and promotions available.