Golden Goddess Slot - Meet the Goddess of the Casino! (Review)

Golden Goddess is:
a fantasy Slot
easy to play online
available at all the most popular casinos
Fancy yourself a fun Slot just like the USSR Grocery Slot? Golden Goddess is not only golden like the beautiful goddess herself on the Slots - it's much more than that.
Golden Goddess is a Slot machine that isn't complicated.
The rules are simple and easy to follow. The pictures are gorgeous, too.
First Impressions
Before we jump in and find out how to play the Golden Goddess Slot, I'd like to give a little insight about the game.
First of all, let's talk about the sounds.
As you spin, a nice tune follows and continues until you win. Once you spin to win, an epic sound joins in and the Slots glitter to show you which lines gave you some wins.
The Slot has wonderful artwork as well. It's so much better than the Mega Moolah Slot, and even more fun.
The characters are:
pink horse
white pigeon
golden goddess (lovely!)
prince
The entire look is very polished, and the 3D effects and the animation are nice to look at while you play.
IGT (International Gaming Technology) did their part and created something truly great.
Alright. So How Do I Play It?
Still unsure about the whole Slot process? Don't worry, I've got you covered.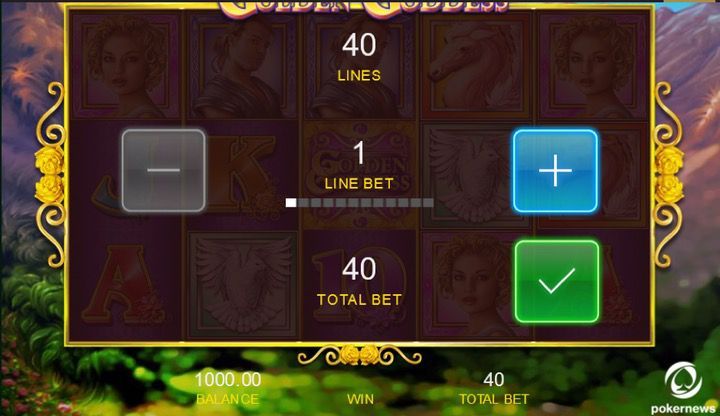 Just like most of the other games by IGT, the Golden Goddess Slot is really simple.
In the free version, you get 1,000 in-game balance credits. The only thing you need to do is to place bets and press the spin button.
The lowest amount you can bet is 40 credits per one spin and the highest is 20,000 credits.
There are multiple winning combinations, and the highest paying one is when you trigger the Super Stack feature - all three symbols have to be in one line vertically.
The game itself is based on the 5 reels and 10 paylines Slot game format.
There are two formats in this Slot:
40 paylines format
10 paylines format
With the 40 paylines format, the maximum you can bet is 2,000 credits. With the 10 paylines - 500.
Even if the payouts look nice, winning is pure luck. Sometimes it takes multiple spins to win anything. But it's still very fun.
Can I Play the Golden Goddess Slot for Free or for Real Money?
I can answer this question instantly - you can play both.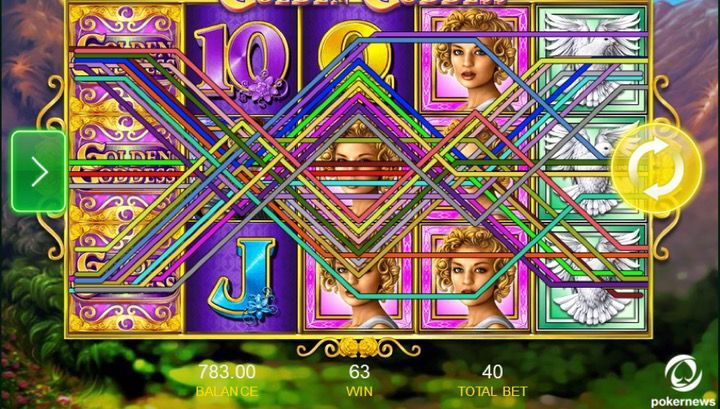 As I've already explained before, this Slot isn't rocket science.
What's wonderful about this simple Slot is that you can win real money, too.
As a high-rolling player, of course you want to earn some extra with your hobby.
The Golden Goddess Slot denominations range from a penny, to a quarter, and then to a dollar.
The payout percentage is 98%, which is higher than most Slot games.
Final Thoughts on the Golden Goddess Slot
What do I like and dislike about this Slot? Well, there is room for improvement, but the game overall is very fun to play.
The music and the design are also entertaining.
Out of all the times I was spinning, the chance of winning was slim, but it did make it more enjoyable when the winning animation triggered.
Important Notice: This is not our latest article about the promotions at this online Casino. You might no longer be able to claim this offer. To know what bonuses are available right now, have a look at our Casino bonus page.
Disclaimer: Gambling is a game of chance and there's no sure-fire formula that guarantee winnings. You can improve your winning chances by using the right in-game strategies but there is no way to predict when a machine or a Casino game is going to pay. Also, this page contains affiliate links. If you click through and play, we might earn a commission. That's what allow us to keep CasinoSmash free and bring you the best online Casino bonuses!
Bonus info: Terms and conditions apply to the offer. If something isn't clear, have a look at our review of BetVictor Casino for the T&Cs in full. The offer on this article might have expired by the time you read it. Please refer to the review pages for the latest bonuses and promotions available.