How to Become a Professional Gambler in 2020

Important Notice: This is not our latest article about the promotions at this online Casino. You might no longer be able to claim this offer. To know what bonuses are available right now, have a look at our Casino bonus page.
Becoming a professional gambler should not be on top of your priorities list.
Gambling professionally is risky, and the vast majority of those who decided to try gambling as a career end their adventure with less money than when they started.
In this article, I want to share with you some of the most important lessons I learned in the 15 years I spent in the gambling industry.
From the Casinos on Las Vegas Strip to the fancy halls of Montecarlo, from the midnight spaghettata at the Casino Sanremo to the astonishing collection of lobsters, Kobe beef, and black truffles at King's Casino — l believe I have a thing or two to tell you about gambling.
And if you only play online Casino games, this page is perfect for you.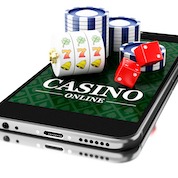 All the Best Casino Games to Play Online
Check out all the best Casino games pro gamblers love and play from desktop, Android, and iOS.
Start your journey from zero-to-hero with a FREE bonus!
You ended up on this page because you want to know how to become a professional gambler. My goal here is to make you change your mind. Or, if I don't succeed in my primary mission, I hope to at least open your eyes on what means to gamble professionally.
If you think becoming a professional gambler means you are going to make a fortune at the Blackjack or Roulette table, think again.
Winning money is only the result of what pro gamblers do.
The glam of big chip stacks and big online bankrolls is just the eye-catching result of a problematic multi-step process that requires time, dedication, and luck.
Professional gambling is like an iceberg — and money is just the tip of a massive mountain of ice that hides underwater.
For how unoriginal it might sound, I am going to use the iceberg metaphor to explain how to become a professional gambler and all the skills you need to acquire if you are serious about gambling professionally.
The Truth about Professional Gambling
Before we touch on elements like discipline, bankroll, and game selection — let me be clear about something: the vast majority of players lose money at the Casino.
Gambling is a legitimate form of entertainment, not an easy way to make quick money or a natural alternative source of income. The Casinos prosper thanks to an almost fail-proof business model that sees you spending money on games that you are not likely to win.
If you don't know what I mean, think about the Strip in Las Vegas ( if you have never been to Nevada, you can use Google Maps). Everything you see is built on the losses of players who did the wrong thing.
Inexperience, intuition and lucky guesses cost the vast majority of players a very high price, and you need to learn how to be better than them.
To become a professional gambler, whether you do it to earn money in the long term or to be a better player, means to understand the games and the odds behind them.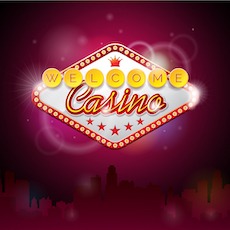 The Best Games with the Best Odds
Choosing Casino games with the best odds give you more chances to win.
Register a free account here to discover all the games with the best odds and play with a bonus!
Hollywood movies want you to think that card counting in Blackjack is a surefire solution to all your financial problems and that you need only an analytical mind and a few math formulas to beat the house and win a lot of money.
That's not how gambling works.
This article is the first step to turn the Casino odds in your favour and help you avoid the most common mistakes Casino players make. Use the pieces of advice you find here, study as much as you need to, and you'll be ready to live gambling in a completely different way.
A Note on Problem Gambling
According to the National Council on Problem Gambling (NCPG), "Approximately two to three percent of Americans meet the criteria for problem gambling," meaning there's a total of about 6,5 million people who should not gamble — in the United States alone.
Problem gambling is real and you need to take it seriously.
According to Lifeline Australia, "problem gambling is when betting starts to create trouble in your life, such as debt; relationship problems; loss of a job; stress or depression; or it gets in the way of being a good parent."
I love gambling and I love to spend a good night out at the Casino or to fire up a live dealer game on my computer when I am at home. But I also know that this isn't healthy for everyone.
Do yourself a favour: before you start the process to become a professional gambler, try this three-minute test on problem gambling by Psycom. Answer to all the questions, read the results and let them help you understand if you should become a professional gambler or not.
The House Shall Always Win
There's a reason why professional gambler Kevin Blackwood calls this "the Casino's first commandment" in his book Card Games for Dummies."
Unlike it happens in professional sports where all teams start with equal chances to succeed, in gambling the Casino always has an advantage over the player.
The size of this advantage (the 'house edge') depends on the game you play. Craps is one of the games with the lowest house edge — provided you know how to play and how to avoid the wrong bets.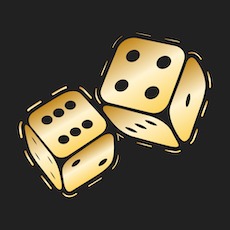 ROLL THE DICE!
Craps is a great game to play...and a lot of fun too!
Register a free gaming account to access the best games of Craps online in 2020!
Pro gamblers know that a correct game selection is crucial and that they can't play a game 'just because they like it'. Picking the right game is vital to get good chances to succeed at the table, and that's why you need to learn the specificities of each game on the Casino floor.
If you are not familiar with the differences between all the games you can play, I suggest you read this article on the Casino games with the best odds.
House Edge of the Most Popular Games
| Game | House Edge |
| --- | --- |
| Video Poker | 0.46% |
| Blackjack | 0.50% |
| Baccarat | 1.06% |
| Craps | 1.36% |
| Pai Gow Poker | 2.54% |
| Three-Card Poker | 3.37% |
| Let It Ride | 3.51% |
| Caribbean Stud Poker | 5.22% |
| Roulette | 5.26% |
Set Goals for Each Session
Choosing the right games to play is only the beginning of your adventure as a pro gambler. Not only you need to know what to play — you need to know also why you play it.
Connecting your gambling sessions to specific goals is important and, with time, not as difficult as it seems.
Setting goals in gambling means to identify the amount of money you aim to win and can afford to lose every time you play. Some players set global goals per session ("I want to win $500, I can afford to lose $300") while others connect a specific goal to each of the games they play to play.
There isn't a right way to do this. I guess that game-specific goals can confuse beginners too much and is best for pro gamblers — but this is just my personal opinion and should not influence your decision.
You should set the goal you prefer, making sure that:
The Upper Limit (the money you want to win) is big enough for you to care and yet realistic enough to be achievable
The Lower Limit (the money you can afford to lose) is small enough for you to be able to lose it without this causing financial or psychological issues of any kind
To be successful means to be ready for the worst-case scenario, not just for the best one. While I am sure you know what you could buy with the jackpot win you have been eyeing for a while, have you ever taken the time to think about what happens if you don't win?
Bankroll Management Is Everything
You know what games to play, and you know that you want to get from A to B (but you calculate that there could be a diversion that takes you to C), so the question now is: how much should you play?
Setting goals isn't enough to succeed and to call yourself a professional gambler. At least not until you learn to manage your bankroll as pro gamblers do.
I have written plenty on the subject and I suggest you have a look at this guide to bankroll management in gambling if this concept is foreign to you. Otherwise, here's a bunch of actionable tips you can follow to become a pro at this:
Get yourself a prepaid credit card to use only to gamble online (Skrill and N26 are two great options
Set a monthly limit to the money you can gamble and upload that sum to the card
Every time your balance exceeds that amount, move the extra cash into a savings account
This is the only way to make sure you will keep your winnings, and you won't be tempted to use the profits of one session to counterbalance the losses of another one.
Remember: gambling professionally exposes you to huge swings, so you always need to focus on the long-term. That's the only way to manage your bankroll effectively and to make sure a cold streak doesn't ruin months of hard work.
Know Yourself and Respect Your Emotions
You won't be able to gamble like a robot — not even if you try. To become a successful pro gambler, you need to become familiar with your emotional state, and you need to respect the way you feel at any given moment.
External factors can alter your emotions and have deadly consequences on your results. If something isn't going well in your life and your mind is not clear — you should not gamble.
Applying the right game and betting strategies requires a level of focus that you can't have if you are distracted by something else.
Respecting your emotions also means that you need to pay attention to how the results of your games influence the state of your mind. If you realise that big wins make you too euphoric and big losses make you willing to bet more 'to get back on your feet' — stop.
Don't lie to yourself, thinking you can ignore your emotions. Whenever you realise that your mind isn't clear enough to provide a logical explanation to each bet you place, stop and get some rest.
My Personal Tip: Download Calm
I find that a bit of meditation every day can go a long mile. That's why I am an avid user of Calm, a lovely little app that I keep on my iPhone and that reminds me that sometimes I need to sit down, relax, and detach from everything that I'm doing.
A great way to help your mind to perform at its best is to include some physical exercise in your day and take care of your body as you do of your mind and your bankroll.
Every professional Poker player I met in my life (from Phil Ivey to Phil Hellmuth and Daniel Negreanu) spend a significant amount of time on their diet and their gym plan. That's because the only way they have to make some real money come their way is to make sure they can always perform at their best — and, as the Romans used to say, "Mens sana in corpore sano1."
Study All the Top Strategies
Last, but not least, let's talk about strategies. Whether you play a card game or sit at the Roulette table — all the games offer something different.
To get the best possible result at every Casino game you play, from Slots to Baccarat, you need to know what are the top strategies other professional gamblers use and what are the betting patterns you should follow or avoid.
This is a rather tricky part of your journey to becoming a professional gambler, and it connects to your knowledge of each game and of mathematics.
The articles below help you learn how to play each of the most popular Casino games and show you both basic and advanced winning strategies to approach them like a pro gambler.
Disclaimer: Gambling is a game of chance and there's no sure-fire formula that guarantee winnings. You can improve your winning chances by using the right in-game strategies but there is no way to predict when a machine or a Casino game is going to pay. Also, this page contains affiliate links. If you click through and play, we might earn a commission. That's what allow us to keep CasinoSmash free and bring you the best online Casino bonuses!
Bonus info: terms and conditions apply to the offer. If something isn't clear, have a look at our review of Energy Casino for the T&Cs in full. The offer on this article might have expired by the time you read it. Please refer to the review pages for the latest bonuses and promotions available.