Jackpot Jester 50,000 Slot: Useful Tips and Free Demo

Jackpot Jester 50,000 is the ultimate retro Slot by NextGen Gaming
The game features 5 paylines and a 50,000-coin jackpot
The Return to Player (RTP Index) of this game is 96.08%
===> Click here to play the free version of Jackpot Jester 50,000
What if I told you that a Slot with only three reels and five paylines can be as exciting as state-of-the-art Casino games like Vikings and Gonzo's Quest?
I promise - this is not an exaggeration.
I simply discovered a Slot machine called Jackpot Jester 50,000. The game was so fun to play that I just had to write this review.
Read it and find out how to play the Slot and what exactly makes it so enjoyable.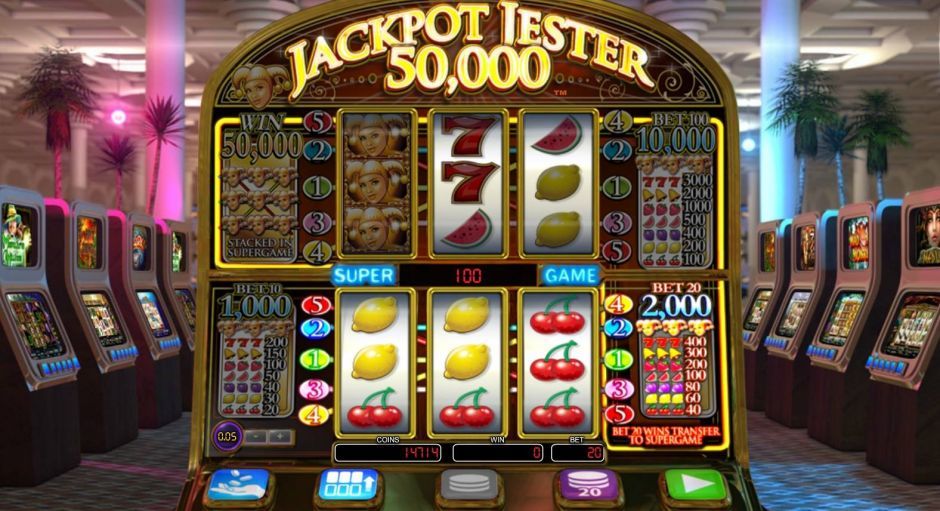 Tips for Playing Jackpot Jester 50000 Slot Machine Online
Even though Jackpot Jester 50,000 might seem like a simple classic Slot from the first glance, you actually have to learn how to play it.
This sounds crazy, but it's true.
I'm not saying the gameplay is complicated, but Jackpot Jester 50,000 is still a tiny bit more complex than, say, the Twin Spin Slot.
But why?
Well, it all boils down to the Slot's Super Game feature - but let's begin from the start.
How to Play the Game in Its Base Mode
As soon as you open Jackpot Jester 50,000, you see a massive gaming machine with a set of reels, four payout tables, and a bunch of buttons.
On top of that, the Slot is as flashy as the sky on the New Year's Eve.
But don't worry - everything is easier than it seems.
Right now, all you need to care about is the payout table at the bottom-left side of the screen and two small buttons below it.
This is your base paytable - and the buttons are for selecting your bet.
So, here's what you need to do to start the game:
Select the coin value (from 0.01 to 5)
Click the green Spin button
Wait for the result
This mode will let you bet from €0.10 to €50 on a single spin. It only allows you to bet 10 coins at a time.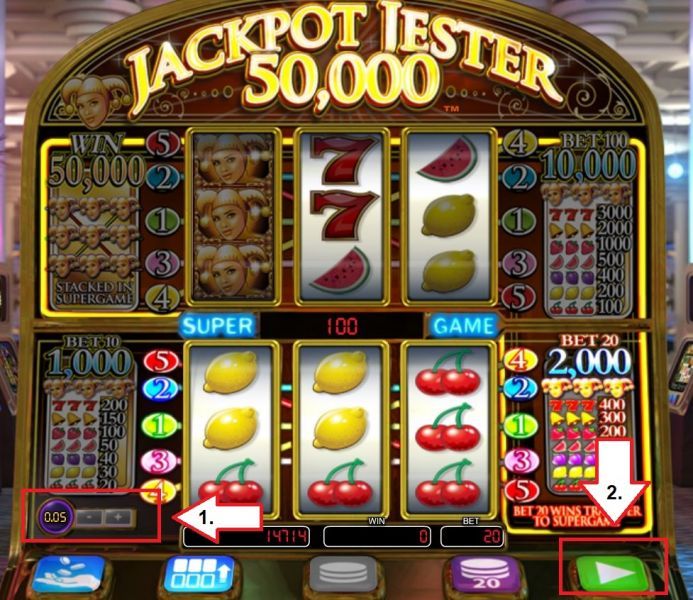 The Payouts of the Base Mode (10 Coin Bets)
Your win depends on the coin value you selected.
Let's say that you chose your coin value as €1 and collected three cherries, which have a payout of 20 coins.
The math goes like this: €1 x 20 coins = €20
The same goes for all the other symbols, whose payouts are as follows:
| 3 symbols | Win |
| --- | --- |
| Jesters | 1,000 |
| Sevens | 200 |
| Bells | 150 |
| Strawberries | 100 |
| Watermelons | 50 |
| Plums | 40 |
| Lemons | 30 |
| Cherries | 20 |
The best part is that Jackpot Jester pays for all the lucky paylines you hit per spin. This is especially refreshing when you keep in mind that the majority of Slots pay only for the highest win.
How to Play Jackpot Jester 50,000 in Its 20 Coin Mode
Everything was pretty clear so far, wasn't it?
However, we only talked about the base game of 10 coins.
But you can also choose to play Jackpot Jester 50,000 with 20 coins - just click the purple button with the number 20 on it.
Spoiler alert: this is where the fun begins.
First of all - your stake doubles because of twice as many coins. As a result, the bets here range from €0.20 to €100 per spin.
Luckily, your wins also get an upgrade:
| 3 symbols | Win |
| --- | --- |
| Jesters | 2,000 |
| Sevens | 400 |
| Bells | 300 |
| Strawberries | 200 |
| Watermelons | 100 |
| Plums | 80 |
| Lemons | 60 |
| Cherries | 40 |
But that's not the interesting part.
The charm of Jackpot Jester 50,000 comes from the choice you can make while playing with 20 coins.
When you land a lucky spin, you can either:
Instantly collect your win (for this, you have to click the button with a hand)
Leave your winnings alone for a while
The latter option sounds a bit weird, doesn't it?
Well, here's exactly what happens if you decide to not collect your cash as soon as you land a lucky combination:
Your coins accumulate in the Super Game section (don't worry, you can collect them anytime). When there are at least 100 coins, Jackpot Jester 50,000 unlocks the Super Game mode with the possibility to hit the Jackpot.
Keep in mind that as long as you don't click the Collect button, you won't be able to change your bet size. In other words, the only bet the game will let you make will be the original one you made right before winning.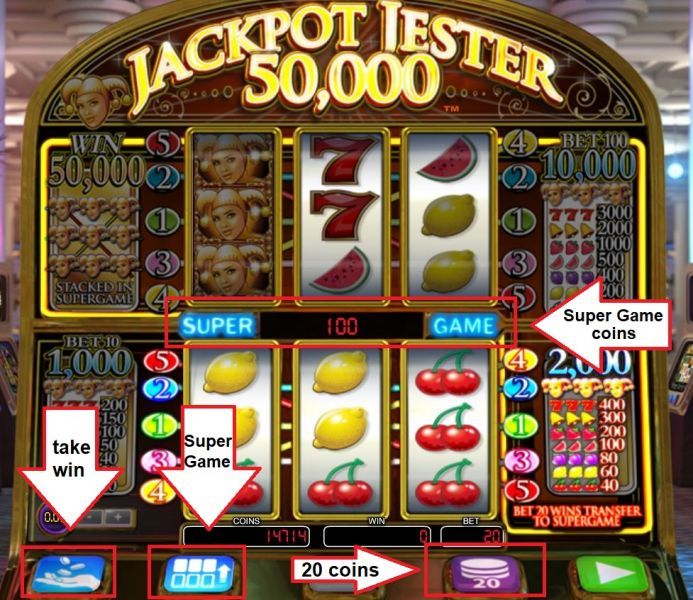 Jackpot Jester 50,000: The Super Game Bonus Mode
Let's talk about this Super Game, shall we?
So, if you accumulate at least 100 coins in the Super Game section, this is what happens:
The whole upper part of the Slot lights up and you can finally spin the reels in hopes for the 50,000-coin Jackpot (hence the name of the game!).
Here, every single spin is worth 100 coins.
As a result, when you have less than 100 coins left in your Super Game stash, Jackpot Jester 50,000 Slot will revert to the base game.
Then, you can either collect what's left or continue playing with 20 coins in hopes for another chance at the Super Game bonus.
How Much Can You Win in the Super Game Mode?
Even if the 100-coin bet might sound like a lot, you should not forget that the payouts of the Super Game mode are worth the high stakes.
That's because every single winning combination pays you three times more coins in comparison to the base game.
| 3 symbols | Win |
| --- | --- |
| Jesters | 10,000 |
| Sevens | 3,000 |
| Bells | 2,000 |
| Strawberries | 1,000 |
| Watermelons | 500 |
| Plums | 400 |
| Lemons | 200 |
| Cherries | 100 |
To hit the Jackpot of 50,000 coins, you have to get nine stacked jesters. In other words, the jester symbols must completely cover the reels.
Which mode is better? I suggest you play with the 20-coin mode all the time, even if you're not interested in the Super Game feature.
That's because you can still bet low (from €0.20) but get double the payouts - and who wouldn't want that?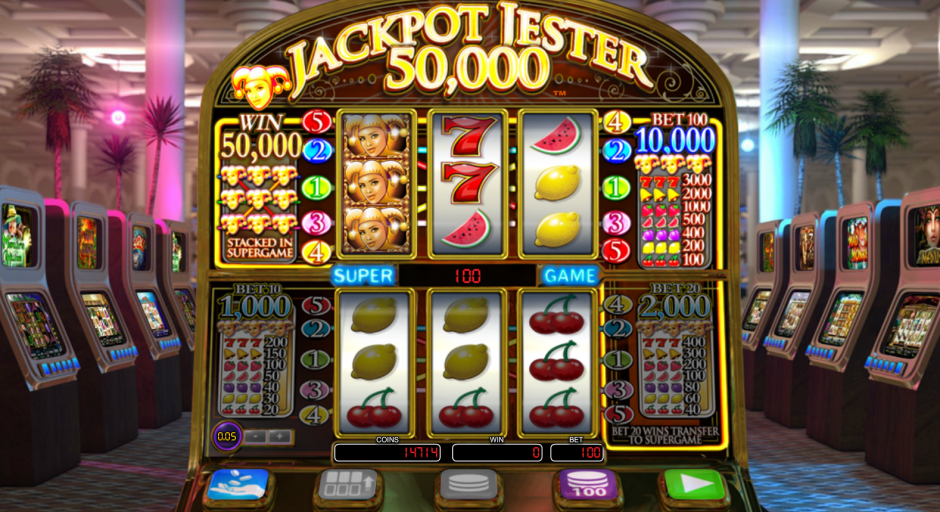 Some Final Thoughts
The Jackpot Jester 50,000 Slot was one of the most fun games for me to review.
Even though you can classify it as a fruit machine, it has much more to offer than the majority of classic Las Vegas Slots I've ever seen.
No matter if you play for free or for real money, this feature-packed video Slot will leave you satisfied with its authentic design and rich gameplay.
So, if you visit an online Casino and find Jackpot Jester 50,000 hidden somewhere under the tab of classic games - give it a go.
| | |
| --- | --- |
| Title | Jackpot Jester 50,000 |
| Developer | NextGen |
| RTP | 96.08% |
| Reels | 3 |
| Lines | 3 |
| Paylines | 5 |
| Jackpot | 5,000 |
| Min. bet | €0.10 |
| Max. bet | €100 |
Disclaimer: Gambling is a game of chance and there's no sure-fire formula that guarantee winnings. You can improve your winning chances by using the right in-game strategies but there is no way to predict when a machine or a Casino game is going to pay. Also, this page contains affiliate links. If you click through and play, we might earn a commission. That's what allow us to keep CasinoSmash free and bring you the best online Casino bonuses!