7 Reasons Why I Hate the Kitty Glitter Slot

Sometimes, the most popular Slots are the worst ones. Not just boring or ugly. Simply plain bad.
Like the Kitty Glitter Slot machine
What is Kitty Glitter?
The game launched as a Slot machine at land-based Casinos in Las Vegas. Then, IGT adapted it to an online Slot in 2010.
In short, it is a real money game that features cats.
So, can a Slot about cats be so terrible to justify a hate-article like this one?
Yes, it can.
And I am going to tell you why.
Kitty Glitter is a Terrible Slot Machine
As an expert in Casino games, I notice things a lot of other players miss. From the bonus features to the paylines, from the payouts to the RTP - Slots are a tricky business for a beginner.
But I am not a beginner and this is my job.
Since I care about my readers, I want you to play only the best Slots around. That's why I decided to publish this article.
That's why I tell you why you should not play Kitty Glitter and what other Slot games you should choose instead.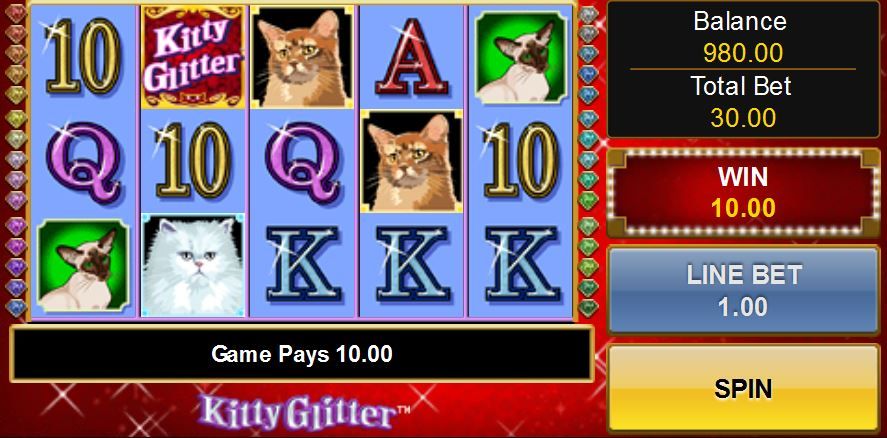 Low RTP
The Return to Player (RTP) index is the first thing I check when I play a gambling game.
You should do that too.
The RTP shows the theoretical payback percentage to the players. Read: the higher the percentage is, the more chances you have to win.
To put things in perspective, most of the games I play have an RTP of 97 percent or more.
So, what about this game's RTP?
Kitty Glitter's RTP is between 93.51 and 94.92 percent. Too low to invest real money on the game.
Do you want to play fun? Sure, go ahead.
VideoSlots offer a great freeplay version of Kitty Glitter (you can play on this page). But don't bet your cash on it - the cats will swallow it in a gulp.
On the other hand, Slots like Big Bad Wolf are a much smarter choice.
Not only it's a super-fun game to play, but this Slot by QuickSpin comes with a 97.29 percent RTP.
So you can win a lot more.
Give it a shot. The Big Bad Wolf Slot machine is available here (with a no deposit bonus)
Kitty Glitter's Graphics Scare Me
Low-quality graphics can kill the excitement of gambling in a snap.
Although, let's face it: some Slots are SO UGLY that we can't just stop playing them.
Do you need any examples?
It will make you wonder how in the world a game like this could become one of the most popular Slot machines of all-time.
The reels feature poorly-drawn cats, letters, and numbers. There are no animations and no backgrounds to distract you from that world of pure ugliness.
And that's at a time when Casino video games reached their highest peak with games like the Jumanji Slot or the Cosmic Fortune Slot machine.
That's kind of unacceptable, isn't it? If you can't create a good game, don't create anything at all.
If you want to be surprised (in a good way), play Cosmic Fortune. This new NetEnt Slot machine looks beautiful, features a creative storyline, and keeps you excited with good music.
No Bonus Features
Aside from the usual 15 free spins, Kitty Glitter doesn't have anything much to offer bonus-wise.
Here, you won't find any fancy bonus mini-games or even simple multipliers.
The only thing you can do here is to click the Spin button in hopes for three Scatter symbols to appear on the screen at the same time.
It gets boring really quickly.
Play instead: The 7 Sins Slot. This slightly risqué Slot machine offers a variety of bonuses that will keep you engaged. Especially as it features a 1,400x multiplier.
Gamble? No Gamble? No Gamble!
When I win at Slots but I am not satisfied with the amount, my hand automatically reaches for the Gamble feature.
You know, the one where you have to guess the right card or suit in hopes to at least double your win. Or to lose it all.
I agree, the Gamble feature is not for everyone.
But I think all Slot machines should have it. And Kitty Glitter doesn't.
Once you won something, you have no chance to increase the amount. If you spin $5 to win $0.20 - you have no way to turn that in at least your initial bet.
Play instead: Ogre Empire by Betsoft. This is one of my favorite real money games of 2019. And not only because of the possibility to double your win.
Ogre Empire is a Slot that takes full advantage of modern technology in terms of interactivity and animation.
Not Enough Paylines
I want to make it clear from the start: more paylines don't mean bigger wins. Your wins solely depend on the game's RTP and your luck.
However, it's much more exciting to play a game with, say, 243 paylines than a game with 30.
Why?
Because winnings, though smaller, can be much more frequent due to the higher number of successful combinations.
Do you know why I said 30 paylines are not good enough?
Because Kitty Glitter features exactly 30 paylines in total. Which means that you might spend quite some time with the Slot until you land a lucky spin.
Play instead: The Game of Thrones by Microgaming. Aside from its fantasy theme and good music, this game offers a total of 243 ways to win. You can play it on this page.
Forget the Progressive Jackpot
Progressive Slots are my favorite ones. They add an extra kick to real money gaming, making it more exciting than ever.
The Kitty Glitter Slot doesn't have a progressive jackpot for us to take home.
Of course, it doesn't.
Big wins are not really the point of this dull Slots game where everything seems to be designed to be as unexciting as possible.
Play instead: A Night in Paris by Betsoft. This jackpot Slot will keep you on the edge of your seat while you try to catch a criminal and hit the biggest prize. Play on this page.
Low Payouts
We play Slots to win money. Fair and square. So, could some high-paying symbols save Kitty Glitter from eternal damnation?
No, of course not.
Five symbols of a white Persian cat pay the max. win on this game: 1,000x your bet.
It takes a whole lot of luck to land the five luckiest symbols simultaneously and I expect bigger rewards for such an achievement.
Again, if you are after the big wins. Forget it. Kitty Glitter is a terrible Slot machine.
Play instead: The Gonzo's Quest Slot by NetEnt. This popular Slot machine is a far better choice than Kitty Glitter in terms of payouts. Collect five highest-paying symbols and your bet will get a boost of 2,500x. Play at BGO Casino.
Disclaimer: Gambling is a game of chance and there's no sure-fire formula that guarantee winnings. You can improve your winning chances by using the right in-game strategies but there is no way to predict when a machine or a Casino game is going to pay. Also, this page contains affiliate links. If you click through and play, we might earn a commission. That's what allow us to keep CasinoSmash free and bring you the best online Casino bonuses!