Five Celebrities Who Gambled a FORTUNE in Las Vegas

Important Notice: This is not our latest article about the promotions at this online Casino. You might no longer be able to claim this offer. To know what bonuses are available right now, have a look at our Casino bonus page.
Did you know that Ben Affleck isn't allowed to enter some Casinos in Las Vegas?
Or that former NBA superstar Charles Oakley was once arrested after he was caught cheating at the Cosmopolitan Casino?
If you believed that "what happens in Vegas stays in Vegas, well…"
…this article is going to shock you.
Celebrities love to spend some quality time in Sin City.
Hollywood actors, musicians, and sports stars flock to Nevada every time they can because, let's face it: when money isn't an issue, Vegas is a tremendous place for a weekend.
Especially when money can buy you spots where the paparazzi won't find you.
And perhaps also because a celebrity that goes wild in Vegas is such powerful advertising that most Casinos are ready to give Hollywood people everything they want. For free.
That being said, the link between famous people and Sin City goes a long way back.
Ever since gambling was legalized in 1931, the trend of celebrities flocking to Vegas has virtually been non-stop.
Vegas' popularity surely soared in the 50s, when Frank Sinatra and his Rat Pack made Vegas their home.
Since then, the attraction and the legend of the Strip have grown in leaps and bounds.
And, let's face it: the fact that Vegas lies one hour away from Los Angeles makes it even more attractive for the rich and the famous.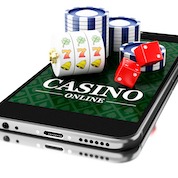 All the Best Casino Games to Play Online
Check out all the best Casino games pro gamblers love and play from desktop, Android, and iOS.
Start your journey from zero-to-hero with a FREE bonus!
The No Limit Sin City
In 2019, Vegas offers celebrities things that are unheard of elsewhere.
From hotel suites the size of mansions (some of which come along with their own private basketball courts and swimming pools) to world-class restaurants - Sin City has something for everyone.
(As long as the ration between your tastes and your wallet is 1:1).
And then there are the Casinos.
When the partying gets hard, there's only one place where the rich head over to: the casino floor.
When you are rich and famous, you get access to private exclusive gaming rooms where anything goes.
Champagne, caviar, girls, and insane bets. Do you want to know who plays in those rooms? Read on.
George Clooney
George Clooney's love for Las Vegas certainly did not start when he lived there at the time he acted in the remake of the 60's hit Ocean's 11.
He became a real regular long before that date, as his trips to Vegas started when his aunt - the singer Rosemary Clooney - used to perform there.
However, it's during the making of the Ocean's trilogy that his love for gambling reached a whole different level.
According to some online publications, in between takes Clooney and his motley crew of Hollywood A-listers would regularly head down to the Casino floors to get some gambling done.
If one particular story about Matt Damon is to be believed, this one time Clooney ended up losing 25 hands of blackjack in a row and Damon had to cover the losses when the dealer refused to take an IOU.
That did not diminish Clooney's love for taking risks in Vegas.
A few years later, he and his partner in crime Brad Pitt almost built themselves their own Hotel Casino on the Strip.
That was before the developers for the 'W hotel & Casinos' jumped in and bought them out for a massive $202 million.
While the casino floors might not have proven lucky for big George, he clearly found a better way to make some good bucks in the Sin City, as he ended up with a roughly 150% profit on the final sale of the hotel property.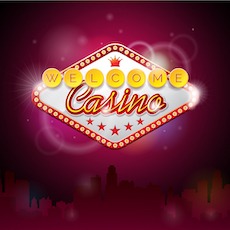 The Best Games with the Best Odds
Choosing Casino games with the best odds give you more chances to win.
Register a free account here to discover all the games with the best odds and play with a bonus!
Ben Affleck
Not long ago, Ben Affleck publicly admitted that he had gotten so good at Blackjack that he could easily count cards.
Too bad card counting in Blackjack is a practice that Casinos do not really appreciate and that could get you in a lot of trouble.
Is card counting legal? Yes, it is.
Should Ben Affleck have bragged about it? You be the judge of that.
Card counting got Affleck a lifelong ban from the Blackjack tables at the Hard Rock Café in Vegas, a Casino where he once won $140,000 in a single session.
That was the night Affleck became a true legend in Vegas, and not for the size of his win.
Affleck was so happy about the evening he had at the table, that he gave the whole €$140,000 in tips to dealers, waitresses and door boys!
And since Karma likes these things, when he came back a year later - he pocketed $800,000 playing three hands at the same time.
As if the fortune he made at the Blackjack table was not enough already, Affleck then hired Poker professionals Amir Vahedi and Annie Duke to tutor him and teach him all the best Poker strategies they knew.
The result?
Affleck won the California State Poker Championship in 2004, pocketing a cool $356,400 and securing himself a $25,000 seat in the World Poker Tour Finals.
Tiger Woods
Golf legend Tiger Woods gained his gambling fame playing in special high roller private suites with NBA legends Charles Barkley and Michael Jordan.
Someone who allegedly played in those rooms with Woods once said that the stakes were as high as $25,000 a hand - just so you get the picture.
Since then, the only thing that Tiger has paid more attention to than gambling, is playing hanky-panky in luxurious suites with Playboy playmates and supermodels.
Experts have estimated that it took Tiger merely 7 years after turning pro to gamble away almost €50m.
That's insane!
So, when he makes a small detour to Vegas in between golf tournaments, it's no wonder that Casino owners really love to see him in their rooms.
If you want to see someone treated like royalty in Vegas, wait until the Tiger is in town.
Charlie Sheen
What list of celebrity gambler could possibly not include Two and a Half Men star Charlie Sheen?
Sheen really grabs any addiction out there with both hands - and no, we are not only talking about gambling.
The actor's passion for gambling is so big, that his ex-wife Denise Richards is quoted as saying that while they were together he regularly blew away $200,000 per week only on Casino games.
$200,000. Every. Week.
She further claims that even while on the way to the hospital for the birth of their daughter, Sheen was reportedly calling bookies and placing bets on sporting events.
Later he was found checking the newspapers to see how his bets did.
It comes as no surprise that Charlie Sheen has been gambling since he was in his teens and although he might claim that his hardcore gambling days are over, we'd ask him not to bet on it.
Frank Sinatra
What would Vegas be without its favorite son: Frank Sinatra.
When Sinatra died in 1998, hotels on the Las Vegas Strip shut off their famous neon signs in memory of the man who more than anyone else brought Las Vegas to prominence.
Back in the 50s, Sinatra and his cronies - the Rat Pack - virtually made Vegas their home.
They sang there, they drank there and most of all, they gambled there.
They became such an impressive attraction that people would throng to the desert town just to get a glimpse of the Rat Pack frolicking around and be a part of their lavish lifestyle.
At the famous Sands Hotel and Casinos, they used to give Sinatra $50,000 to gamble away and allow him to keep all the winnings for himself.
And this just because his presence on the casino floor would bring an enormous number of high-rollers.
When he moved over to the Caesars Palace, the marque would simply say, "He's here" every time he was in town.
---
Do you want to read more amazing gambling stories? Don't miss these articles:
Disclaimer: Gambling is a game of chance and there's no sure-fire formula that guarantee winnings. You can improve your winning chances by using the right in-game strategies but there is no way to predict when a machine or a Casino game is going to pay. Also, this page contains affiliate links. If you click through and play, we might earn a commission. That's what allow us to keep CasinoSmash free and bring you the best online Casino bonuses!
Bonus info: terms and conditions apply to the offer. If something isn't clear, have a look at our review of Energy Casino for the T&Cs in full. The offer on this article might have expired by the time you read it. Please refer to the review pages for the latest bonuses and promotions available.