Midas Treasure Slot: Do You Have a Gold Touch?
Important Notice: This is not our latest article about the promotions at this online Casino. You might no longer be able to claim this offer. To know what bonuses are available right now, have a look at our Casino bonus page.
Midas Treasure is a slot game that has:
Incredible bonus features and rewards
A remarkable RTP of 96.95%
A superb theme and interesting design
Enter the enchanting world of Ancient Greek mythology and seize the opportunity to fill your coffers with golden coins, courtesy of the King Midas himself.
Midas Treasure is a slot game filled with excitement, thrill, and unpredictable turns of events that will keep you on the edge of your seat with every spin.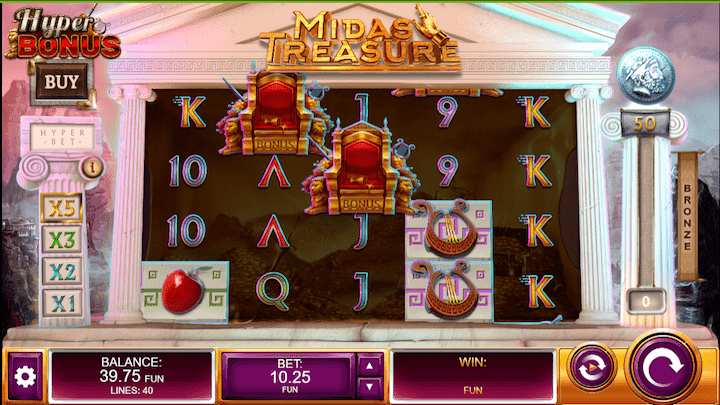 Midas Treasure Slot Machine
Everything about Midas Treasure is impressive, starting with the appearance of the game and going all the way to the playing features.
The Midas Treasure slot by Kalamba Games has five reels with four rows of symbols that make wins thanks to 40 active paylines. Also, due to a 96.95% RTP, this slot can bring generous rewards.
It is easy to see that the producers of this game paid attention not only to playing and bonus features but the visual and audio effects as well.
Sharp graphics and suspense-building music reflect the theme of the game well and help you step into the ancient Greek world, filled with powerful gods, titans, and magic.
Also, the gameplay is characterised by the simplicity of initiating the spins and controlling the game, which is why Midas Treasure is suitable for both beginners and experienced slot gamers.
The Theme
Midas Treasure slot game takes you on an adventure through the ancient Greek civilisation and its legends.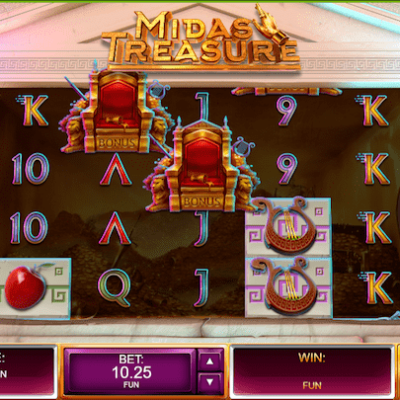 Play Midas Treasure with a Bonus!
Register a free account to try this exciting Slot machine.
Activate the bonus to join the Greek gods and turn every spin into gold!
The legend of King Midas is one of the most famous myths that talks about a king who wished to have the power to turn everything he touches into solid gold.
At first, he relished his power and turned everything around him into gold. Later on, the king's vanity reached unforeseeable levels and fired back at him when he realised he couldn't feast on delicious food as he turned it into gold.
With the Midas Treasure slot game, the part of turning everything into gold is reserved only to the reels and the coins you win, so don't worry, you won't experience the same fate as Midas.
Also, the symbols and all visual details are closely connected to the theme of the slot game, so you will get to see Doric columns, statues of Greek gods, and all the splendour of mount Olympus.
How to Play
As we've mentioned before, the gameplay is very easy to master.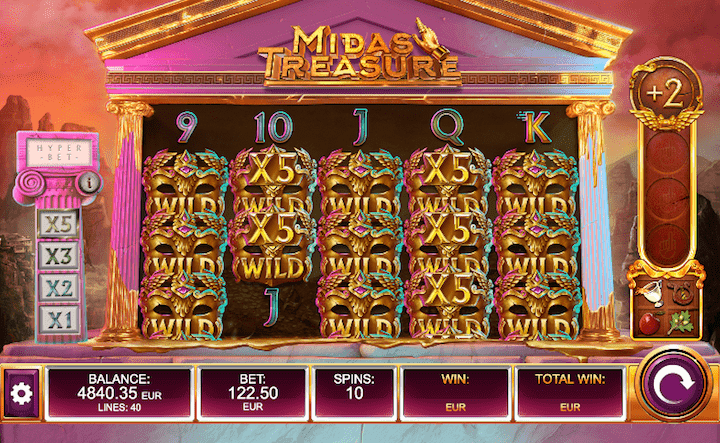 To start spinning the reels of this video Slot, you need to assign a value to your bet. You have 40 active paylines, and the total cost of your stake depends on how much you bet per payline.
There are four levels of bets you need to choose from in the base game, and each level comes with a different bet value and playing features.
This betting form is called Hyperbet, and each type of Hyperbet also leads to varying kinds of Hyperbonus.
There are also four levels of Hyperbonus, and each level has a specific number of multipliers and free spins that go with it, so the bigger the total bet, the bigger the rewards you might win.
Symbols and Bonus Features
Let's take a closer look at the symbols and bonus features in Midas Treasure slot game and see how they form significant wins.
Symbols
The high-paying symbols in Midas Treasure are symbols related to Greek gods. You can see a harp, a chalice, and ambrosia. The most potent of all high-paying symbols are the Wild, the Bonus, and the Bonus Accumulation symbols.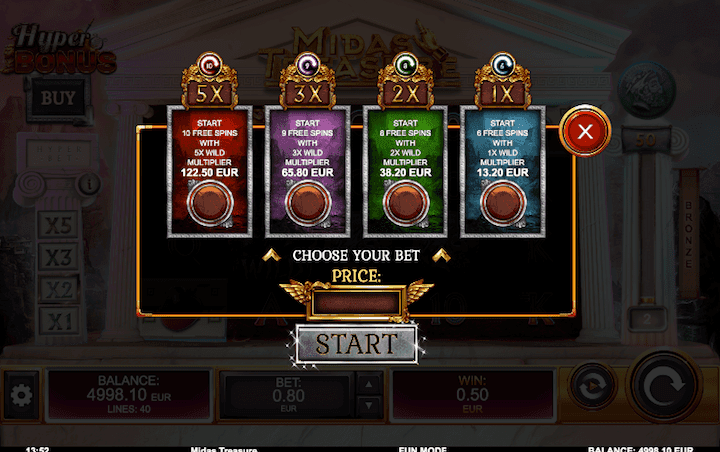 Wild symbols can substitute for all other symbols except the Bonus and Bonus Accumulation symbols. When Wild symbols are a part of a winning combination, they will multiply wins up to 5x times according to the corresponding Hyperbet level.
Bonus Features
When three scattered Bonus symbols appear on the reels, they will activate the Free Spins bonus round. The number of free spins depends on the Hyperbet level.
Once you open the bonus round, you can take advantage of Midas Extra Bonus symbols that appear across the reels and are represented by Midas' golden hand that awards extra free spins and transforms regular symbols into Wilds with its golden touch.
Furthermore, you can access the bonus round instantly by buying your way into it.
As with HyperBet levels, there are four different bonuses, and each bonus has its price and features that come with it.
Also, the Bonus Accumulation symbol in the form of a silver coin leads to an extra bonus round with free spins and bronze, silver, gold, and platinum rewards.
The more Bonus Accumulation symbols you collect, the more substantial the rewards will be.
Midas Treasure RTP and Payout
The RTP of Midas Treasure depends on the betting level you choose and whether you are playing in the base game or bonus round. Namely, with the first bet level, the RTP is between 93.62 and 94.09% and it keeps rising with each subsequent level to reach 96.95% at level four.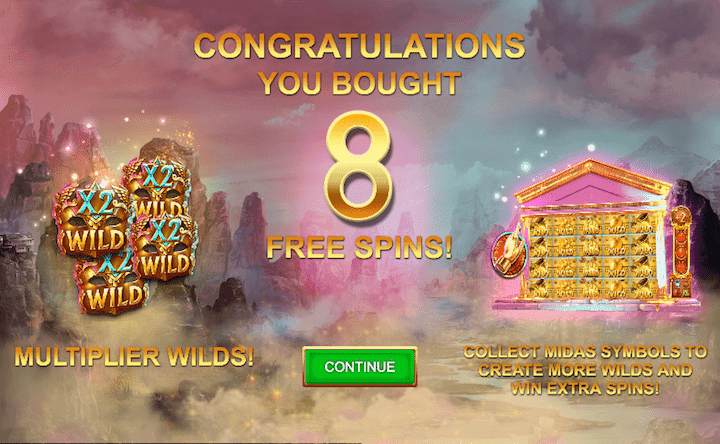 When HyperBonus is at play, you can expect a 96.69% RTP in the first level bonus, and an incredible 97.25%RTP in the 4th level bonus.
Therefore, Midas Treasure will most likely prove worthy of your time and money.
Play Midas Treasure Online
Knowing how interesting Midas Treasure slot game is, it is no wonder that so many online casinos offer it both for free play and in real money mode.
You can start with the free play mode until you get the hang of it, and later move to real money mode and experience the game's potential to the fullest while winning generous rewards and cash prizes.
Final Thoughts
Midas Treasure is a slot game that is home to great excitement and thrilling rewards, which is more than sufficient for us to recommend it to our readers.
Also, exciting and enticing bonus rounds are likely to fill your coffers with coins as the 97.25% RTP will give you significant leverage over the casinos.
Check Midas Treasure out and see if you have Midas' golden touch. Good luck!
Disclaimer: Gambling is a game of chance and there's no sure-fire formula that guarantee winnings. You can improve your winning chances by using the right in-game strategies but there is no way to predict when a machine or a Casino game is going to pay. Also, this page contains affiliate links. If you click through and play, we might earn a commission. That's what allow us to keep CasinoSmash free and bring you the best online Casino bonuses!
Bonus info: terms and conditions apply to the offer. If something isn't clear, have a look at our review of LightCasino for the T&Cs in full. The offer on this article might have expired by the time you read it. Please refer to the review pages for the latest bonuses and promotions available.