MuchBetter Review: Is This the Best e-Wallet for Gamers?
Discover a popular new e-wallet that you can use to deposit and withdraw your money when you play games online.
MuchBetter is an app-based wallet that sets out to help provide more security, faster transactions, and less processing fees.
Create an account directly from your smartphone, and within minutes you can top up your account, and you're good to go.
In this article, we set out to create our own account on MuchBetter to see how well the app works and whether or not we would recommend it to a friend.
Let's get to it!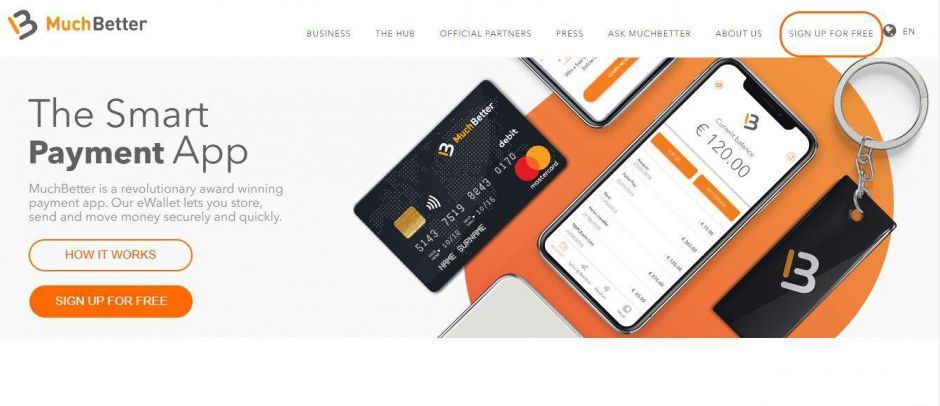 What is MuchBetter?
This award-winning payment app allows you to store, send, and move money quickly with low fees and fraud issues.
The MuchBetter app doesn't require any redirects, complicated passwords, or extra devices.
You can confirm your transactions directly on your phone and move your money around enjoying some of the lowest e-wallet fees in the world.
Each time you use the e-wallet to deposit 100 dollars/euros, or more you get reward points that you can use towards winning great prizes.
They also update you frequently on promotions and offers that are happening on the best online casino sites so you get always the best bang for your buck.
How Does MuchBetter Keep Your Money Safe?
When you sign up for an account with MuchBetter, they'll ask you to create a four number pin.
You'll use this every time you sign in to your account.
All your information is protected in the cloud and is twinned with your phone. You can also enable Touch ID to keep your account safer.
You have the option of receiving a MuchBetter debit card or even a wearable device so you can spend your winnings at your favorite shops and stores.
How to Setup an Account with MuchBetter
Setting up your account and getting started is simple with MuchBetter.
You can start on their website or go directly to the app store and download the MuchBetter app.
When you sign up for free, you'll have to create an account, and they'll ask for your phone number.
They send a verification code to your phone and will ask you to verify your account from there.
Once you verify the account, you're good to go.
MuchBetter redirects you to the app where you'll download it and sign up for the first time.
You'll sign in using your phone number and then it will ask for you four number passcode you created previously.
After you enter your phone for that initial sign in, it won't ask for your phone number anymore, you'll only have to enter that four number code.
You can enable Touch ID to make it even easier and faster.
How to Make Deposits and Withdrawals with MuchBetter
When you go to deposit money for the first time, you'll have to provide a copy of your ID or passport for verification.
You'll still be able to access your account without following this step, but if you want to keep money in the wallet, you'll need to verify the account.
You have a variety of choices to fund your account. You can use credit/debit, bank transfer, AstroPay, and more.
The options depend a lot on your country of residence, and you'll see them when you click the "top-up" option.
Once you have the money in your wallet and you want to deposit into an online casino, you'll provide your mobile phone and your MuchBetter account number.
That is when the payment service provider will transfer your money over to the casino.

The Fine Print
Okay, here is the moment you've been waiting for:
what's the catch?
Let's talk a little about some of the fees associated with a MuchBetter account.
The pricing and fees will vary based on your country, but here's a general overview of some of the fees:
| Transfer | Fee |
| --- | --- |
| Transfer to friends (P2P) | Free |
| Receive transfers (P2P) | Free |
| Pay a merchant | Free |
| Transfer from a merchant | Free |
| Request a gift | Free |
| Send a gift | Free |
| Request money from a friend | Free |
| Currency conversion | 0.99 % for conversions between USD/EUR/GBP - FX rates will vary for all other currency conversions including where USD/EUR/GBP is converted to a different currency |
Withdrawals:
| Withdrawal | Fee |
| --- | --- |
| SEPA bank transfers | 2% fee |
| Yandex | 2.5% fee |
| Interac e-transfer | $4.00 US fee |
| Bitcoin | 2% fee |
| Wire Transfer | 50 EUR and 2% where applicable |
When funding your account, certain options like SEPA transfer and Bank transfer are entirely free to fund the account.
Other choices like VISA and Mastercard have a 1.5% - 5% fee.
It varies so much from country to country, so it's challenging to provide across the board data regarding the funding costs.
MuchBetter has an initial limit of $2,500 loading and spending.
You'll have to go through the verification process to get that limit raised, but it usually happens within a few days of uploading your ID or passport.
Why Use MuchBetter
So, why should you choose MuchBetter over some of the other gaming e-wallets available to you?
First, they have an incredibly fast registration process. You can download the app and have money in your account within five minutes so you can get started.
The app is easy to use, and you can do the entire thing on your mobile phone.
If all of that isn't enough for you, they have low fees.
For a lot of transactions in many countries, you won't have any cost to load your account, and there's a small 2% cost to withdraw the money as well.
You get a MuchBetter Mastercard that is accepted at millions of locations worldwide, and you can freeze the card instantly from your phone in case you misplaced it or it gets stolen.
Not to mention the fact that the more money you move through your MuchBetter account, the more chances you have of winning some of their great rewards.
They offer VIP trips, cash awards, and more.
You can create your account here and get started with MuchBetter.
Disclaimer: Gambling is a game of chance and there's no sure-fire formula that guarantee winnings. You can improve your winning chances by using the right in-game strategies but there is no way to predict when a machine or a Casino game is going to pay. Also, this page contains affiliate links. If you click through and play, we might earn a commission. That's what allow us to keep CasinoSmash free and bring you the best online Casino bonuses!