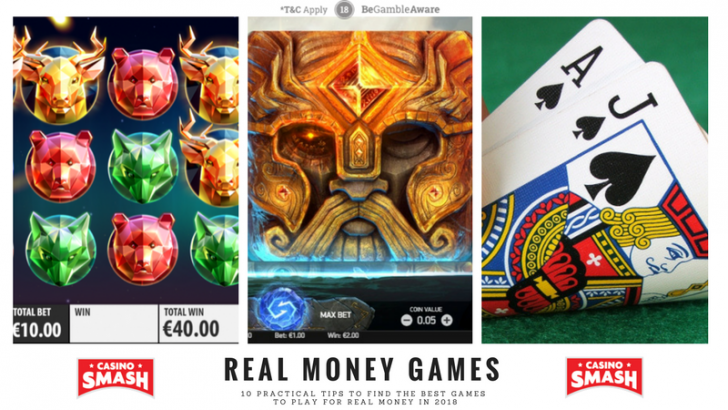 10 Amazing Online Games That Pay Real Money
Online casino games for real money are not only fun, but also provide tons of excitement and entertainment. Discover the 10 best games to play to win real money!
The online games that pay out real money are the best.
If you are looking for a way to combine the fun of online gaming with the thrill and excitement of real money play - these games are a must.
Whether you are into skill games like blackjack or you want to spend some time at the latest video slots, you can always decide to play for fun or for real money.
Play money play is fun and can be a nice way to spend some time and practice.
But the games that pay real money are a whole different thing.
The combinations of high-level graphics, immersive storylines, interactive features, and the prospect of a big payout bring everything to a whole different level.
I am not going to encourage you to play online games that pay out real money if you cannot afford to.
Yet, if you don't mind to spend a tenner or two on your online gamble, take a mental note of the games in this list or use the links below to get a free taste of the best games available right now.
In this article, I am going to share with you the top 10 online games that pay out real money at 24Bettle Casino and I am going to give you up to €240 in free bonuses to get started.
Top Games that Pay Real Money at 24Bettle
It doesn't matter if you are new to the world of online casinos or not, picking the best online games to play for real money is not easy.
With so many new slots and new online casinos popping up all the time, understanding what are the best games that pay for real money is not an easy task.
This is why I created this article.
If you are quick enough, you can combine one of the best signup bonuses available for real money play (you can read more info here) with ten great real money games.
European Roulette
It doesn't matter if you in it because you are a high-roller or because you play for fun: there's nothing as exciting as a game of roulette for real money.
Roulette is super-easy to learn. The rules are very simple and you only need to read this roulette strategy article to master the game in fifteen minutes or less.
One important note:
If you are a beginner, keep in mind that you should always play real money games on the European Roulette variant and never on the American Roulette.
The difference between the two games is all about your winning chances and you find it explained on this page about the basics of roulette.
Why Play Roulette at 24Bettle?
Easy: because they have sixteen different roulette variants that all pay out real money prizes.
Check out this page to use the €240 bonus on roulette games.
---
Northern Sky
This brand-new online video slots by QuickSpin is one of the best games that pay out real money you can play in 2018.
Somehow inspired by other popular slots like NRVNA, Starburst, and Butterfly Staxx, Northern Sky is an immersive game with premium graphics and a beautiful relaxing soundtrack.
While it might not be the most action-packed video slots to play in 2018, Northern Sky is a truly amazing experience.
From a technical standpoint, this is a five-reel video slots game with a Respin feature and a Free Spins bonus that can lead to ginormous cash wins.
Click here to play Northern Sky for real money.
---
Asgardian Stones
Norse mythology fans will love this brand-new online slots released in February 2018 by NetEnt.
With an RTP (Return to Player) of 96.31 percent, Asgardian Stones is a great slots game to play to win real money and at the same time understand what the top developers plan to release in 2018.
If you don't know this game yet, have a look at the clip below to discover what promises to become one of the biggest slots hits of the year.
Click here to play Asgardian Stones for real money.
---
Blackjack
The game of blackjack has been popular for real money in both land-based and online casinos for many years and for good reason.
The game allows those who follow the right betting strategy to have an edge on those who understand how the game works but haven't taken the time to learn the best play in every situation.
Blackjack is not only highly profitable for many players, but also can be entertaining when playing in the live games many online casinos offer the ability to interact with sexy dealers and fellow punters.
Check out the live dealer games at 24Bettle Casino.
---
Monty Python's Spamalot
If you have ever laughed your way through a Monty Python movie, tv show, or play, the Monty Python's Spamalot video slot should be right up your alley.
This Playtech-powered slot provides many ways to hit it big, featuring Monty Python themed scatter icons, free spins, a wild symbol, and bonus rounds.
Besides all the entertainment and the ability to get rich in any of the four bonus rounds, your life can change for the better if you hit the lucrative Holy Grail progressive jackpot.
Click here to play Monty Python's Spamalot for real money.
---
Craps
You can play craps online at many online casinos in both video and live formats.
If you are looking for a way to have a lot of fun during your games, I recommend you choose the live format where you can not only interact with other players but also see how they bet.
Craps is not only very exciting but on one roll of the dice, you can see huge fortunes come your way.
Click here to play a game of craps online.
---
Monopoly Plus
If you enjoyed playing Monopoly as a child or still enjoy the game as an adult, the 5-reel, 30-payline IGT powered Monopoly Plus video-slot should be right up your alley.
The video-slot features all the exciting aspects of the board game along with the big returns you can expect when you trigger one of the many bonus rounds.
Click here to play Monopoly online.
---
Gladiator
If you are a fan of Russell Crowe, why not bring the excitement of the cult classic Academy Award-winning blockbuster movie, Gladiator, into your own home?
This amazing video-slot features all of your favorite characters including Emperor Aurelius, Emperor Commodus, Senator Gracchus, Lucilla, and Juba.
Let's not forget about Maximus, who is featured by none other than Russell Crowe himself!
This is just part of the excitement this 5-reel, 25-payline video-slot provides since you can also win big with bonuses, scatter mode, and a gamble feature.
We saved the best for last, as the progressive jackpot in this slot is often around $2 million, which we are sure you can put to good use if you win it.
Play the Gladiator slot for real money.
---
The Sopranos
If you miss the award-winning HBO series, The Sopranos, you not only can watch the series in re-runs but also have a chance to experience the mob life with the famous mob boss Tony Soprano and his crew.
This mafia-styled video-slot not only features all the characters you have grown to love including Christopher, Paulie, Bobby, Artie, and Johnny but also provides actual footage of one of the most famous television series of all time.
Many players find the Bada Bing bonus round the most popular since when triggered enables you to choose a family member to meet Tony and watch a video while reaping in big rewards.
Play The Sopranos for real money.
---
Red Dog Poker
Red Dog Poker, otherwise known as Yablon is a popular card game found at many online casinos.
The game is popular online due to the low house edge of approximately 3 percent depending on how many decks are being used.
Unlike other games, the more decks that are used the better your odds will be.
Players love the game both for its simplicity and for the ability to win 11 to 1 on a bet if you nail three of a kind.
Usually the object of the game, however, is to get a card in between the first two cards that were deal providing odds anywhere between 1 to 1 and 5 to 1.
Head to 24Bettle Casino to play a game of Red Dog poker.