Mahjong Exchange: the Only Online Mahjong Game that Matters

Important Notice: This is not our latest article about the promotions at this online Casino. You might no longer be able to claim this offer. To know what bonuses are available right now, have a look at our Casino bonus page.
For many centuries, Mahjong has remained a popular pastime in many parts of Asia, including China and Japan.
With 144 different symbols and characters, a single round can last several hours and draw in players of all skill levels.
Following in line with its widespread popularity, Mahjong has picked up several interesting variants over the years.
This includes the newest addition to the family, a Mahjong online Casino game called Mahjong Exchange Online.
Created by Microgaming, Mahjong Exchange Online takes several of Mahjong's core gameplay elements and infuses them with a Roulette-like game of chance.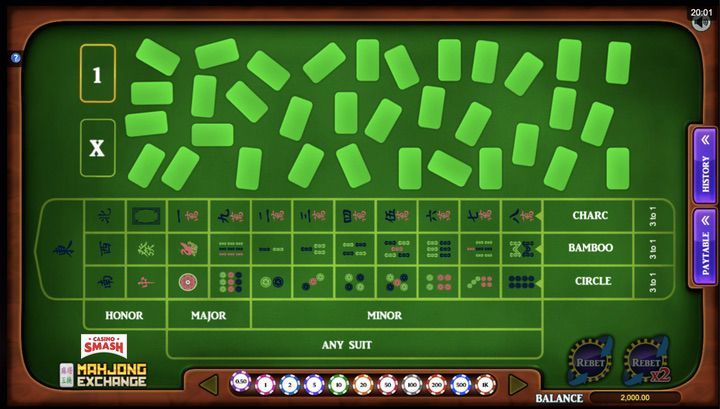 Mahjong Exchange Online raises the stakes of play substantially, allowing skilled users to play the odds and acquire payouts commensurate with their abilities (not to mention their luck).
Like classic Mahjong, Mahjong Exchange Online comes with a low learning curve that you can overcome after playing only a couple rounds.
After learning to play Mahjong Exchange Online, you'll quickly grow to appreciate this game's numerous unique features as well.
Few other free Mahjong games online can match what Mahjong Exchange Online has to offer its players in terms of engaging entertainment and odds-based play.
Top Features in Mahjong Exchange Online
As you might expect, Mahjong Exchange Online makes use of several special features and game mechanics that set it apart from ordinary Mahjong games.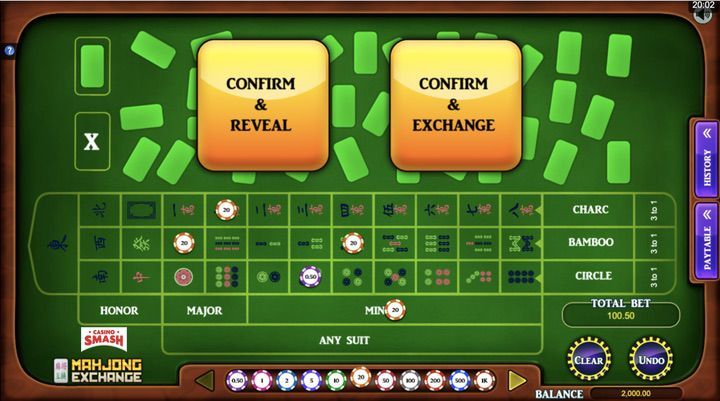 These features have allowed Mahjong Exchange Online to become one of the most popular Mahjong game variants available in online Casinos today.
Familiar Mahjong Symbols
First and foremost, many people are immediately drawn into Mahjong Exchange Online based upon its use of familiar Mahjong symbols.
In fact, each round of Mahjong Exchange Online has an opportunity to pull 32 different tiles from among the 144 standard Mahjong tiles.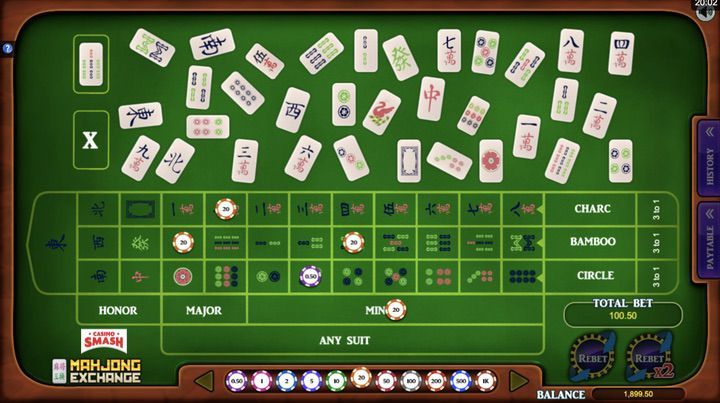 These 32 tiles may include any variations from the three main tile groups: simples, honors, and bonuses.
Typically, every round also includes at least one representative of the specific Mahjong "suits."
This includes the presence of tiles marked with dots, bamboo sticks, Chinese characters, winds, flowers, dragons, and seasons.
Each character comes with different odds when it comes to placing bets, so it is imperative that new players quickly pick up on these differences and apply their existing knowledge about the 144 standard Mahjong tiles accordingly.
Roulette-Style Betting Options
Those who have played a digital or live Casino Roulette before will immediately recognize Mahjong Exchange Online's betting board.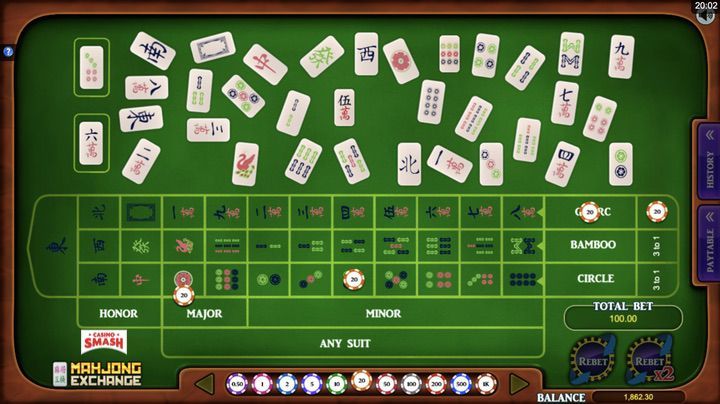 Specifically, players will immediately notice that this game's grid-like betting board allows players to bet a greater amount on individual results or hedge their bets by placing money on a categorized result.
Both methods of betting are a viable method for winning in Mahjong Exchange Online.
This game's individual result betting system follows in line with regular Roulette, allowing you to place one or more bets on the chance that a single tile will be revealed at the round's conclusion.
However, Mahjong Exchange Online's categorical bets have been remastered to align with the various Mahjong suits and classifications. As such, you can also place broad bets based upon the appearance of any dot tile or minor tile, for example.
Opportunities to Change your Odds of Success
This final feature is what lends its name to Mahjong Exchange Online. To be precise, this game allows you to "exchange" your chosen tile after setting your bets but before the board's tiles are revealed.
As a result, players are always able to modify their odds of success by selecting a second tile from the pool of 31.
This opportunity to switch your chosen tile is provided during every round.
If you opt for this option, you'll pull a second tile from the board and place it in the "X" box without returning the first tile to the mix. This "X" tile is then treated as your selection upon which your bets will be evaluated.
Due to the rules of probability, this selection process actually lowers your chance of finding a match slightly.
But even after performing an exchange, you still have 30 solid chances to find a matching tile on the board.
This far outranks other Casino-style games like baccarat that rely on one-to-one probability bets.
How to Play Mahjong Exchange Online
Learning to play Mahjong Exchange Online could not be easier, especially if you've played a Roulette-style matching game before.
Each round starts off with 32 Mahjong tiles being placed face down on the board.
Then, the player selects one tile and pulls it to the "1" box.
This tile remains face-down while you make your wagers upon the chances that one of the remaining 31 tiles matches your chosen "1" tile.
After placing your bets, the game will prompt you with two ways to continue the game:
"Confirm & Reveal"
"Confirm & Exchange."
The first option resolves the round by flipping all of the tiles and totaling any successful bets made by the player. The table then resets with new tiles, initiating a new round.
The second option, though, imitates the exchange process detailed above in the "Features" section.
The Bottom Line
Taken together, Mahjong Exchange Online is truly a unique game that combines the familiarity of Mahjong with the strategy and uncertainty of Roulette.
With hundreds of different ways to place bets and win, it's no wonder why so many online Casino players have taken to playing Mahjong Exchange Online each and every time they jump in for a few hours of entertainment.
Though it goes without saying, Mahjong Exchange Online receives a full recommendation based upon its simple gameplay mechanics and adaptability to fit any player's betting strategy.
Also, with 31 or 30 opportunities to draw a match in every round, you are sure to find success more often than not (as long as you lay your bets carefully).
Perhaps best of all, a variety of online Casinos like PlayAmo allow you to try out Mahjong Exchange Online for free.
That's a price that cannot be beat, making Mahjong Exchange Online a truly great opportunity to enjoy online Casino-style gameplay without any financial stakes.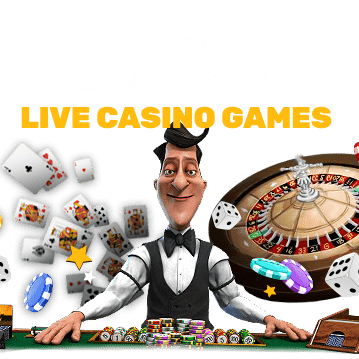 The Best Games. For Less.
Play all the best online games - from Slots to Blackjack and Mahjong.
Register a free gaming account and use the welcome bonus to begin!
Disclaimer: Gambling is a game of chance and there's no sure-fire formula that guarantee winnings. You can improve your winning chances by using the right in-game strategies but there is no way to predict when a machine or a Casino game is going to pay. Also, this page contains affiliate links. If you click through and play, we might earn a commission. That's what allow us to keep CasinoSmash free and bring you the best online Casino bonuses!
Bonus info: terms and conditions apply to the offer. If something isn't clear, have a look at our review of PlayAmo for the T&Cs in full. The offer on this article might have expired by the time you read it. Please refer to the review pages for the latest bonuses and promotions available.