Where to Play Blackjack Online for Fun in 2019

Blackjack is one of the oldest and most popular Casino games
You can play Blackjack for fun or real money online
The best free Blackjack games for fun are on this page
Blackjack is one of the most popular casino games of all time, and despite the fact that is just you and the dealer competing, tensions can get high!
Online blackjack is no exception.
If you are a fan of playing this classic casino game from the comfort of your home there are tons of options available.
Meaning: finding the right Blackjack games to play for fun can be difficult.
To help you find them, I decided to put together a guide to the top Blackjack games you can play for fun online.
This guide was published in June 2017 and last updated in September 2018
What Does Playing Blackjack for Fun Mean Exactly?

Blackjack is the age old casino game that has existed long before the movies and overused "Hit Me" references.
Albeit simple, the game can be enthralling for both players and spectators depending on the stakes.
The game of blackjack involves several players playing against the dealer.
While it is a game often played with a group sitting at a table in brick and mortar casinos (or at live casino tables) players do not compete for the pot.
It's just you against the dealer!
The players are dealt two cards each, dealer included, with all cards placed face up except for one of the dealer's cards.
Each player then has the option to stand or hit, meaning they can stick to the cards they have or decide to ask for another one.
The overall goal of the game to get as close to 21 as possible with your two card values.
If you do get 21 with an Ace, valued as 1 or 11, and a face card or 10 then you have what is referred to as blackjack.
But you do not need to get blackjack to win!
The fun part about blackjack is that element of surprise, because all you need to do to win is beat the dealer.
This can happen even if you have an awful hand. As long as you don't bust, which is when your hand value goes over 21, there's always a chance at winning!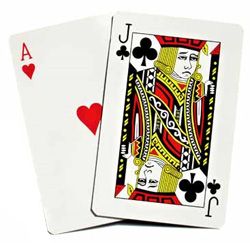 Different Ways to Play Blackjack for Fun

Playing Blackjack for fun, generally speaking, usually means playing blackjack for free.
Whether that is with a no deposit bonus, the extra cash you can get on top of your deposit, or demos of real money games, all count as play for fun options.
But which one's right for you?
What it all comes down to is how much you are willing to pay, versus how much you want to collect.
If you're happy with paying some of your own money and getting it doubled or even tripled with one of these sign up bonuses, you're not gonna have a hard time finding what you're looking for.
But if you're hunting for play for fun games that won't cost you any of your own cash, there are some great options available, which we'll get into next!
How to Play Blackjack for Fun and Win Real Money!

While most online casinos allow you to play free demo versions of their blackjack games, free blackjack is something entirely different, and is only offered by certain casinos.
These casinos tend to be the same creators of free slot apps, allowing users (especially US players) to also enjoy money games; just without the money involved.
Why this can be confusing for some is that playing blackjack for fun without real money is, for most serious gamblers, a ridiculous concept.
Believe it or not, some people enjoy playing blackjack just for the hell of it.
Before Claiming Any Free Cash Bonuses, Practice On These Free Casino Apps!
If you are one of those few people who gets a kick out of a 21 hand without the added rush of winning some real money, then you can try out Chumba Casino.
While Chumba Casino only has one standard blackjack option, this website is an excellent place to play if you want some variety and are into high-quality online Slots, too.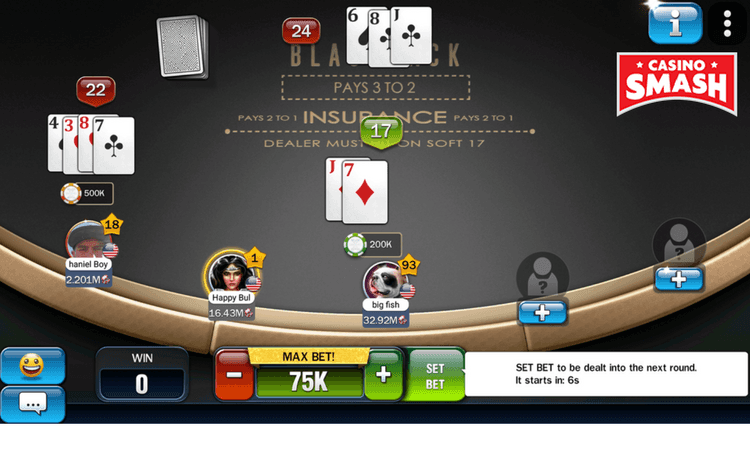 What makes this website special is that Chumba Casino is nearly the only option to play professional Blackjack games for fun for US players.
The $weeps in use at Chumba make it legal for this website to offer fun Blackjack games in the United States - and this is a great plus if you are looking for a safe website where to play 21.
You can read more about Chumba Casino on this page.
Free Cash to Play Blackjack for Fun and Win Big at the Same Time!

If you want to play blackjack for fun right now then you can find some great no deposit bonuses here on CasinoSmash.
A no deposit bonus usually comes in the form of free cash or free spins and allow you to play games for real money.
And you should be after the free cash!
Free cash bonuses allow you to play real money blackjack for free with the prospect of bringing home some cash, and what's better than that?
You can find some great free cash bonuses on the web like the one on tap at BetZest Casino, where all new players get a free €5 to play.
There are other options available as well, including 888Casino - where all the players from the United Kingdom can start their fun Blackjack adventure with a huge no deposit bonus of £88.
Both CasinoZest and 888Casino are excellent online casino platforms that have tested and approved by our players.
Their reputation for providing fair services and great support is only exceeded by the variety of table games, including great live blackjack tables, and generous bonus offers they provide.
However, if you still want to browse for even more no deposit cash bonuses to play blackjack you should check out this list for the newest free cash offers available.
Disclaimer: Gambling is a game of chance and there's no sure-fire formula that guarantee winnings. You can improve your winning chances by using the right in-game strategies but there is no way to predict when a machine or a Casino game is going to pay. Also, this page contains affiliate links. If you click through and play, we might earn a commission. That's what allow us to keep CasinoSmash free and bring you the best online Casino bonuses!