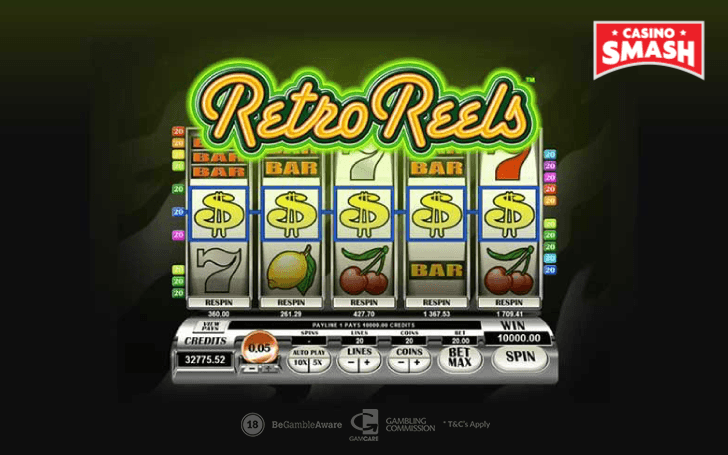 Retro Reels: Play the Best Vintage Vegas Slot Games Online
Important Notice: This is not our latest article about the promotions at this online Casino. You might no longer be able to claim this offer. To know what bonuses are available right now, have a look at our Casino bonus page.
Play Retro Reels games online with a bonus and free spins! Access all the Retro Reels vintage Slots from this list and play in demo mode or for real money!
The Retro Reels saga is yet another winning bet made by Microgaming, one of the top developer of Casino games in the world.
When they decided to launch a series of vintage Slot games to play online, many thought these would be soon forgotten and replaced by more modern 3D Slots.
Today, nearly a decade after the first Retro Reels Slot machine game came to life, you are here to prove them wrong.
All the Retro Reels Slots are still going strong and are one of the most popular types of vintage Vegas Slots you can play online.
On this article, you get full access to all the Retro Reels Slot machines. Play them for free to understand why people love these classic Slots so much or use the welcome bonus to jump right on the real money games!
Retro Reels Slot Machines: All the Games
| Name | Released on | RTP | Max Win | Free Play | Real Money |
| --- | --- | --- | --- | --- | --- |
| Retro Reels | 08.11.2010 | 96.02% | 440,000 | Demo | Go to Game |
| Retro Reels: Diamond Glitz | 10.01.2011 | 96.47% | 440,000 | Demo | Go to Game |
| Retro Reels: Extreme Heat | 07.03.2011 | 97.5% | 440,000 | Demo | Go to Game |
A lot of people out there are in a vacuum when it comes to gambling games.
These are the folks who still look for old-school Slots in Las Vegas and seek nothing but the best Classic Slots to play online.
If you are one of those players, who like to play retro Slot games online, look no further than the Retro Reels ones.
Microgaming built them with you in mind and came up with three excellent online Slot machine games that you can play from desktop and mobile both for free and real money.
The Retro Reels Slot machine games look like the most traditional penny Slots, although they hide a modern heart and exciting features.
Get the time to know them, to play them online, and to discover why many believe Retro Reels are the best vintage Slots you can play online in 2019.
Retro Reels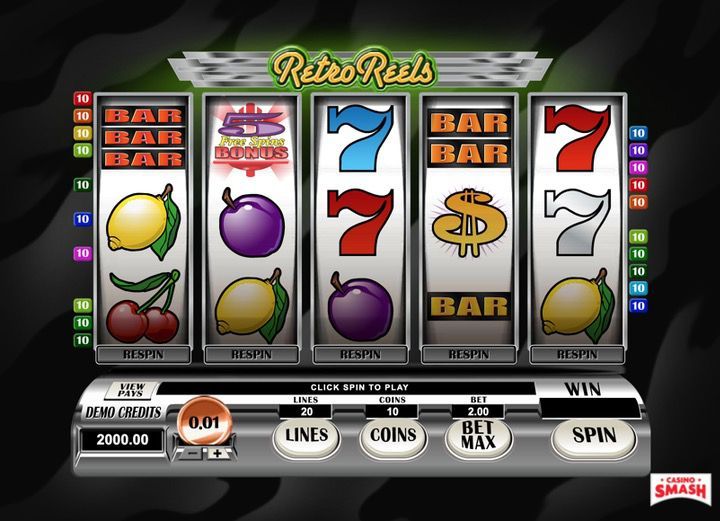 Launched in 2010, Retro Reels is the first and most vintage-looking Slot game of this successful series by Microgaming.
This elegantly simple Microgaming Slot machine is perfect if you are looking for a retro Slot with the look-and-feel of the classic machines you have been playing for decades already.
Win money old-school style and get that familiar feeling you crave.
Not only will you be getting all the usual features you find in most Las Vegas Slots, but you will also access the exciting bonus rounds and animations that make this Retro Reels Slot a true modern classic.
The first Retro Reels Slot machine features five reels and various extra features like bonus games, re-spins, and scatter symbols.
Free and real money play begins at one coin per payline and raises to a maximum of 20 coins.
The Payouts
To access the official payable of the Retro Reels Slot machine, click on the 'View Pays' button on the main screen of the game.
That leads you to a screen where you can see all the winning combinations included in the game and their respective payouts.
Like in most classic Vegas Slots, the Retro Reels online Slot game pays for left-to-right combinations.
Since you can choose how many paylines to play, make sure you remember this: the winning combinations only pay out when they stop on paylines that are currently enabled.
Bonus Symbols
The only bonus symbol in the classic Retro Reels Slot is the scatter symbol.
Scatter symbols can land anywhere on the reels. From a minimum of two (but more is better, of course) you can chain a winning combination or activate the bonus game and access a round of free spins.
During the free spins round, all the wins are multiplied by 2x.
The Respin Feature
Retro Reels also comes with a so-called Respin feature. This allows you to spin a single reel after you've made your spin.
What makes this special is that all the other reels stay as they were, giving you the chance to hit the winning combination you just missed on the previous spin.
Keep in mind that this feature isn't free as every respin requires an additional bet.
Retro Reels: Diamond Glitz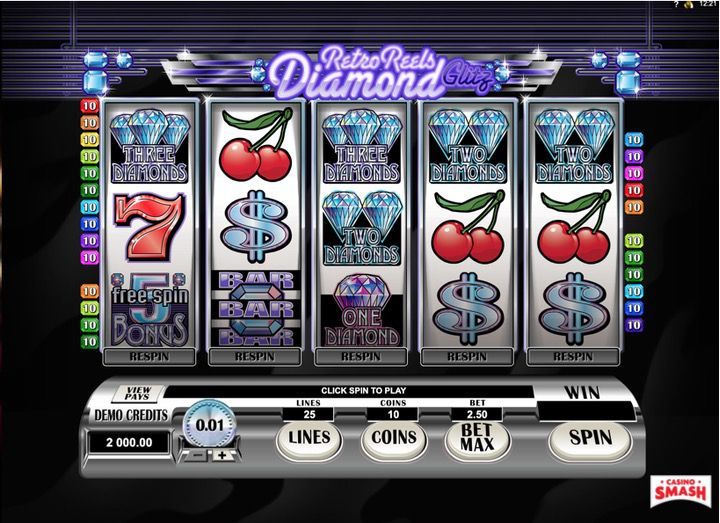 Welcome to the game where old-school retro Slot fun meets glam and luxury!
Retro Reels: Diamond Glitz is the second episode of the Retro Reels Slot series, and it's perhaps the most known (and played) of the three.
This game offers a classy and exciting experience of vintage Slots and brings it to new heights through a robust online gaming engine.
Retro Reels: Diamond Glitz is a perfect choice for players who want that familiar traditional Slots feel — in a classier package.
This game features five reels, 25 paylines, and three rows. It's undoubtedly one of the most exciting crossover Slots to combine vintage gameplay and a classic look with modern features, visuals, and animations.
Like with most classic Slots, you won't have to spend much time to figure out how to play Retro Reels: Diamond Glitz.
Choose the paylines, pick your bet, and let the reels to the rest.
Retro Reels: Diamond Glitz is considered to be the pinnacle of Microgaming crossover vintage Slots.
The developers wanted to make the game as vivid and exciting as possible — and they succeeded.
Even the most hardcore old-school players are blown away by this game and quickly accept the new features added to the Microgaming software to make the whole playing experience a little more modern.
The Respin Feature
Like all other Retro Reels Slot machine games you can play online, Diamond Glitz has a Re-spin feature.
The bet you are required to make for a respin changes depending on how close you are to a winning combination.
Similarly to other free Retro Reels slot machine games, the respins are also complemented with scatter symbols that lead to free spins bonus rounds.
With three, four, or five scatter symbols on the screen, you can get 15, 20, and 25 respins.
Retro Reels: Diamond Glitz comes with the most sophisticated and highest-win chance respin feature among all the Retro Reels games.
How Much Can I Win?
Not only does Retro Reels: Diamond Glitz have amazing visuals and exciting features, but it can also lead to surprising wins, too.
The Free Spins feature alone offers you a potential jackpot that is worth 440k coins. The cherry symbols have a 200x return when you get 5 of them on an active payline.
The bell and the seven pay 250x. Get triple or double diamonds and get up to 500x wins. If you get 5 of them, you will get a 10kx prize which, as you might agree, isn't t-h-a-t bad.
Retro Reels: Extreme Heat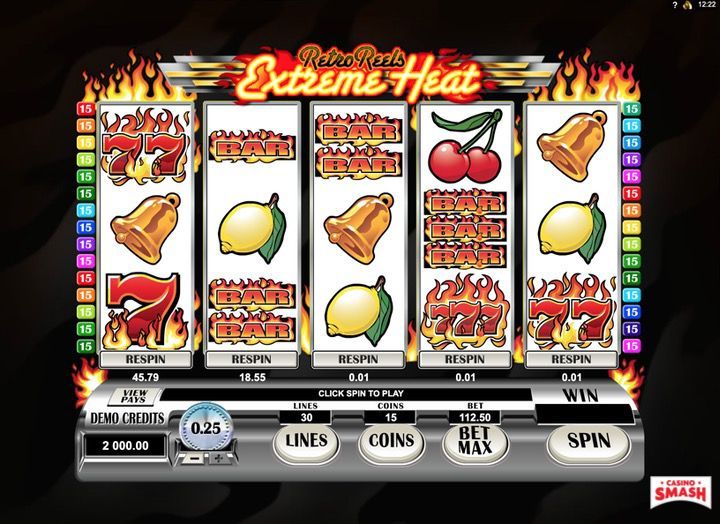 The Retro Reels Extreme Heat Slot machine is the final chapter of Microgaming's Retro Reels Saga.
Like most retro Slots, this Slot machine game features all the traditional fruit symbols such as lemons, cherries, etc. — all with a fiery flare.
This is a brand new exciting mixed Slots game, with a combination of vintage and modern elements.
You can play it for free, but you can also go for the real money prizes if that's what makes things exciting for you.
If you want a classic Las Vegas Casino Slot experience, this is a great online game to play especially since you can get a bonus to try it for free.
Retro Reels: Extreme Heat is a perfect video Slot game where you can influence the outcome of your spins.
The game comes with great graphics and a soundtrack that follows you in the background. Retro Reels: Extreme Heat represents the perfect mix for those players who enjoy vintage Slots but would like to see something fresh added into the mix.
Like the other Retro Reels games, this one also has five reels and three rows, combined with a total of 30 play lines.
At its core, it's not much different from the other two episodes of the Retro Reels series.
However, Retro Reels: Extreme Heat comes with a little bit more fiery excitement and a unique flare.
The most significant difference lies in the design and visuals, as the interface and reels are all covered in flames, and the symbols include flaming bar signs and sevens.
Extreme heat also has a Free Spins bonus feature, which is triggered when you get a minimum of three scatter symbols on the screen at the same time.
The respin feature works like in the other Retro Reels games. You can spin individual reels while others remain still and increase your ability to hit a winning combination.
Like the other games on this page, Retro Reels: Extreme Heat is available for freeplay and real money at popular Casinos.
You can play Slots like Retro Reels (and other Slot types with progressive jackpots) on this site.
Disclaimer: Gambling is a game of chance and there's no sure-fire formula that guarantee winnings. You can improve your winning chances by using the right in-game strategies but there is no way to predict when a machine or a Casino game is going to pay. Also, this page contains affiliate links. If you click through and play, we might earn a commission. That's what allow us to keep CasinoSmash free and bring you the best online Casino bonuses!
Bonus info: terms and conditions apply to the offer. If something isn't clear, have a look at our review of Mongoose Casino for the T&Cs in full. The offer on this article might have expired by the time you read it. Please refer to the review pages for the latest bonuses and promotions available.