Donald Trump and Kim Jung Un have certainly provided the world with quality entertainment over the past few years.
Transitioning over to this engaging and amusing slot game seems to have been a natural evolution of their characters.
The Rocket Men slot machine game brings political satire to the video slot scene; it's more amusing the more you know about politics.
This incendiary slot game offers lots to enjoy:
You spin 5 Reels across 3 Rows
The game has an RTP of 95.24%, unfortunately a bit lower than the video slot standard of 96%
Interactive games are frequent and shake up the rounds so you're never bored
Whether it was the colorful graphics or the amusing renditions of Donald and Kim's enduring battle that drew your eye, you're sure to have some fun if you sit down and give their slot game a try.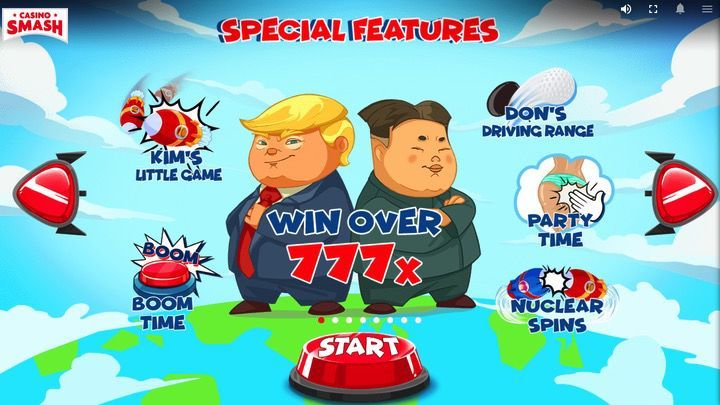 Theme and Graphics
Rocket Men makes fun of the antics between Donald Trump and Kim Jung Un. The title "Rocket Men" even refers to Trump calling Un a 'rocket man' after North Korea's ill-fated attempts to assert its dominance over its local neighborhood. Better luck next time, Kim.
The egos of both men are well known, so the cartoony versions of each are particularly hilarious and keep the game light and entertaining. Lots of popular slot machines have art styles that are relatively static and stale, but the graphics here are colorful, interesting, and relatively unique.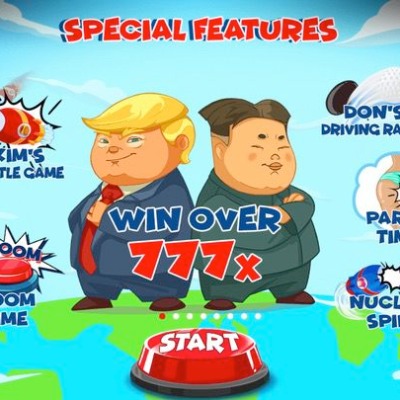 Get 1,000 Free Credits to Play!
Register a free gaming account to play Rocket Man for free with 1,000 credits.
One deposit activate also a cash bonus so — this is going to be yuge!
During play, both men are represented by scatter symbols that alternate between small cartoons of each. For instance, Donald will be playing golf in one instance, while Kim will plot world domination from behind his desk in another.
The cartoony vibe of the whole thing keeps the game innocent despite the rather serious real-world material it draws from.
Symbols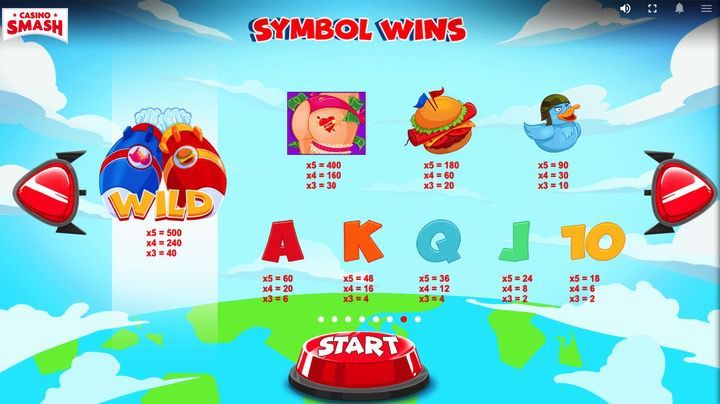 Due to the incendiary nature of both "heroes", the symbols used for high-value hits are a woman's backside, an odd, fat duck, and a hamburger filled with explosives.
Aside from that, regular card letters for A, J, Q, and K are used, as well as the number 10. The Wild symbol, described below, is a red or blue missile.
How to Play
Playing this 3D slot game is a lot easier than handling either Donald or Kim in real life.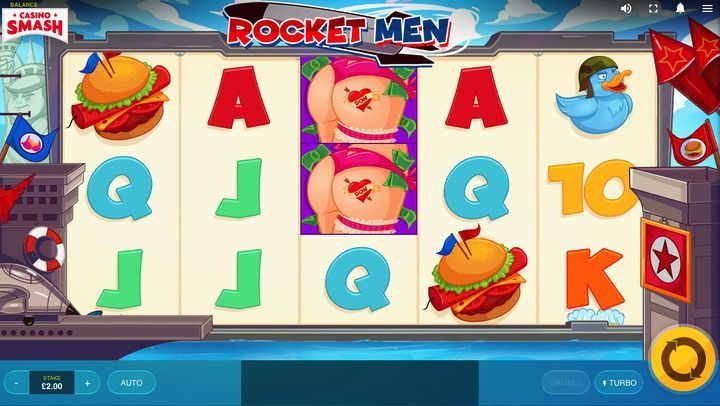 Betting
You can wager between $.20 to $500.00 depending on how lucky and brave you feel. There are up to 20 paylines to use at one time, and your maximum win is up to 1000x of your original stake.
Playing
There are 5 reels total, and Rocket Men keeps things interesting by enabling Donald's scatter to land on Reel 1, while Kim's scatter can land on Reel 5. Both scatters can land during your spin at any moment, which offsets this apparent limitation.
If only one of the scatters lands, a bonus round will trigger depending on which head honcho got lucky. Each bonus round is, hilariously, themed about the character's known hobby.
For instance, Donald's bonus round has the Don Driving Range initiate, during which Donald will drive golf balls around the reels from the left of the screen. More symbols will drop down as the balls smash into the reels. Because of this, you might get more winning combinations as a result.
Sadly, Donald eventually gets tired of all his exertion pretty quickly.
Kim's Little Game is the name of his bonus round. He fires his "well-designed" rockets at the reels, and any symbol hit by his missiles will become Wild. Wild symbols are the highest paying symbols in the game, so the opportunity for big payouts is similarly sky-high!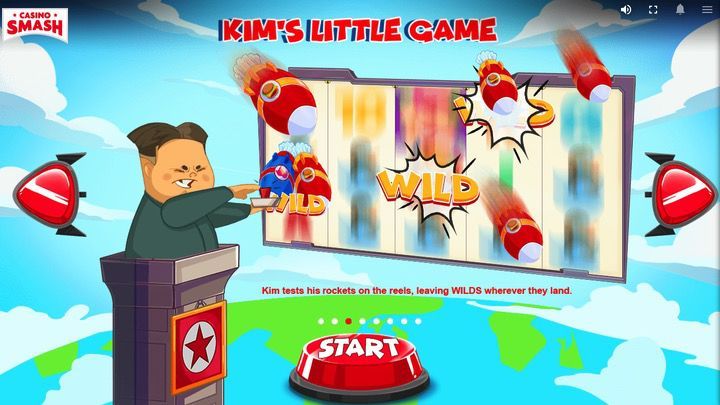 They can also substitute for other symbols to generate a winning combination.
Finally, both scatters can land on their reels at the same time. If this rare occurrence happens, you'll get the Kim v. Don bonus round. Their epic battle has three outcomes.
A tie returns you to the game. A Donald win starts the Party Time game, where you'll click random party girls at one of his infamous get-togethers; picking the right women will net you some bonus prizes.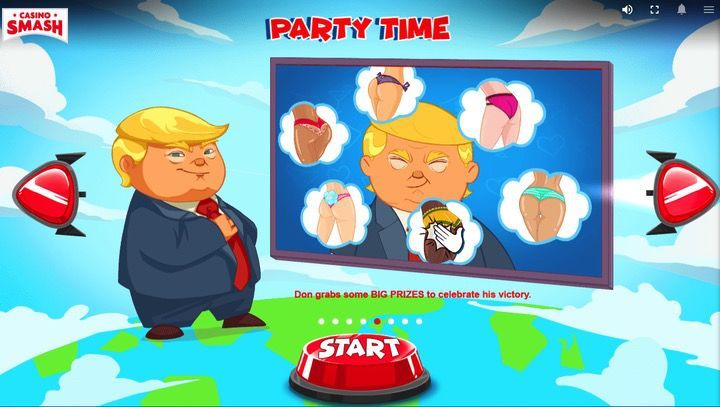 A Kim win, on the other hand, starts the Boom Time game, where you'll pick out the best rockets for Kim's next launch. The right rockets will lead to huge stake multipliers, potentially blasting your payout to outer space.
Overall, all these game combinations keep the game fresh and interesting. Each man seems to have good chances to land on their respective Reels, too.
However, Rocket Men doesn't usually provide free spins, with the exception of the Nuclear Spins bonus round.
Bonus Features
Nuclear Spins
If both Donald and Kim activate Wild symbols on their reels, you'll get a free spin and each Wild symbol will move one spot on their reel per spin. The Wild symbols will try to reach the opposing leader; as soon as one touches either Donald or Kim, the round is over.
Stir Up Some Trouble
If you're in the mood for a light and hilarious take on current politics, give Rocket Men a spin. You might even end up winning something for the effort!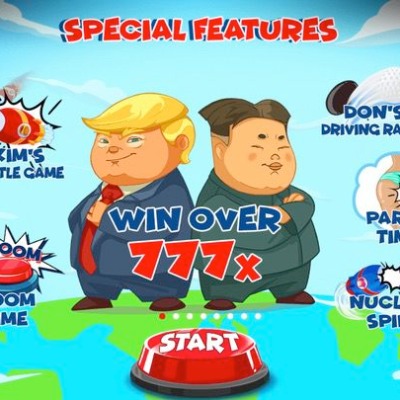 Get 1,000 Free Credits to Play!
Register a free gaming account to play Rocket Man for free with 1,000 credits.
One deposit activate also a cash bonus so — this is going to be yuge!