How Scalable Blackjack Removed Waiting Times Forever

Despite the rise of online blackjack, many players still like to have a live dealer just like they would in a live casino.

There is just something about seeing a real person dealing real cards that makes the game seem more authentic and reassures players that the whole thing isn't just a random computer-generated game.
In response to this, many online casinos offer live dealers, but this, in turn, can create a problem.
Up until now, having a live dealer has meant having to restrict the number of players per table, usually to around seven players at a time.
This often leads to times when players are having to wait around for a live blackjack seat to become available when they want to play.
Thankfully, Evolution Gaming have now solved this problem by introducing Scalable Blackjack.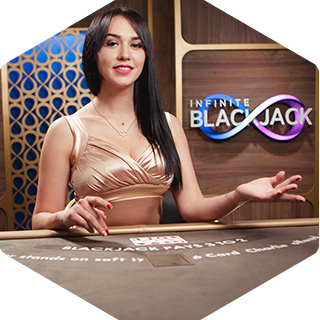 Activate the Bonus and Play!
Join the top live Blackjack tables with live dealers - and ZERO waiting times.
Activate the new player bonus to play Scalable Blackjack online!
What is scalable blackjack?
Scalable blackjack means unlimited seats and unlimited fun.
Evolution Gaming have created the software to allow as many players to take part as want to play, while all still enjoying the tangible experience of having a live dealer.
You can join a scalable blackjack game anytime you want (try it!), without waiting for a seat, and stay for as many hands as you like.
Just like any other live blackjack game, you will be able to see the dealer and interact with fellow players in real time through the chat feature.
How does scalable blackjack work?
Scalable blackjack includes both virtual and real cards, and a live dealer.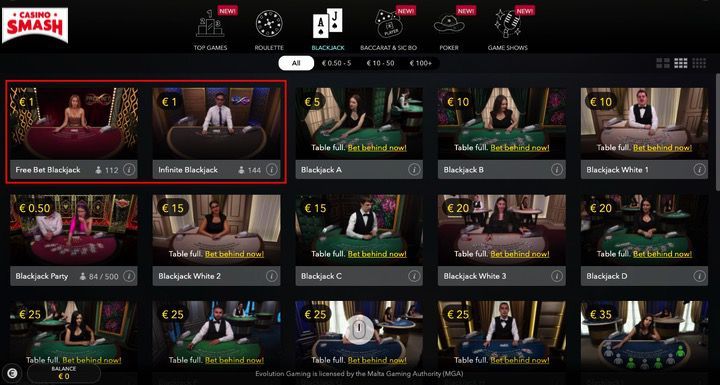 All players at the table are dealt the same two virtual starting cards, and it is then up to each individual how they want to play their hand.
The dealer will deal out real cards from a real deck as required.
Wagers start low, to maximise the appeal of the game, and there are a variety of scalable blackjack side bets available.
Scalable blackjack side bets
Scalable blackjack, or Infinite Blackjack as Evolution Gaming are calling it, comes with a range of blackjack side bets to add interest to the game and increase your wagering opportunities. These include:
Any Pair – bet on matching cards in the players initial two cards
21+3 – bet on various poker style hands using the player's initial two cards and the dealers face-up card
Hot 3 – bet on various blackjack combinations using the player's initial two cards and the dealers face-up card (with a Hot 3 of three 7s paying out the most)
Bust It – bet on how many cards it takes to bust the dealer
Scalable blackjack also has all the usual blackjack bets, including:
Insurance – in case the dealer has blackjack
Double down – doubling your bet on the draw of one more card
Split – making two hands from a dealt pair
Finally, the scalable blackjack game also includes the Six Card Charlie rule, which pays out for any hand of six cards of 21 or less, even if the dealer has a blackjack
Pros and cons of Scalable Blackjack
There are several pros and cons of the new game, although generally there are more pros than cons.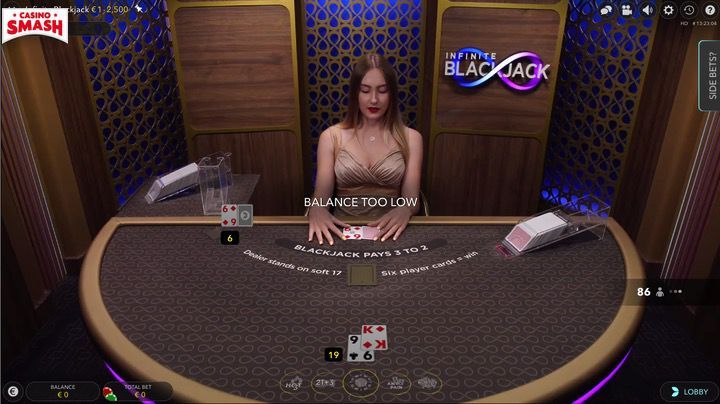 The biggest pro is the fact that players can enjoy live blackjack with a real dealer anytime they want without waiting for a seat at a live table. This is the main reasoning behind the game, but it also has other benefits for players.
Because all players are dealt the same initial virtual cards, scalable blackjack is a great place to watch and learn from more experienced players.
You can see how they choose to play different combinations and see a wide range of outcomes from the cards they get from the live dealer.
You get the same experience and learning that you would from playing dozens of hands yourself, but you will learn much faster.
The downside of this style of blackjack is that a potentially infinite number of players means that it is much harder to track the deck.
Add in the fact that the players' initial two cards are virtual and not from the live dealer's deck, and you'll find that strategies such as card counting or assessing the state of the deck are almost impossible. On the upside, being dealt two virtual cards has its advantages.
For example, if you are dealt two picture cards in your initial hand, it does not mean two less pictures in the dealer's deck, so you have better odds if you choose to split.
Conclusion
Like so many high-tech innovations, scalable blackjack has a host of clever programming going on below the surface that most players will be completely unaware of.
All they will notice is the fact that there are more players in the game and that there is always a seat waiting for them, whenever they want to play.
Which is exactly what the game was created to do, allowing players to combine the benefits of virtual blackjack accessibility with the authenticity of live dealer blackjack play.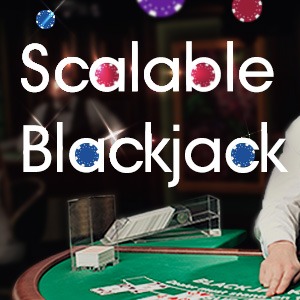 Play Scalable Blackjack Online!
Pick your game, size your bet, and play! No more wasted time waiting for a seat!
Activate the new player bonus to play your first live games.
Disclaimer: Gambling is a game of chance and there's no sure-fire formula that guarantee winnings. You can improve your winning chances by using the right in-game strategies but there is no way to predict when a machine or a Casino game is going to pay. Also, this page contains affiliate links. If you click through and play, we might earn a commission. That's what allow us to keep CasinoSmash free and bring you the best online Casino bonuses!