Sic Bo Online: Where to Play the Best Sic Bo Games

What you'll find on this article
Why you should play Sic Bo online
How to win more at Sic Bo online
I've always felt that Sic Bo is the one Casino game that doesn't get the love it deserves.
It's a rare sight at gambling sites, and even rarer at land-based Casinos.
Even the MENSA Guide to Casino Gambling does not appreciate Sic Bo that much. In fact, the author advises to avoid it at any costs:
"You won't find this game in many casinos, but if you do, run - don't walk - away."
What a shame.
Because Sic Bo is not only fun - it offers an incredibly low house edge of 2.78 percent, which you can also see as an RTP of 97.22 percent.
But only if you make the right choices.
That's why our Sic Bo strategy guide is so useful - it tells you how to win at Sic Bo more often and what kind of bets you should make to minimize the house edge.
And when you know all the tricks, this game doesn't seem so bad after all.
In fact, it becomes quite awesome.
What is Sic Bo?
It's a table game played with three dice. You can make up to 50 different Sic Bo bets on the outcome of the dice numbers.
Sic Bo Online by BGaming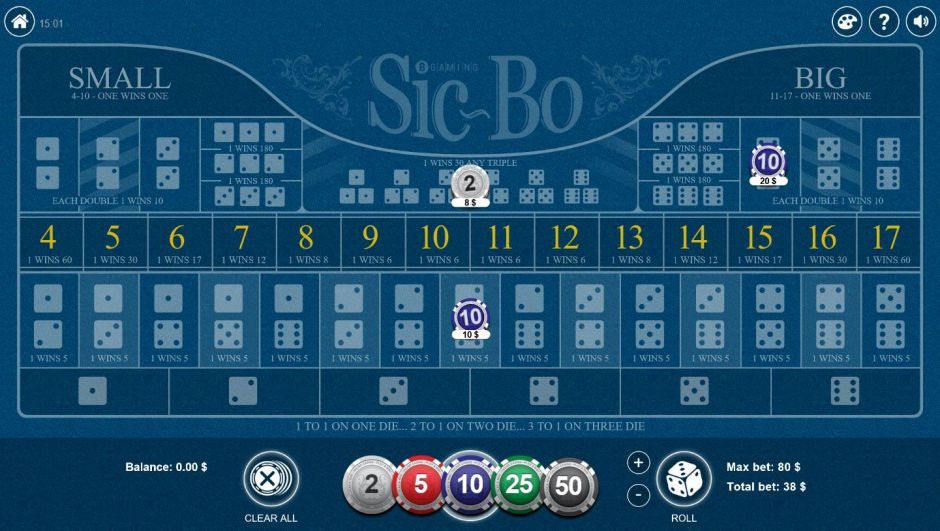 The first Sic Bo game online that I recommend is the one by BGaming.
You'll love the classic design - the table is so realistic that you'll feel as if you're playing at a land-based Casino.
Even better -
You can change the color of the board to the one that feels the most soothing to you. Have it green, purple, red, blue, or grey - all of them look fantastic.
The game's music is also top-notch, giving that retro vibe we Casino players love.
How to Play Sic Bo Online by BGaming
No matter how good a Sic Bo board is designed, it might appear a bit threatening when seen for the first time.
But, believe me, it's not.
With each round, you'll feel more and more accustomed to the variety of bets and how they work.
In fact, the gameplay is so self-explanatory that you'll get the gist after a couple of rounds.
So, this is how you play this version of Sic Bo online:
Choose the chip value (2, 5, 10, 25, or 50)
Place your chips on the table
Click the Roll button and wait for the result
If you want to undo a bet, simply drag the chip back or click on Clear All.
The minimum bet of this particular game is $2, and the maximum you can bet per round cannot exceed $80.
And as long as you don't exceed the limit, feel free to make as many bets as you want. The board is yours!
| | |
| --- | --- |
| Developer | BGaming |
| Year | 2019 |
| Min bet | $2 |
| Max bet | $80 |
| Chip values | 2, 5, 10, 25, 50 |
| Platforms | iOS, Android, HTML5, Windows |
Sic Bo Online by Habanero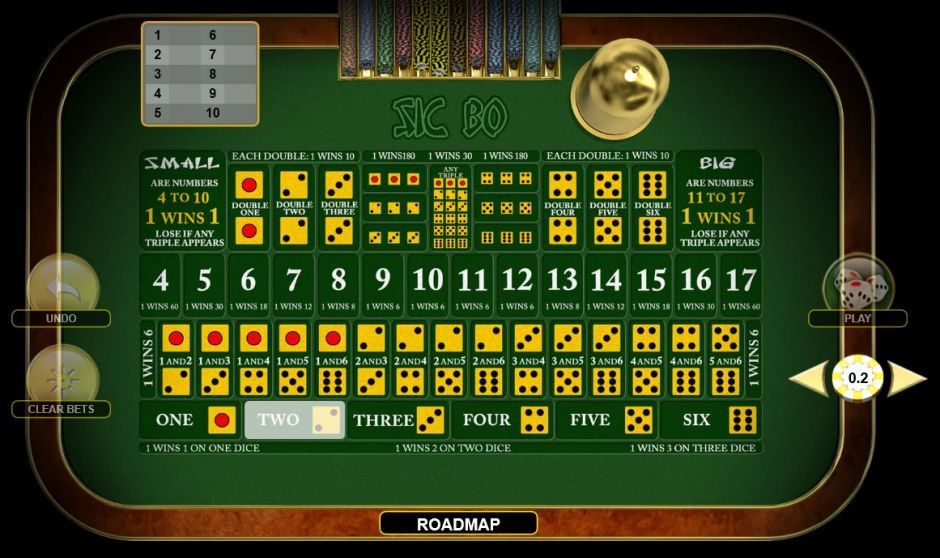 The Sic Bo real money game by Habanero looks a bit simpler than the one by BGaming.
I don't particularly like the design because of how plain it is. I would even say that this Sic Bo version is a bit sloppily put together.
There's not even a soundtrack, for God's sake.
However, it doesn't make the game any worse.
In fact, you might even prefer it over the BGaming's version if you like to bet low, as the minimum bet of this game of chance is only $0.20.
And when there's real money at stake, the looks don't matter that much anyway.
How to Play Sic Bo Online by Habanero
This title offers the classic variation of Sic Bo, so playing it will be a piece of cake.
Here's how it goes:
Pick the chip value (from 0.2 to 100)
Place the bets on the Sic Bo table
Click Play and see the dice roll
To undo a single bet, you have to press the Undo button - it's not possible to drag the chips by hand like in the BGaming's version.
However, if you want to start over, press Clear Bets.
You can place as many chips as you want as long as the total sum of the bet doesn't go over the $100 limit.
Feel free to bet on Small and Big bets, Triple bets, a Single Number, etc. - there are 50 bet options in total, so the possibilities are nearly endless.
| | |
| --- | --- |
| Developer | Habanero |
| Year | 2017 |
| Min. bet | $0.20 |
| Max. bet | $100 |
| Chip values | 0.2, 0.5, 1, 2, 5, 10, 20, 25,50, 100 |
| RTP | 90.30% |
| Platforms | iOS, Android, HTML5, Windows |
Feel ready to play these Sic Bo games at an online Casino? Create a new account on this gaming site, get a lucrative bonus for Casino games, and try out your Sic Bo strategy - or simply trust your gut.
Disclaimer: Gambling is a game of chance and there's no sure-fire formula that guarantee winnings. You can improve your winning chances by using the right in-game strategies but there is no way to predict when a machine or a Casino game is going to pay. Also, this page contains affiliate links. If you click through and play, we might earn a commission. That's what allow us to keep CasinoSmash free and bring you the best online Casino bonuses!