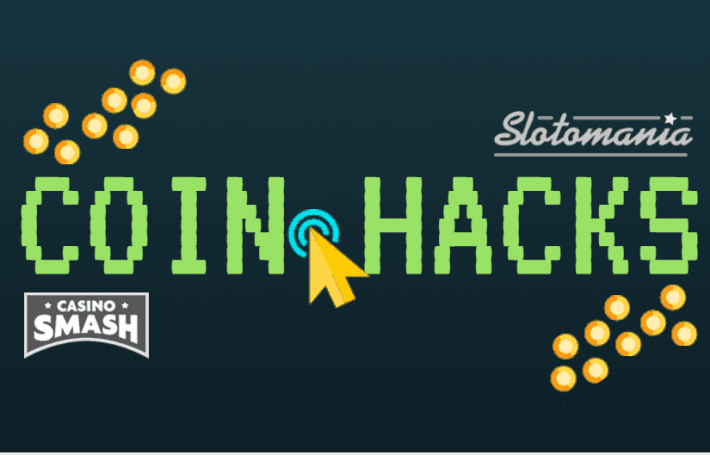 The Slotomania Hacks and Cheats You Need for Unlimited Free Coins!
Important Notice: This is not our latest article about the promotions at this online Casino. You might no longer be able to claim this offer. To know what bonuses are available right now, have a look at our Casino bonus page.
Whether you are living in or outside the United States, you've probably heard of Slotomania: the social slots app that is taking the mobile casino industry by storm!
What is Slotomania?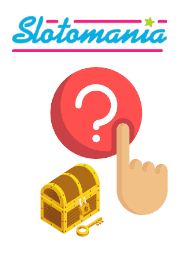 Slotomania is a mobile application for iOS and Android that includes over 140 incredible video slot games that are also 100% legal for U.S. players!
The application is free to download from both Google Play and the App Store, and within a few seconds you can go ahead and play from a massive variety of games across a huge range of themes.
So, what's the catch?
The only catch is that to play and, of course, win, you need coins! Luckily there are plenty of ways to get free coins to play slots on Slotomania, and the following guide will tell you exactly how to do that forever.
Slotomania Cheats and Hacks: The Ultimate Guide
From the moment, you download the Slotomania app on your iPhone or android device, or your tablet if that's where you prefer to play from, you will be rewarded with a free coin bonus, which we'll cover first.
But for the time this bonus runs out, you'll probably want to claim some more coins without having to make any deposits of your own cash, and with the right strategy it is possible to collect free coins on Slotomania forever!
Making the Most of Slotomania's Free Coins Bonuses
The first Slotomania hack you should learn and make us of is their exclusive welcome bonus for CasinoSmash readers: 20,000 free coins deposit free the moment you sign up!
All you need to do to claim this bonus is follow the instructions outlined below:
Create an account and fill in your information.
Download the mobile application.
Instantly play for free with 20,000 free coins!
Aside from this incredibly simple hack for thousands of free coins, you can claim just as many coins with a simple trick that Slotomania fans all know and make use of, and it's as simple as connecting your Facebook account!
Connect to Facebook: Collect Even More Slotomania Coins!
One of the most obvious hacks is the Slotomania Facebook cheat, where you can claim another 20,000 free coins with the simple click of a button!

At the top right corner of the Slotomania app you will find a little button with the Facebook icon. If you haven't already been prompted to connect to your Facebook account through a pop up when joining, then this is the icon you need to click on!
The moment you hit the button a small screen will appear, as it does in most apps that request Facebook connecting, asking for permission to access your public profile and post to your wall, but before you freak out keep in mind that:
PUBLIC POSTING IS OPTIONAL!
While Slotomania does ask for permission to post to your wall, the hack to avoiding this and still claiming coins is to select the "Only Me" option for who can see what they post. That way you keep your privacy and the 20,000 free coins!
Coin Generators: Do They Work on Slotomania?
If you've been searching for Slotomania hacks and tricks online, you may have encountered some coin generators that promise to allow you to cheat the app's coin system.
BEWARE: These are usually scams!
Not only do programs that promise Slotomania free coins often lie, but even if they do work they put your account at risk of being terminated! While there are always ways to cheat at games, the key is determining whether the risk is worth the reward.
On Slotomania there are so many legitimate ways to collect free coins, so why take the risk and potentially lose your account and ability to ever play on the app again?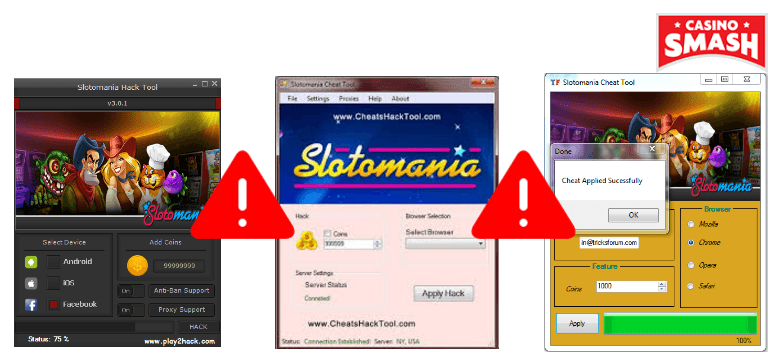 Learn Even More Slotomania Tricks!
Find out more about Slotomania's tricks, cheats and hacks to getting unlimited free coins in our extensive strategy article on how to collect free coins forever!
There you will find a foolproof and completely legal strategy to climbing Slotomania's loyalty ladder where, if done right, you can collect thousands of free coins every single day.
You can also find more information on Slotomania's featured games, terms and conditions as well as customer support reviews in our complete casino review here.
Disclaimer: Gambling is a game of chance and there's no sure-fire formula that guarantee winnings. You can improve your winning chances by using the right in-game strategies but there is no way to predict when a machine or a Casino game is going to pay. Also, this page contains affiliate links. If you click through and play, we might earn a commission. That's what allow us to keep CasinoSmash free and bring you the best online Casino bonuses!
Bonus info: terms and conditions apply to the offer. If something isn't clear, have a look at our review of Slotomania for the T&Cs in full. The offer on this article might have expired by the time you read it. Please refer to the review pages for the latest bonuses and promotions available.