Play Texas Hold'em Professional Series Online (Free)

Important Notice: This is not our latest article about the promotions at this online Casino. You might no longer be able to claim this offer. To know what bonuses are available right now, have a look at our Casino bonus page.
Texas Hold'em Professional Series is:
The most popular NetEnt poker game
Playable between €1 and €40 per round
Texas Hold'em Professional Series is an exciting poker game created by NetEnt.
It is ideal for beginners who need to practice, but experienced poker lovers can enjoy what it has to offer as well.
This game is peculiar because it is not played against other players. Instead, it is played just against the dealer.
It follows all the rules of the standard poker, and it's playable with stakes ranging between €1 and €40 per round. Thus, you can play it no matter whether you like to go slowly and steadily, or you prefer risking it all on several lucky hands.
A great thing about this NetEnt poker game is that it is available in almost every online Casino that offers casino table games. You shouldn't have any troubles finding and playing it.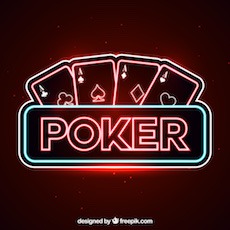 New to the Game? Get a Bonus!
Register a free gaming account to activate a new welcome bonus.
Sit at the table and use the bonus to play Texas Hold'em Professional Series online. Can you beat the dealer?
Our first impressions are positive so far, but let's move on and explore other aspects and features of this engaging game.
Read on to find out more about the rules, settings, payouts, appearance, and more.
Texas Hold'em Professional Series Appearance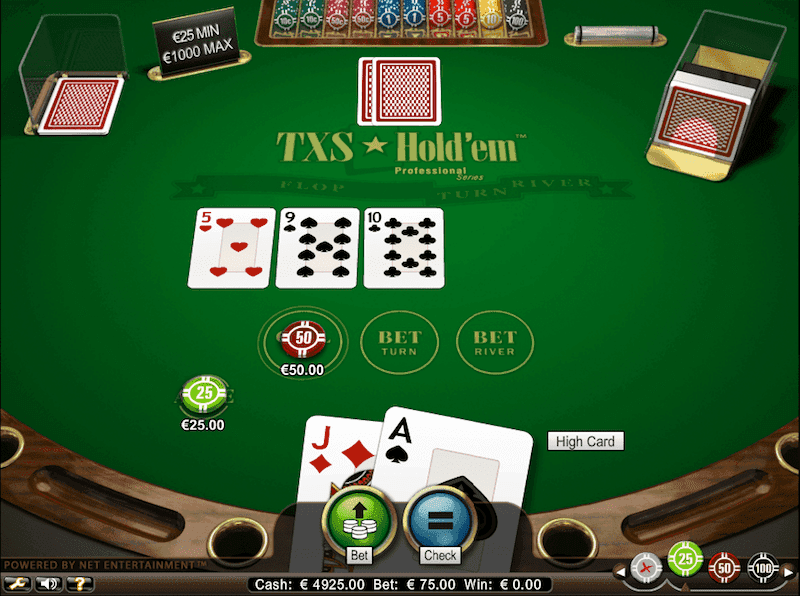 As you can see from the screenshot above, NetEnt's Texas Hold'em Professional Series looks pretty realistic. The colours are nice, and the quality of the graphics is quite high.
You can get a very realistic online poker experience by playing this game.
We especially love the details and the touches, such as the shine on the wooden table, the shadows, and the imperfect stacks of chips.
All of these improve the visuals and create an atmosphere that resembles a real casino.
In the background, you will hear a jazz orchestra playing a soothing melody on a piano.
That's exactly the type of music you would listen to if you visited one of the top casino resorts in Las Vegas, so NetEnt really knew what they were trying to achieve.
How to Play Texas Hold'em Professional Series Poker
The Texas Hold'em Professional Series game has a pretty simple gameplay. Before you can start winning some hands, you should first take a look at the settings and the adjustments you can make.
The most important part of the screen is the bottom right corner where your chips are located. You have access to three types of chips (€1, €5, €10) which you can use to adjust the size of your bet.
Before the round starts, you can click on the chip you want to use and then click on the Ante field on the table to place your pre-bet.
In the bottom central part of the screen, you will see two buttons, which let you place a new bet, rebet, call, fold, and raise.
The function of the button will change automatically depending on the stage of the round.
Finally, in the bottom left corner of the screen, you can mute the music and the sound effects, increase the speed of the game, or get some help regarding the rules.
Game Rules
NetEnt's Texas Hold'em Professional Series follows the standard Texas hold'em poker rules when it comes to the hands and the flow of the game.
Before the game starts, you first need to place an ante, which is a pre-bet based on the two cards in your hand. After that, there are three additional rounds of betting, called Flop, Turn, and River.
When all rounds of betting are finished and there are five cards facing up on the table, the dealer and the player show their two cards and so a winning combination of five cards is made using three more cards from the table.
Hand Ranking in Texas Hold'Em
The winning poker hands in this game (and any other poker game) are ranked this way, from highest to lowest.
Royal Flush: A, K, Q, J, 10 in the same suit.
Straight Flush: Any five cards in a sequence, in the same suit.
Four of a Kind: Four cards of the same kind.
Full House: Three of a kind and a pair.
Flush: Five cards of the same suit, but not in a sequence.
Straight: Five cards in a sequence, but not in the same suit.
Three of a Kind: Three cards of the same kind.
Two Pair: Two different pairs of cards.
Pair: Two cards of the same kind.
High Card: When you don't have any of the combinations from above, the highest card in your hand is the winning one.
Texas Hold'em Professional Series Payouts
NetEnt is quite popular for appointing very high RTPs to the games they make.
They have stayed true to themselves with Texas Hold'em Professional Series, as this game has a 99.47% RTP, which is as high as it gets.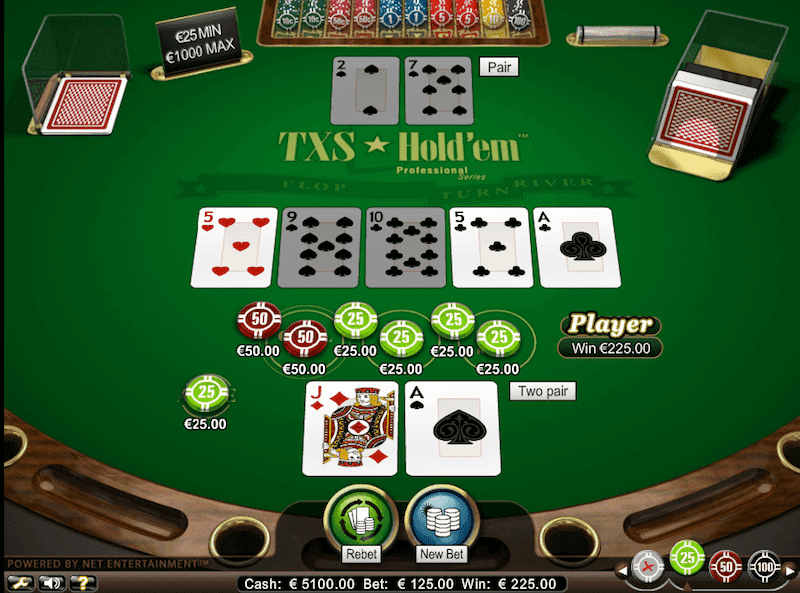 This means that over a long period of time, for every €100 you bet, you should expect at least €99.47 to return back to you.
Since you are playing against the dealer, the payouts are calculated easily. All you need to do is have a stronger hand than the house, and the whole pot on the table will be yours.
Can I Play Texas Hold'em Professional Series for Free and for Real Money?
Yes, you can definitely play this exciting game both for free and for real money.
If you are a complete beginner, it is advisable to play for free until you learn the game rules and the hand rankings. After that, you will be ready to place some real stakes.
This game is ideal to practice with before playing a live poker game with several real players, so use it to work on your strategies.
Final Thoughts
We have no doubts about NetEnt's Texas Hold'em Professional Series poker game.
It is one of the best 1 vs 1 poker games out there, with the most realistic atmosphere. The things we like the most about it are the graphics, the music, the smooth gameplay, and a very high RTP.
What more can you ask for?
Disclaimer: Gambling is a game of chance and there's no sure-fire formula that guarantee winnings. You can improve your winning chances by using the right in-game strategies but there is no way to predict when a machine or a Casino game is going to pay. Also, this page contains affiliate links. If you click through and play, we might earn a commission. That's what allow us to keep CasinoSmash free and bring you the best online Casino bonuses!
Bonus info: terms and conditions apply to the offer. If something isn't clear, have a look at our review of PlayAmo for the T&Cs in full. The offer on this article might have expired by the time you read it. Please refer to the review pages for the latest bonuses and promotions available.