The Wild Chase Slot Machine: a Heist You Will Remember Forever
This is a slot machine for those playboys and playgirls out there looking to experience the luxury of the streets of Monaco.
Set as a crack team crew of high-class criminals, this game theme is for you if you like the thrill and excitement of being a criminal in a rich man's paradise.
Slots are a classic part of the casino experience, and the online casino world is no different. This spinner is set in the '70s with all the glitz and glamour for you to enjoy visually while playing the game.
The Wild Chase slot machine brings you the perfect mix of entertainment rewards and beautiful visuals. You can listen to the soundtrack and spend hours upon hours trying your luck with this one.
Fantastic set of multipliers, scatters, and bonus symbols to keep you playing
Better value than the competition with an RTP of 96.77%
Many different options for winning lines making it tough to get bored quickly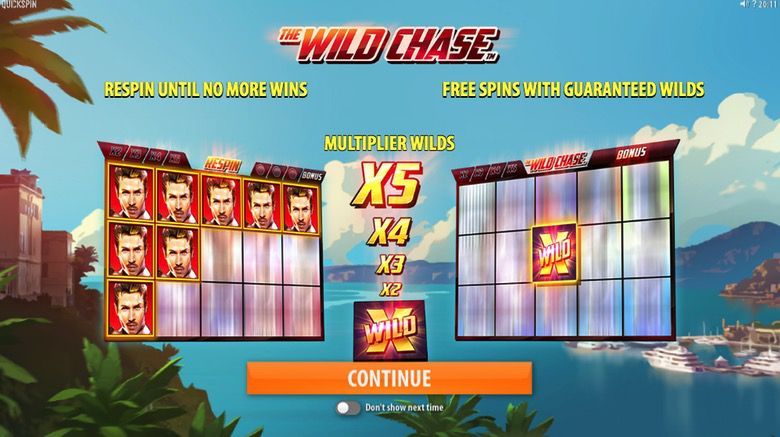 The Wild Chase Slot Machine
This game is like many of the other slots out there. Before you get started, you need to have an idea of how it all works and what you do to play it.
There are twenty-five lines for you to potentially collect on. They consist of three rows and five reels, which means there are a lot of ways to win.
This makes the game stand out to players and keeps up the level of intrigue.
The screen display is easy to navigate, and you can't miss your account balance, total bets in-play, and, of course, how much you have collected from your endeavours.
The bonus symbols and the extensive list of multipliers can be found at the top of the display window. You can easily switch the amount of your bets from here, so you are in complete control at all times.
The minimum spin is £0.25, and the maximum is all the way up at £100 for you high rollers out there.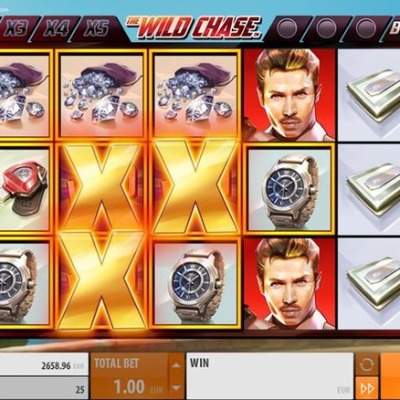 Get a Bonus and Play!
Register a free account at Rolla Casino and play with 5,000 credits.
Hop on the next flight to Montecarlo and enjoy...the Wild Chase!
When this is combined with the multipliers, the return you could receive is over 400 times your stake, 423 times to be exact.
Although we know you don't play for the returns only, it is nice to know you could get a little bonus out of your gameplay enjoyment.
The game itself runs smoothly and quickly, which makes it a joy. It is also not so fast that you feel like there is no value in playing it. You get plenty of time to enjoy the backdrop scenery and fun responses you get with each spin.
The Bonuses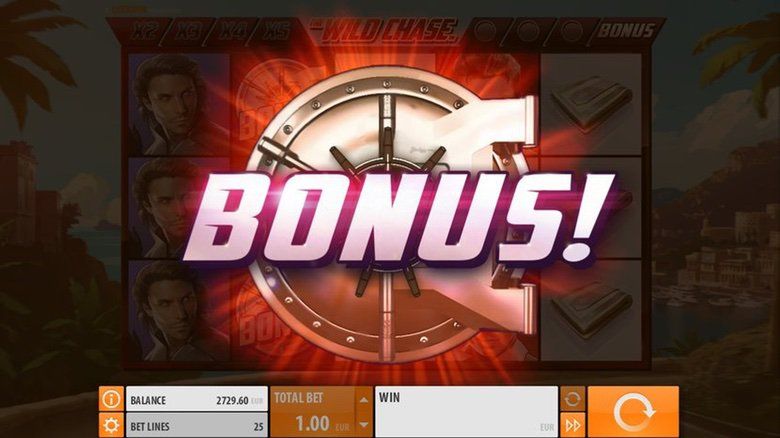 There are many different features when it comes to bonuses on the Wild Chase slot machine. Here we will break each of them down into easy to digest sections for you.
Free Spins
Free spins are a brilliant incentive for players. They allow you to play without risking any of your hard-earned balance.
Who doesn't want the chance to be entertained by a top-quality slot machine for no cost?
To qualify for ten free spins, you need a little bit of luck, but it's not too hard to get it. Whenever you see three, or more than three, bonus symbols on your wheel, you will receive ten free spins!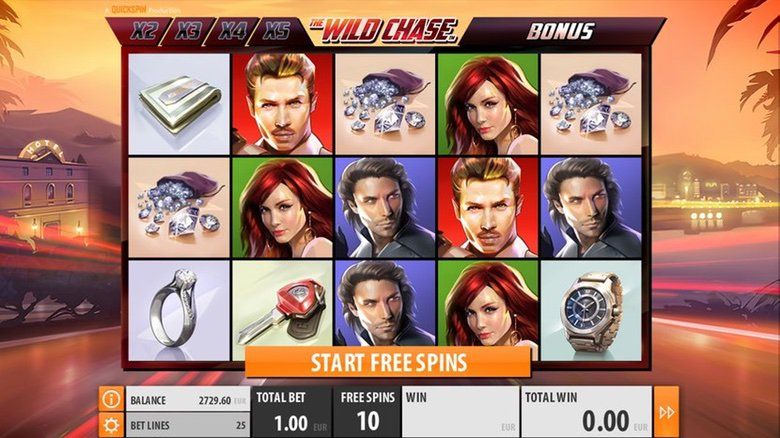 You can keep track of how many free spins you have built up, and use them as and when you please.
Respin
The respin feature on the Wild Chase Slot machine is a joy to behold. It builds suspense when you are playing and is one of the standout attributes of this slot. Waiting as the lines freeze for each winning combination found will have you on the edge of your seat for hours.
Multiplier Wild
This is another area that adds an extra dimension to your gameplay. Multipliers make the game even more fun to play and increase your chances of winning a healthy return.
The symbol is purple with an X on it, and when you see it, the fun is about to start! This can take the place of any regular symbol and can increase your return by up to five times.
When you see this, you will probably jump up in the air. It doesn't come out very often, but when it does, wow!
The Final Spin
The Wild Chase Slot machine is one of the best out there for online casino fans.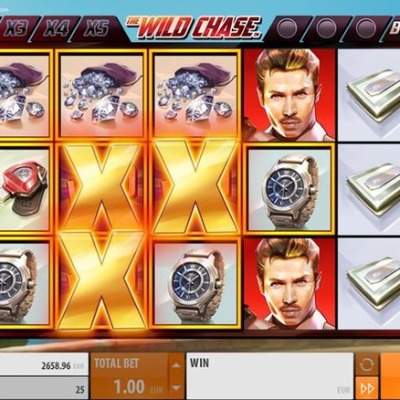 Get a Bonus and Play!
Register a free account at Rolla Casino and play with 5,000 credits.
Hop on the next flight to Montecarlo and enjoy...the Wild Chase!
The developers have spent a lot of time thinking about the combinations, bonuses, and rewards. You can feel their hard work when playing the game.
If you play this game for days and days on end, there is a chance you may get bored of it, but that's the same with most other slots and is the nature of the business.
The Wild Chase is an excellent theme, and this alone can keep you coming back for more.
The free spins build up quickly, and the bonuses fall out more often than you would expect them to. If you keep all this in mind, it is a struggle to see where this slot could improve.
Disclaimer: Gambling is a game of chance and there's no sure-fire formula that guarantee winnings. You can improve your winning chances by using the right in-game strategies but there is no way to predict when a machine or a Casino game is going to pay. Also, this page contains affiliate links. If you click through and play, we might earn a commission. That's what allow us to keep CasinoSmash free and bring you the best online Casino bonuses!