What to Wear to a Casino: How to Rock Your Outfit!

Important Notice: This is not our latest article about the promotions at this online Casino. You might no longer be able to claim this offer. To know what bonuses are available right now, have a look at our Casino bonus page.
How should you dress to visit a Casino?
As with many gambling-related questions, the answer is "It depends."
To nail the right outfit to wear at the Casino, you need:
An Instagram account
Common sense
A bit of self-esteem (but not too much!)
As a general rule, if you are not James Bond, don't dress in a way that would make your look ridiculous.
Most Casinos around the world, from Las Vegas and Atlantic City to Macau and Rozvadov or Sanremo in Europe
do not have a strict dress code.
You can wear pretty much anything you want and, if you are not sure about what outfit is the most appropriate, think about this:
Anything you'd wear to go to Church will work at the Casino.
(Not the happiest comparison ever, I know. But you get the idea).
Also, use Instagram! Whenever you want to know how to fit in, look at what others are wearing at the Casino.
Check out the right places and hashtags and try to see what clothes of yours would make you look like one of them.
The secret of the right Casino outfit is that it makes you blend in.
Standing out from the rest of the Casino crowd can be very expensive. The moment everyone notices you is the moment everyone starts to expect something from you.
And if you are not strong enough to resist the temptation of using your outfit to tell a story that isn't yours, you might end up placing bets you can't afford.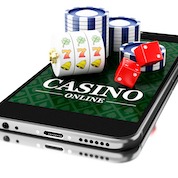 Want to play in your pjs? Do it online!
Check out all the best Casino games pro gamblers love and play from the comfort of your couch.
The only Casino with no dress code and free drinks!
What to Wear to a Casino in Las Vegas
If you're in Las Vegas, the simple answer is: you can wear anything you want.
As long as you're wearing a shirt (not a see-through one, ladies), pants (shorts are fine during the day), and shoes (flip-flops are sometimes frowned upon), no one will try to throw you out or even bat an eye.
You'll fit in better at night, though, if you're at least wearing a neat "resort casual" outfit.
During some special events like the annual World Series of Poker you find more shorts-and-flip-flops kind of guys than people wearing a blazer and a tie.
This said, let's see what the best Casino outfits for ladies and men look like on Instagram.
Vegas Casino Outfit for Ladies
Vegas Casino Outfits for Men
What to Wear to a Casino in Europe
In Europe, the same general rules apply in most Casinos, but there are exceptions.
Germany's Baden-Baden Casino requires men to be wearing a jacket (and a tie is appreciated), so don't forget to bring one with you.
For how charming you might be, Germans take their rules very seriously — and it would take you a lot of cash to be able to bend them.
The famous Casino de Monte-Carlo is a little less stuffy. Jackets are recommended and sneakers are prohibited.
No one cares about your Gucci white fashion trainers or your Balenciaga colored mountain of rubber and patches. You. Won't. Get. In.
The Monte Carlo Casino dress code is a lot more relaxed if you only want to play Slots and you don't fancy a tour of the main building.
The Slots room right across the Hotel de Paris is a place where anything goes. Ladies won't need any special outfits as men will probably be able to walk in with flip-flops on their feet.
Yet, you don't really need to head to the most expensive spot in the French Riviera to play a round of Book of Dead.
A Casino night outfit in Monte Carlo is a different story. But you will need to put your mouth where your money is.
Men: don't wear a tuxedo or a tailor-made suit if you plan to spend only $100 at the Blackjack table. That would make you look ridiculous.
Likewise, ladies — try to stay classy.
If you don't know how to walk on stiletto heels, don't wear them. And if you don't have a rendezvous with Princess Stephanie, try to keep things sober.
The fact you loved Brigitte Bardot and Natalie Dormer outfits doesn't mean you should try to look like them.
Monte Carlo Casino Outfit for Ladies
Monte Carlo Casino Outfit for Men
Picking the Right Casino Outfit: More Tips
To blend in and look 'appropriate' at most Casinos during the evening, your best bet is to dress as if you're going out to a good restaurant.
Not to a Michelin star one.
For men, that means:
a fresh collar shirt
pressed pants
real (not gym) shoes
For the ladies, on the other hand, that might translate into:
a stylish but not overly formal dress
or a skirt/blouse or pants/blouse combination
medium-height heels
12-inch stilettos are hardly appropriate (unless you can afford a Louboutin-and-Vuitton Casino night. A sweater or coat is a nice touch, particularly if the weather calls for it.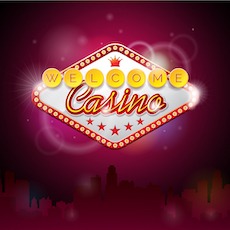 The Best Games with the Best Odds
Choosing Casino games with the best odds give you more chances to win.
Register a free account here to discover all the games with the best odds and play with a bonus!
Shaken, Not Stirred
Most people love to play dress-up but adults rarely get an opportunity.
A glamorous Casino like the one in Monte Carlo or the Ritz in London seem the the perfect place to indulge yourself and express your inner Bond.
But as we've seen earlier, that's not always your best choice.
Ladies first. The sheer black backless gown that Berenice Marlohe wore in Skyfall (the one with 60,000 crystals) would be stunning, if not a bit too much even for the fanciest Casinos.
A more realistic choice might be something like the sparkly, sleeveless number that Carey Lowell wore in License to Kill.
The stunning, sophisticated backless purple dress worn by Eva Green in Casino Royale is another option.
But remember: if you want to wear her stiletto heels too, you might also want to find a place to sit every now and then.
With a Martini (shaken, not stirred) in your hand, you'll probably be escorted to the best table in the house or to a private gaming room.
Just be prepared to hand out all the big tips expected from the most glamorous lady in the Casino.
Men. You'll definitely make a splash if you walk into the Casino wearing a stylish, black, single-breasted tuxedo like the ones 007 historically favored.
But you'll really be a hit if you choose a navy blue tuxedo with a black satin collar like the one Daniel Craig made famous in Skyfall.
Don't forget the proper bow tie and white pocket square; the gun is optional.
The generous tips the Casino staff expects from a fancy tuxedo man are not.
Disclaimer: Gambling is a game of chance and there's no sure-fire formula that guarantee winnings. You can improve your winning chances by using the right in-game strategies but there is no way to predict when a machine or a Casino game is going to pay. Also, this page contains affiliate links. If you click through and play, we might earn a commission. That's what allow us to keep CasinoSmash free and bring you the best online Casino bonuses!
Bonus info: terms and conditions apply to the offer. If something isn't clear, have a look at our review of Energy Casino for the T&Cs in full. The offer on this article might have expired by the time you read it. Please refer to the review pages for the latest bonuses and promotions available.