Play Wild Turkey Slot: a New Massive Hit by NetEnt
To say that there's nothing else quite like it might be a cope out. But for the Wild Turkey digital slot machine game from NetEnt, this superlative would certainly ring true between both its core premise and its engaging mechanics.
In fact, Wild Turkey combines several previously successful digital slot components in order to create an experience that will leave you clambering for more of the same.
Wild Turkey has risen in popularity lately, leading some unaware players to question what all of the fuss is about.
Suffice to say, this publicity spike has not been unwarranted, given that this game's basic mechanics, specialized features, and numerous opportunities to win combine to create a playing experience like no other.
Once you try out Wild Turkey for the first time, you, too, will agree that NetEnt has struck gold yet again.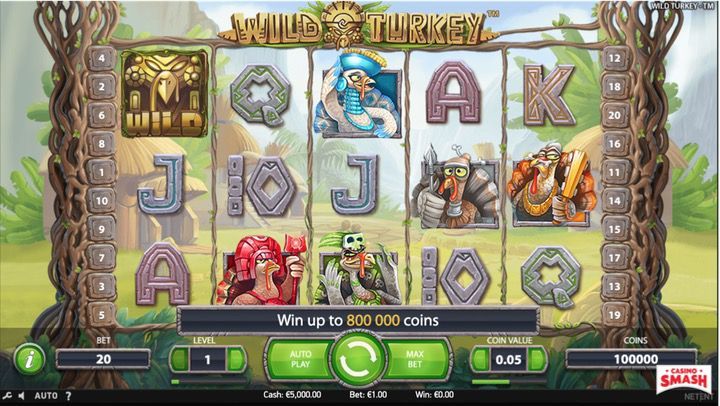 The Basics
At its core, Wild Turkey includes many of the basic elements common within its class of video slots. For example, this particular game includes 5 verticle columns, 3 horizontal rows, and 20 bet lines.
Of note, those 20 bet lines are adjustable, allowing you to strategize your gaming experience based upon your wagering ambitions.
When it comes to wagering, you'll have the ability to choose both the value of and the quantity of your overall bet. In terms of value, you'll be able to select digital coins worth 1 cent, 2 cents, 5 cents, 10 cents, 20 cents or 50 cents.
Then, when you are ready to exponentially grow your winning potential, you can also modify the number of digital coins inserted (up to 10 coins in total).
Finally, Wild Turkey runs with a 96.60% RTP. In other words, your chances to come out on top by playing this game are pretty well balanced.
If you manage to activate one of this game's special features (detailed below), you might even be able to improve on this standard winning metric.
The Features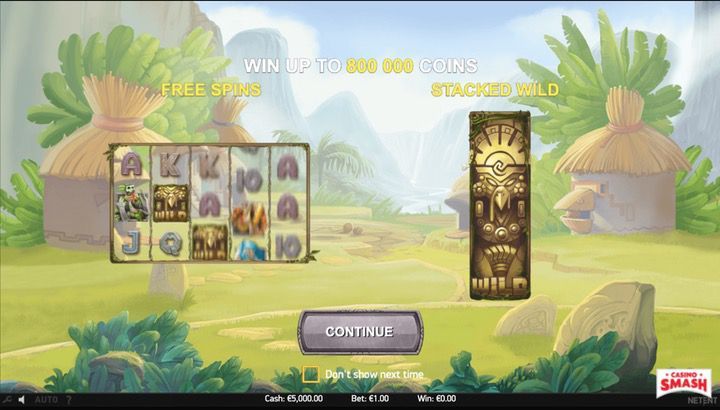 Wilds and Stacked Wilds
As its name suggests, Wild Turkey's primary mechanics are built around the acquisition and activation of wilds. As in most video slots, these basic wilds can substitute all other symbols on a reel to form winning bet lines.
Much to the players benefit, the wilds in Wild Turkeys can appear on all five reels and are not limited by the appearance of any other symbols.
Due to their abundance in this game, Wild Turkey players also have a chance to attain a so-called "Stacked Wild." This occurs when three or more wilds appear on one reel. At that time, 10 free spins are credited to the player.
Four wilds on a reel will return an even larger prize of 30 free spins, while 5 wilds on a reel will return the largest prize yet at 60 free spins.
Creative Premise Imagery
Many current Wild Turkey players can't help but tell their friends about its truly creative premise. Essentially, the player is engaged with an Amazonian tribe of turkeys that worship wild symbols above all else.
By uncovering wilds through regular game play, you succinctly play into their fanaticized worship, resulting in successively larger rewards. All of this is represented through a series of colorful bird characters that are sure to amuse as much as they are to engage.
Rewards
NetEnt advertises jackpots in Wild Turkey up to 800,000 coins, though this will take some serious commitment and strategy in order to attain in earnest. Instead, you may choose to focus on gathering up as many wilds as possible in order to progressively grow your winnings and leverage the power of free spins throughout a round of play.
The Final Spin
All in all, Wild Turkey is a bird of a different color – both literally and figuratively. While its fowl-based storyline and imagery are designed to draw you in, you'll quickly find that this game's heavy reliance on wild-based combinations will allow you to win like never before.
With the opportunity to win up to 800,000 coins, you could certainly be engaging with these fanatic birds for hours on end.
In short, Wild Turkey is an outright fun game that demonstrates to novice and veteran gamers alike that NetEnt still has what it takes to turn out a fan favorite.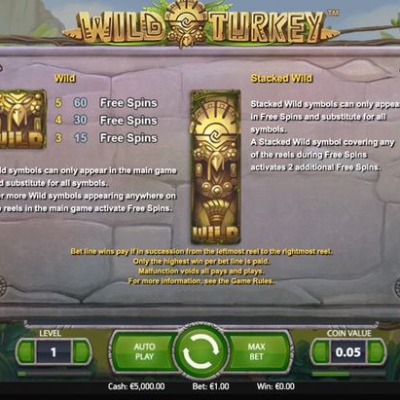 Get a Bonus and Play!
Play the demo with 5,000 credits or use the bonus to play for real money!
Register a free gaming account to discover Wild Turkey!
Disclaimer: Gambling is a game of chance and there's no sure-fire formula that guarantee winnings. You can improve your winning chances by using the right in-game strategies but there is no way to predict when a machine or a Casino game is going to pay. Also, this page contains affiliate links. If you click through and play, we might earn a commission. That's what allow us to keep CasinoSmash free and bring you the best online Casino bonuses!
Bonus info: terms and conditions apply to the offer. If something isn't clear, have a look at our review of Zet Casino for the T&Cs in full. The offer on this article might have expired by the time you read it. Please refer to the review pages for the latest bonuses and promotions available.