Everyone's a Winner on Santa's Scratch Game!
Get into the festive spirit with our new Christmas promotion: The Christmas Scratcher.
This is the only game where you are guaranteed to win something. From free spins to new bonuses (including no deposit ones!) it's the simplest game there is:
Scratch your Christmas card…
…and reveal your prize!
There's only one rule: you can scratch only one card — so, no cheating. Once you have used your chance, you'll have to wait until next Christmas to play again!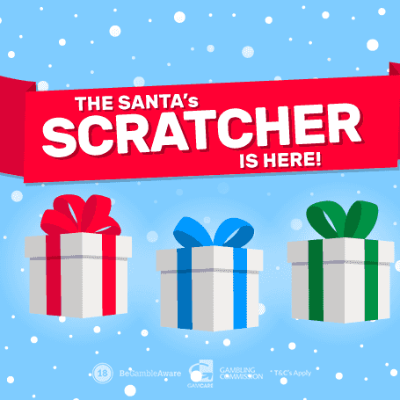 Scratch off the card, get a bonus!
Pick a present, scratch your card...and reveal your next bonus!
Everyone is a winner in the Santa's Scratcher promotion, so don't forget to claim your prize!
What Can You Win?
Don't look for the Christmas Scratcher on other sites, as you won't find it anywhere else on the Internet. This game is such a CasinoSmash exclusive, that you won't find it even on our sister sites PokerNews.com and Oddschecker.com!
The Christmas Scratcher is our way to say 'Merry Christmas' and wish you all the best during the festive season. We hope you'll enjoy it.
Each gift box on the Christmas Scratcher page contain a special scratch card.
And each scratch card hides a bonus that you can use to play all the best games on the internet — for real money.
From Starburst to European Roulette and Spanish Blacjkack, you are only two clicks away from a playing all the best Casino games there are. For free.
This is a time-limited promotion. You can collect your Christmas present and scratch your card only until Christmas day.
Then, on December 25, the page will be gone and you will need to wait 365 more days before you can play again.
Don't miss this opportunity to get a new bonus for free. Visit the Christmas Scratcher, collect your present, and see what Casino Santa has saved for you!
Disclaimer: Gambling is a game of chance and there's no sure-fire formula that guarantee winnings. You can improve your winning chances by using the right in-game strategies but there is no way to predict when a machine or a Casino game is going to pay. Also, this page contains affiliate links. If you click through and play, we might earn a commission. That's what allow us to keep CasinoSmash free and bring you the best online Casino bonuses!