Would You Like 250,000 Free Chips to Play Poker?
Important Notice: This is not our latest article about the promotions at this online Casino. You might no longer be able to claim this offer. To know what bonuses are available right now, have a look at our Casino bonus page.
Those who love online Poker will agree with me -
There are gazillions of free Poker apps on the internet, and it's difficult to choose the best one. Especially since most apps come with poor graphics and nearly no other players to play Poker with.
Luckily enough, there's an app that ticks all the boxes. It features great games, multiple Poker variants, and is home to a community of tens of thousands.
I'm talking about the WSOP Poker app, the official free app coming form none other than the World Series of Poker.
After using so many Poker applications, I came to the conclusion that the WSOP Poker video game is just the best one you can get on your iPhone or Android device to enjoy top-class Poker action.
Start with 250,000+ Free Chips
Do you know the feeling when you run out of Poker chips and you can't continue to play?
I don't - because I play at WSOP Poker.
The app gives you so many bonuses that you can't run out of chips that easily.
Even if you try.
That's right - the fun doesn't end at the Welcome Offers of 250,000 chips (which you get instantly once you register via this page).
You continue to receive offers that refresh every three or four hours - or every day.
All you need to do to end up with millions of free Poker chips in your bankroll is to open the app a couple of times a day. That's it.
Hold'Em and Omaha Games On-the-Go
The vast majority of other Poker apps I've tried (like Poker Heat and Appeak Poker) offer only one kind of Poker - Texas Hold'Em.
However, PlayWSOP lets you choose from two Poker variants as it features some truly great tables to play Omaha too.
That's really refreshing if you're an advanced player and want to spice up your gameplay once in a while.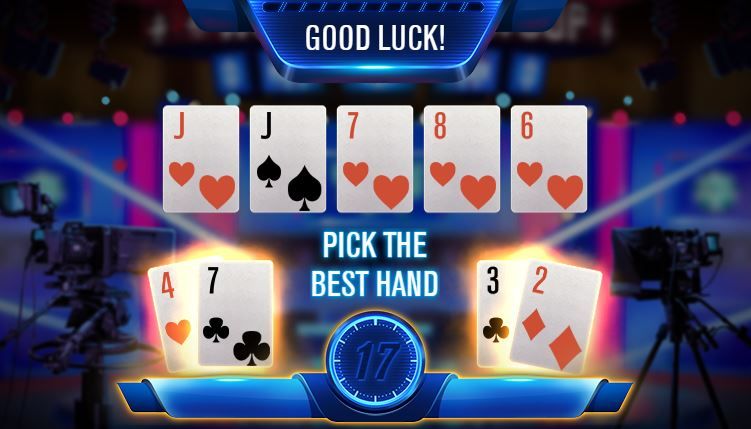 Try the Mini Games, Too
Would you like to spin some Slots?
Or try your luck and pick the best Poker hand out of 20 different cards?
Open your WSOP Poker app and play the mini games featured in it to win thousands of free chips in an instant.
My favorite mini-game is called Daily Blitz. When you play it, you have 15 seconds to choose as many good Poker hands as possible.
And then there are the daily mission, a series of special milestones that give you access to a mindblowing amount of extra chips.
Do you see a pattern here?
That's right - the more you play on the WSOP Poker app, the better it gets.
Download it to your Android device or to your iPhone and register a free account today to join the action and see why thousands of other players like me choose this app for their online grind.
Disclaimer: Gambling is a game of chance and there's no sure-fire formula that guarantee winnings. You can improve your winning chances by using the right in-game strategies but there is no way to predict when a machine or a Casino game is going to pay. Also, this page contains affiliate links. If you click through and play, we might earn a commission. That's what allow us to keep CasinoSmash free and bring you the best online Casino bonuses!
Bonus info: terms and conditions apply to the offer. If something isn't clear, have a look at our review of WSOP Poker for the T&Cs in full. The offer on this article might have expired by the time you read it. Please refer to the review pages for the latest bonuses and promotions available.