Bridezilla Slot Review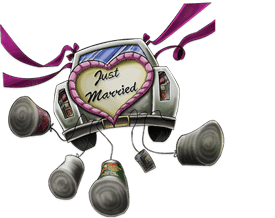 We're not exactly sure what the target audience of Bridezilla is, however it is quite clear that this slot is the result of the developers running out of ideas and rummaging through their idea bin which they fill up with otherwise ridiculous suggestions, possibly under the influence of copious amounts of alcohol.
Microgaming's odd slot game centered on an insufferable bride tormenting the groom on their wedding day, presented in a low-budget, reserved manga style will leave players contemplating the real questions, like "what is the point of life" followed immediately by "what is the point of continuing to breathe".
This slot doesn't really have any reason to exist, but it does anyway. We played it and compiled our thoughts below so you don't have to!