Bust the Bank Slot Review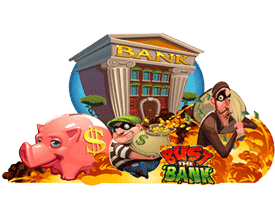 Due to the weird and often highly inconvenient ways in which human psychology works, we've always been drawn to the things that we are not allowed to do.
It has much to do with one's strife for freedom, but that's a topic for another article. However, it does explain the general fascination people have with bank heists. They're heavily featured in movies, shows, video games, books, comics - and slots.
That fascination is what Microgaming's newest slot is playing on. Bust the Bank is a solid slot game set up in the theme of a high-profile bank robbery, which is fitting. The end goal of playing slot machines and robbing banks is gaining large sums of money without having to invest years upon years of hard work. Naturally, we only endorse one of the two methods (which, for the record, is the first one), which is why you really ought to play Bust the Bank instead to sporting a ski mask the next time you go to make a deposit.