Caribbean Treasure Slot Review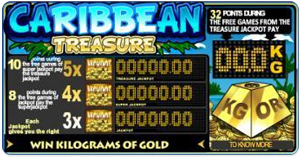 That's right, this is another slot based around the world of piracy, however this one Is based more on the Caribbean setting, and less on the swashbucklers themselves.
This means that you'll find various tropical symbols spinning around on the reels – including a pirate ship, a crab and a beautiful lady – as well as hordes of buried treasure, just like the name of this slot implies you'll find. Standard slot symbols, such as Sevens and BARs are also on the reels though, bringing a sense of familiarity, but also a sense that iSoftBet could have done a little more work making the reels look great.
Although pirate themes have been done before – perhaps too many times – this one only touches on piracy, therefore can't be seen as a true pirate slot. This can only be a good thing, as slot players want variety, and this means that they don't need to see any more Pirates of the Caribbean rip-offs or parodies!
Whether you like this slot won't necessarily come down to the theme though, but instead will come down to whether you like the style of gameplay this slot exhibits, and you'll find more about this in the next section…