Cleopatra Slot Review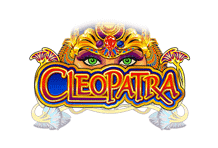 Cleopatra is one of the most famous figures of Ancient Egypt, so it only makes sense for a slot to feature her. After all, the online slot world seems to have already used every other angle they can think of when it comes to this period of history!
In making this slot though, IGT have managed to make it distinct from the other Egyptian slots out there, and the result is something that is really fun to play. The reels are decorated in the manner you might expect, with lots of gold and hieroglyphics, while the sound effects also add a large amount of fun to the gameplay.
When it comes to the symbols, they all have an Egyptian theme to them, with even the 10 to A symbols being adorned with feathers and expensive jewels. Other symbols on the reels include scarab beetles and the sphinx, as well as Cleopatra herself, of course. For some the graphics might be slightly gaudy though, and a bit over the top, however others will really enjoy being immersed in its Ancient Egyptian vibes. Whether you like it is really down to your own personal preferences, so why not have a few spins today and find out?