Karate Pig Slot Review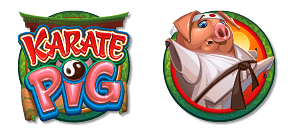 You'll probably work this out straight away, but it's still worth saying: Karate Pig is a slot with a seriously weird theme, combining animals with martial arts. Sometimes it's the case that weird combinations simply don't work, however Karate Pig really does. This means that those looking for an online slot that's a bit different from the norm will really enjoy their time spend spinning the reels at this game.
The bright and cheerful graphics ensure that every spin is a fun one, while the animations inject even more fun into the game. If you don't smile when you play Karate Pig, you're probably not going to smile at any other slot either!
The symbols combine kung-fu cats and muscular buffalo with traditional Chinese items, such as smiling Buddha statues, and all are there to provide prizes to the lucky player who spins them in.
The soundtrack is also great, and is full of Oriental music, plus the regular karate sounds punctuate the gameplay nicely. There really isn't anything bad that can be said about this slot's theme, but what else would you expect from a slot by Microgaming? Why not start playing this game today and see why it's rated so highly?