Magic Love Slot Review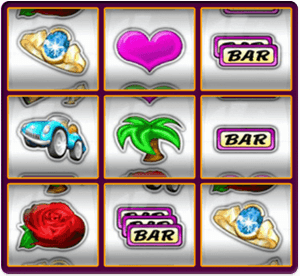 NetEnt are making a name for themselves when it comes to making incredibly simple online slots, that manage to retain huge levels of excitement.
Magic Love is certainly one of these, and it will appeal to those looking for a simple way to play their favourite type of game at online casinos. As the name suggests, the theme of this slot is the magical world of love, however it doesn't have much of an impact on the game, as there are no love themed bonuses or features for players to enjoy from time to time. This only adds to the refreshing simplicity though, which will appeal to many different online slots players.
The only way in which players know that this slot is about love is through the symbols, with some featuring romantic graphics. These include roses, hearts and bottles of champagne. More classic symbols are also featured, such as BARs. Usually this inclusion of standard symbols is just laziness on the part of the slot producer, however at Magic Love it really helps to ensure that the slot keeps its connection with the classic slots of the past. So, if you enjoy simple slots, you should really enjoy playing Magic Love from NetEnt.