Merlin's Millions: Free Online Slots Slot Review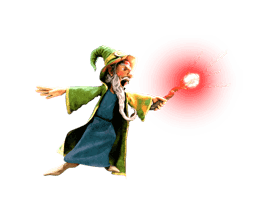 While many of the most acclaimed slots out there are based on popular movie franchises, sometimes the discerning gambler prefers the theme of his slots to be based on myth and legend. While there are quite a few of these slots out there, Merlin's Millions developed by NextGen is one of the best known among them.
While this particular slot doesn't delve as deep into Arthurian mythos as, say, Avalon does, it does have some nice nods to the legend. Merlin's wizardous antics take the center stage with this slot, as he often makes or breaks your luck when it comes to free spins.
While the name is a nice bit of alliteration, you surely won't be making millions with this slot - but there is definitely potential for some serious wins.