Monty Python's Spamalot Slot Review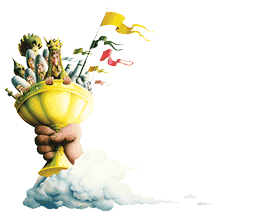 Monty Python is one of the most famous comedy shows of all time, and Spamalot was the stage show spawned by the madcap antics on-screen.
As you might imagine, this is a slot that brings laughs on a regular basis, but it doesn't lose sight of its main purpose though, which is to give every player the chance to win some really nice amounts of money. You don't have to be a fan of the show to enjoy this slot either, as the excitement brought solely by the game is enough to ensure most people have loads of fun.
When it comes to the symbols, they range from standard 10 to A symbols through to ones featuring the stars of the production, including Sir Galahad, the Lady of the Lake, and King Arthur.
Don't skip the intro movie either, as it's great fun and really sets the scene for the game. The graphics are pretty good, although not at the level of some other games, such as those from BetSoft. Incredibly crisp and modern graphics probably wouldn't fit this online slots game though, so they aren't missed. So, overall, when it comes to the theme of this slot, there's really nothing to complain about at all!