Multiplayer Avalon Slot Review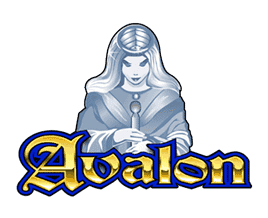 While multiplayer online slots aren't exactly an entirely new concept, they're still rare and unique enough to have that feeling of odd novelty about them. Typically, you wouldn't think of slots as a particularly social, cooperative or even competitive game. However, in this world of connectivity that we live in today, even betting can become a social activity.
Avalon has a regular, single player version too, which is more or less a run-of-the-mill slot that has been adapted to a new multiplayer model. There are some differences between the two versions beyond one being multi- and the other being singleplayer. This slot has more features to offer beyond simply being multiplayer, such as special bonuses that make playing with others worth it all.