Rango Slot Review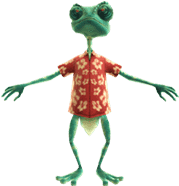 If you're a fan of movies, you'll already know that Rango is a movie from 2011 – albeit one that wasn't met with universal acclaim. The fact that it wasn't the greatest film of all time makes it strange that iSoftBet decided to make a slot about it, however their decision has been vindicated. This is because, unlike the film, this slot is something that most people will enjoy, thanks in part to its enjoyable theme.
As soon as the game is loaded, players will notice that the screen is filled with color and a number of the movie's characters. What's more, there's a Wild West soundtrack playing in the background, which is actually quite enjoyable to listen to. If it does get annoying though, there's always the option to hit the mute button.
But what about the symbols? Well, they are mainly taken by the characters from the film, including Rango himself, as well as Beans and Rattlesnake Jake. The other symbols are standard 9 to A ones, however these have been stylised to fit in with the theme, so actually add to the overall experience. So, regardless of whether you've seen the movie or not, you should really enjoy the theme at this slot.