Spiñata Grande Slot Review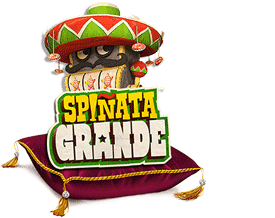 The theme of this slot is piñatas, and the fun that you can have when smashing them open and gathering the goodies inside.
It doesn't sound like it should be the most exciting theme, however it actually delivers loads of fun to all players, and much of this has to do with the colorful reels and beautiful backdrop. It's easy to forget how much the way in which a slot looks can affect overall enjoyment, however this slot proves this point without any doubt. As you'll see further down the page though, it's not just bright colors that make this slot exciting though!
When a slot simply uses standard symbols on their reels, it usually ends with them being labelled as lazy, as they haven't been bothered to create something original and exciting. This isn't the case at Spiñata Grande though, as the 10 through to A symbols actually work really well. What's more, they've been created to perfectly complement the site's colorful and exciting theme, and also come with some more original symbols.
So, overall the theme of this slot is a great one, and one that should really appeal to slot players of all different types. Why not have a few spins right now?