Starburst Slot Review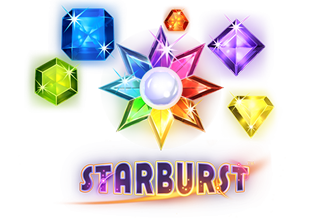 Starburst Slots is a fantastic looking casino game, full of vibrant colors and exciting graphics. There isn't really too much of a theme to speak of though, although there is a slight cosmic feel to the way in which the reels look. This isn't a problem though, and Starburst proves that a definite theme isn't needed in order to create a slot that thrills players with each and every spin.
Some might find the symbols to be slightly boring though, however for most this shouldn't be an issue. Most players will also really like the music, which has a mystical feel to it, and doesn't get incredibly annoying once you've played the game for a while – something that is unusual for an online slot.
As already mentioned, the symbols in Starburst Slots aren't all that original, however they have been designed very well, exhibiting stunning graphics and bright, bold colors. They are mostly vibrant gemstones, however there are some different ones, such as traditional sevens and BAR symbols. It should be noted that this game's graphics might be too much for some connections though. This isn't an issue, as the graphics quality can be decreased by changing the slot's settings, which are accessed by clicking on the spanner symbol.