Twister Slot Review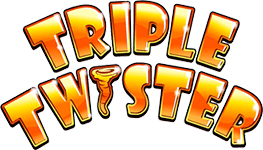 Get ready for some excitement, as a twister is about to hit your online slot playing experience! As the name suggests, this slot focuses on the devastating weather phenomenon that strikes many areas of the US each year, however this slot won't lead to damaged homes and devastation, but instead it could lead to some huge prizes and a massive amount of fun.
First glances at this slot aren't all that encouraging though, as Microgaming haven't really made too much of an effort with the graphics. Stay with this slot though, as graphics aren't everything, and Twister definitely proves this to be the case.
All of the symbols at this slot are colorful, however they don't actually focus on the twister. Instead, they focus on the poor people who are affected by it, including a rather confused looking old man, and a stereotypical redneck. You'll also get to see caravans, trucks and even outhouses, all of which are being upheaved by the violent storm tearing through. Randomly, there's also a gas station, which doesn't really fit the theme too well.
Overall though, the symbols at this slot really add to the feel of this game, and most players should really enjoy seeing them spinning around on the reels. It's just a shame the graphics aren't slightly better though.