Every day, millions of people around the world sit down to play bingo.
Before showing you how to play bingo for free or real money online, it is important to note that there are several types of electronic and standard casino bingo, and they can be divided into the following categories:
Online Casino Bingo
Scratch Card Bingo i.e. Bingo Lotto
Group Bingo Games
Now that you get the idea of what forms of bingo exist, the following section will quickly go over how you can play each one according to the rules of bingo and what years of experience in the industry has taught us is a good bingo strategy.
Learning to Play Online Bingo
Bingo is a lot like the lottery-type game of Keno except to win players must declare "Bingo!". You may remember this from your childhood or your most recent visit to your grandparents, but one question many online bingo fans have is: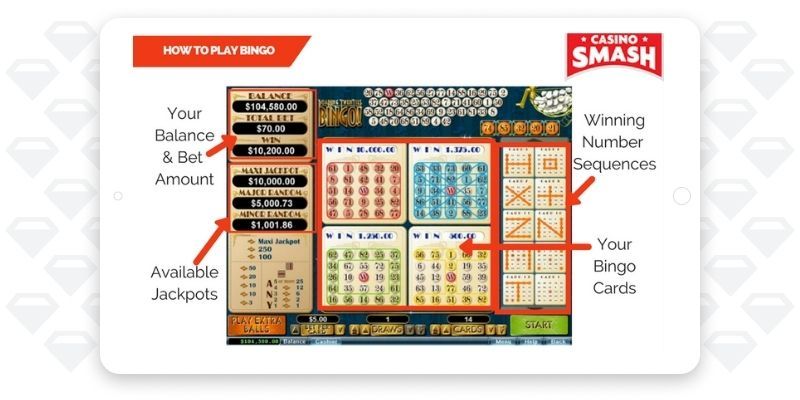 How do I yell "Bingo" if I play bingo online?
Simply put there is no need to scream at your computer screen when playing bingo for real money online. The game will automatically award you with wins if you hit a winning combination in one of several board combinations, that are much like paylines in online slots.
While on regular bingo players sit down with a bingo card consisting of 15 numbers and then mark these numbers off their card, and there are 90-sequenced bingo balls drawn at random by the dealer, online bingo works a bit differently.
These games are usually powered by an algorithm much like many online casino games, but in online bingo, you can also place bets on specific numbers.
The price per bet and payout is calculated based on the probability of it appearing and depends on the specific game you are playing as well.
The Rules of Bingo
Whether you are playing online or for real money, there are a few simple rules of Bingo you have to know. Usually, there are three main ways to win and these are:
One Line: Mark off a full horizontal line of numbers.
Two Lines: Mark off two full horizontal lines of numbers.
Full House: Mark off all 15 numbers.
How many cards can I play in Bingo?
One of the best features of online Bingo is the fact you can play as many cards as you wish. In a live bingo hall, you would be limited to how quickly you can find the numbers on your bingo cards, while in an online bingo environment the software can mark your cards for you.
Most of the online bingo providers you can join via CasinoSmash offer special casino bonuses for completing a full house by using a certain number of balls.
For example, in some jackpot games only 20 balls are drawn and if you manage to mark off all 15 of your numbers then the prize awarded should be huge.
Other examples include bonuses for completing a full house within 50 numbers or some other predetermined number that is important to the online bingo site.
The Best Bingo Strategy
Thanks to bingo being predominately luck-based, there is no actual strategy that bingo players can follow nor deviate from.
While you may see this as a disadvantage in the end it can work in your favor if you're playing for the fun of it or just want to squeeze in a different game between slot runs.
The rules of Bingo will always be the same but one tactic or trick that players like to do to improve their chances of winning is to purchase Bingo cards that feature the numbers of their loved one's birthdays or other numbers that have special meaning or importance to them.
These bingo tips and tricks may work for lotto-style bingo, but when it comes to electronic bingo strategy there are a few other ways people like to boost their odds. Here is a list of some very basic bingo tips to apply to your next card game:
Set a limit for how much you are prepared to lose.
Take advantage of casino bonuses that will boost your bankroll.
Choose a reputable online casino!
Again, thanks to being able to play as many bingo cards as you wish online, you should be able to find some numbers that seem lucky to you and see if fate has any fortunes in store for you.
Where to Play Bingo Online
Playing bingo online for money, whether it's for real money or just for fun, is incredibly easy. All you need to do to enjoy and play bingo games online is test out the online casinos below that are our top picks for bingo lovers.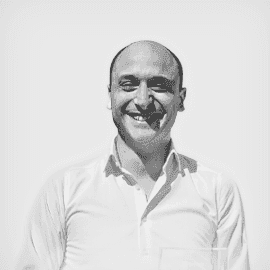 Bio
Political scientist, and gambling expert, I have spent the most part of the last ten years writing about the casino and poker industry. As a professional journalist, I work with FOX News, La Repubblica, the Economist, Politico, and PokerNews. As a gambler, I won money pretty much anywhere in Europe. As a gambling editor, I'll help you do the same.